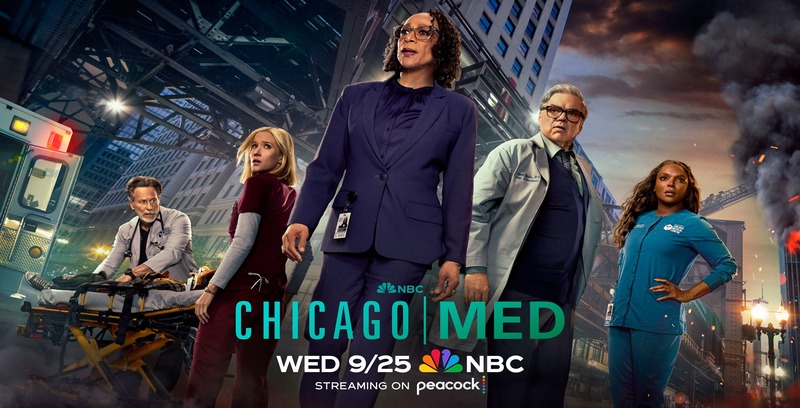 In this episode we see the ongoing development of the relationship between Dr. Archer and Dr. Asher, how fame is affecting Dr. Marcel and his care for patients, the rekindling of an old flame, and also how lack of follow up care can affect how patients cope over the longer term. We also learn that we will be losing yet another member of the Chicago Med family.

Dr. Marcel, Dr. Halstead and Maria Piscotta

Dr. Marcel is struggling with his new found fame, and Dr. Shentu and the PR department are enjoying having him make many appearances, but Dr. Marcel does not seem so sure.


Will is hesitant and wants to go over other options like stenting with her again, but Crockett says this will be a better long term outcome and what she wants, and Will says she has just been taken in because he is the hot shot doctor from the news. In the OR as he finishes the repair and is about to close, Dr. Shentu arrives and says that Dr. Tanaka-Reid can handle the closure and that the lieutenant governor needs to have gall bladder surgery and wants Crockett to do it. Crockett leaves the closure to Kai and goes to complete the other surgery.
Ever since the departure of Dr. Manning, there has always been an odd tension between Will and Crockett, and it was nice to see that at the end of this episode, they are starting to find common ground. There almost seems to be a bit of back and forth jealousy between the two of them, and so it will be interesting to see where things go for these two characters this season.
Dr. Choi, Dr. Charles, Sharon Goodwin and Penelope Jacobs
The beginning of this episode surely had "Chexton shippers" cheering as it appears that Ethan and April spent the night together after meeting at the bar. Ethan is leaving as she is still sleeping and leaves her a note saying he can't wait to see her tonight.
Dr. Choi says that he can work up the ringing in her ears and Dr. Charles wants to see Penelope interact with the baby, and Dr. Charles and Goodwin say they will supervise. Penelope is okay at first but when he starts to cry loudly she says it is like a drill in her head and she tells Sharon she needs to take him and suddenly she gets a severe facial droop and weakness. She is sent for tests to rule out a stroke and it appears that she has a Bells Palsy, and they discuss that the baby's cry must have felt excruciating in her head and it was no wonder that she is was at the end of her rope. Dr. Choi says that they will be able to treat her symptoms but Dr. Charles says they will not be out of the woods yet.
It is really wonderful to see how Dr. Choi has changed over the years with his attitude toward mental health patients. At the beginning of this series, one can recall his desire to force treatment on a severe anorexic and wanting to place a plastic surgeon who had body dysmorphia and was performing surgery on himself on an involuntary psychiatric hold. But once he worked through some of his own issues with Dr. Charles, and even more so now after his recent scares with his own health, it is fascinating to see how his approach and understanding has completely changed and the wonderful trust and relationship he has with Dr. Charles make them a great duo. And of course, who doesn't love to see Sharon Goodwin flex her nursing muscles and jump in to help a patient. She has such a wealth of experience and we have seen so many times over the years how she is able to find ways to connect with patients and help them to normalize their conditions, whether is was a Hawaiian restauranteur with Diabetes or a woman who did not want to be tested for AIDS. Seeing the motherly side of Sharon is also so wonderful, as she was truly what this young woman needed to be able to begin to heal.
Dr. Asher, Dr. Archer and Caitlin and Steve Mills
Dr. Asher wants to do a laparoscopic surgery but the supply chain issues mean the equipment is not available. Caitlin's pain increases and it looks like the tube has ruptured and Dr. Asher feels it now needs to be open surgery, but Dr. Archer says he has done the surgery before without the video set up and he will assist her so that they can do the surgery laparoscopically. While in the OR though, he is in pain and has to have Dr. Asher take over.
Dr. Taylor, Maggie and Samir Baqri
Vanessa runs an additional test that did not show anything other than severe osteopenia in his bones. Suddenly he begins bleeding from an old scar. She has a hunch and it turns out he has scurvy. They let him know they will be able to treat it in time and he will be able to do his trip and he asks to speak to Vanessa privately. He offers her a job with his team and she accepts.
This was another sudden shock for Chicago Med fans, as we have come to love Dr. Taylor and the storyline and relationship with her and Maggie over the last few years. Hopefully this storyline will leave an opening for Vanessa to return in the future, but for now, we will certainly all miss her in the present.
What did you think of this episode of Chicago Med? Share your thoughts in the comments below.