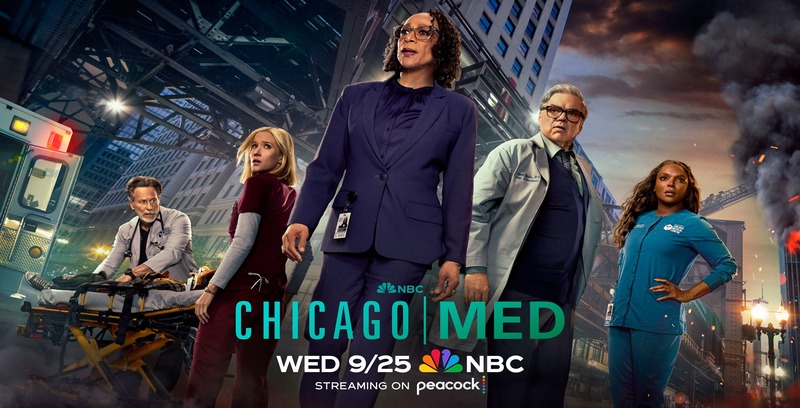 In this episode of Chicago Med, we see new and developing relationships, see some relationships come to a conclusion and learn about trust, whether it be with colleagues, friends or in the healthcare and legal system. There was a beautiful balance between patient and personal stories this week in only the way One Chicago writers can do.

Dr. Halstead, Dr. Marcel, Dr. Lu and Lydia and Danielle


Dr. Lu and Dr. Halstead suggest to Dr. Marcel that perhaps they try to facilitate a multi-organ transplant, where Lydia's mom will donate another organ to someone whose family member could not donate that organ and their family member could donate a portion of liver to Lydia. Dr. Marcel thinks he knows of a good patient and he and Dr. Lu go to run the lab works to make sure they are a match. They determine that they are a match and they speak with the other family, and share with them that it is a bigger surgery and harder recovery, but they agree to do it.
It was great to see Will and Crockett getting along and working collaboratively on an out of the box idea, but not in a "cowboy, let's break the rules" sort of way like we have seen from both of these doctors before. Perhaps this will become a new friendship and allow for even better outcomes for patients in the future.
Dr. Asher, Dr. Cuevas and Gloria (with special appearance by Hailey Upton)

Hailey Upton (cue mini crossover #2) brings in another girl with the same story as Gloria's and they realize it may be a pattern. Dr. Cuevas and Dr. Asher talk about the risk of Gloria carrying that trauma for the rest of her life, and Hannah shares with Nellie that her roommate from college was also assaulted and took her own life after not processing what happened. She says she knows the magnitude of what they are asking, but she has seen what trying to sweep the trauma under the rug can do. They go in to talk to Gloria again and Dr. Cuevas shares with her that she is also not documented and she knows the fear she has, but they share that if at any time she would like to open an investigation, they have someone she can trust. She agrees to speak to the police and they then introduce her to Hailey Upton, who says they can talk wherever she is comfortable.
Dr. Choi, Dr. Charles, Dr. Archer and Buddy
Dr. Charles interviews Buddy when he wakes up and he says a nice lady took him to the other hospital and bought him dinner. Dr. Archer gets the records and he was admitted for a procedure, but there is no evidence that he has the health issue the procedure is for, so they look further into it, and it looks like he was brought in by someone who is a "recruiter" and that this may be a case of Medicaid fraud by having people brought in for procedures they don't need. Dr. Charles identifies the physician who did the procedure on Buddy, and he notices he is moving around a lot and has lost privileges at all the hospitals he was working in due to suspicions that his practice was not ethical, but they were never able to produce any proof.
We have seen such a change in Ethan and the way that he cares for patients. While he is still fulsome, he seems to understand and respect choice and autonomy now more, but also wants to see the best done for those who need help. Perhaps we can hope to also see further changes in Dr. Archer as the season progresses.
Maggie and Grant
Sharon asks Maggie if that is really the best way to handle things when she says that she is not planning to tell Ben about the accident at all. Maggie says she is afraid it would make things worse with her and Ben. Sharon tells her to give it a bit of time before she decides.
Sharon Goodwin, Peter Kalmick and Dr. Marcel
What did you think of this episode of Chicago Med? Share your thoughts in the comments below.