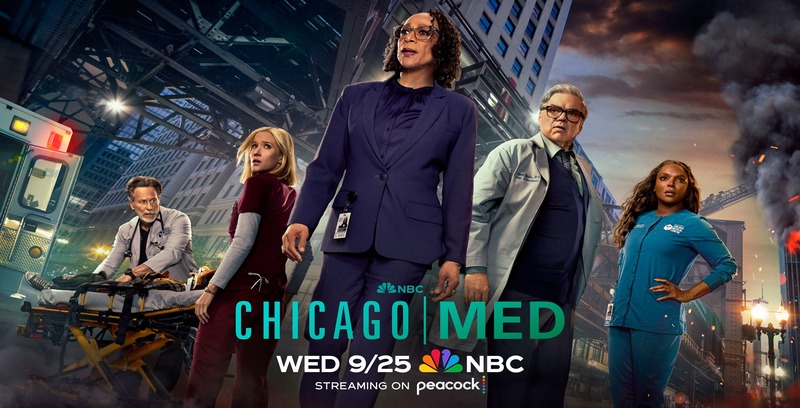 In this episode, we again see how the supply issues are causing stress not only on the system but creating dangerous situations for staff. We also get to see development in several relationships, both new and old, some for the good and some for the bad. And once again, the Chicago Med writers and the Dick Wolf team are outdoing themselves, providing us with amazing content and exciting storylines.

Sharon Goodwin, Jack Dayton and the Scrub shortage


Dr. Marcel is checking on Nathaniel and he is doing well with his new lungs but Jack Dayton asks Crockett why no one is in scrubs and he lets him know it is a laundry issue and the hospital is out of scrubs. At the end of the episode, a supply of scrubs arrives and Jack Dayton comes out to greet the truck and take some pictures. He called the company and convinced them to rush the order of scrubs to the hospital by speaking with them about another trucking contract they are negotiating with one of his companies. Maggie and Sharon discuss that it is nice to have a guardian angel, but how long can it last.
It is always so wonderful to see Sharon Goodwin in action and her character always brings such knowledge and balance to every situation they are dealing with at Chicago Med. There is no doubt that every hospital needs a Sharon Goodwin to advocate for the patients and staff, and that is what makes her so effective and endearing to watch.
Dr. Archer, Dr. Choi, Sean Archer and Deke Neeman

A second patient comes in after an altercation with a corrections officer, and Dr. Archer takes the case with Dr. Tanaka-Reid, and they find out that he is the man that stabbed Sean Archer. Dr. Archer puts in a chest tube and Dr. Choi returns and lets Dr. Archer know that his son is doing well. Ethan sees Kai checking on the new patient and although Dr. Archer says he is fine, Ethan wants to sends him for a chest CT and tells him his name cannot be on record as the doctor for the patient. Dr. Choi says he will take it up with Goodwin if he has to so Dr. Archer lets Dr. Choi take over. Ethan identifies that there is a problem with the chest tube, but before they can put in a new one, he arrests, and Dr. Archer cracks his chest and they revive him.
Dr. Hudgins, Dr. Charles, Dr. Marcel and the Chapmans
Dr. Charles reviews the case with Dr. Marcel and they run a complete metabolic panel and a head CT, but the results are negative. They realize that the anti-rejection drugs she is on is causing the psychosis. They trial a few antipsychotics and they all make her completely sedated, confused and almost catatonic. Her husband says her mind is everything to her and he does not feel she would want to be that way, and he asks them to remove the organ and put her back on dialysis so that they can stop the anti-rejection medications. Dr. Marcel refuses, but ultimately the hospital ethics committee feels that it is the husbands right and Dr. Charles convinces Dr. Marcel to do the surgery. They take the kidney out, and put it back into the donation network and put her back on dialysis.
This was a very interesting storyline as we see Dr. Marcel dealing with the long term outcomes of his guilt over the decision he made for Dr. Blake's surgery, especially when we have seen that everyone has said that what he decided is not what she would have wanted. And seeing him paired with Dr. Charles was such a treat, as Dr. Charles is such a wonderful advocate for assisting patients to be able to preserve their wishes, so this was a very interesting dynamic.
Dr. Halstead, Dr. Asher and Maya
They test her but there is no evidence of long term use and they cannot figure out how she was exposed. Security comes to speak to Maggie and they find out that the neighbor had a warrant out by CPD for drugs and that there were traces of carfentanyl in his van. They discover that she was exposed when it got on her socks, and Hannah realizes she and Will were exposed and runs to find Will, who is passed out on the floor of the lounge. She gives him Narcan to revive him.
They explain to Maya how she was exposed and that she and the baby are both safe. Will invites Hannah to dinner but she says she is going to hit a meeting on the way home and they say they will meet up tomorrow. After his conversation with Ethan at the beginning of the episode about how things are different with someone the second time around, it seems to have sparked Will's curiosity and it will be interesting to see how things evolve for him and Hannah as the seasons progress. It seems like perhaps there are sparks between them again, and I know many fans of the show would love to see them reunite.
Ben, Maggie, Grant and Mirah
Mirah's mother thanks Ben and he leaves, and tells Maggie not to wait up and he will try not to wake her when comes in. Clearly Maggie's relationship with Vanessa has been a sensitive area for Ben, and now that she has gone overseas it will be interesting to see what happens between them.
What did you think of this episode of Chicago Med? Share your thoughts in the comments below.