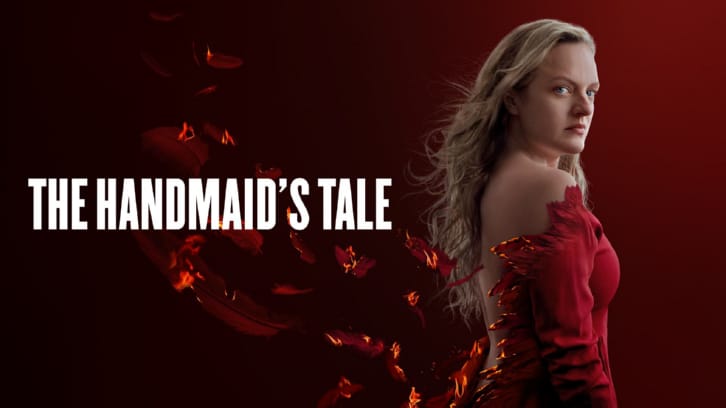 My apologies for not doing weekly reviews of The Handmaid's Tale because this season has been spectacular, so buckle in - this is going to be a long one! I'm really enjoying the way the show is evolving and how it is turning back on itself as well. This review will catch us up and look at the last three episodes. "Fairytale" was written by J Holtham (Supergirl, Jessica Jones, and Cloak & Dagger) and "Together" was written by Katherine Collins (Lost in Space, Riot Girls), and both episodes were directed by Eva Vives (Good Girls, Party of Five, The Affair). "No Man's Land" was written by Rachel Shukert (The Baby-Sitters Club, Glow, and Supergirl) and was directed by Natalia Leite (In the Dark, Love, Victor, and Minx).
In "Fairytale," June (Elisabeth Moss) gets a call from the border that they have some information about Hannah. As June, Luke (O-T Fagbenle)), and Moira (Samira Wiley) drive to the border, we get the first glimpse that not all is well in Toronto. They drive past a group of protestors who want the refugees to leave. I wish that I could say as a Canadian (and former Torontonian) that this kind of intolerance would never be seen here, particularly as we have some of the highest immigrant and refuge numbers in world, but the recent truck convoys have shown that many of the sentiments we normally associate with our Southern neighbors have found their way here… sadly.
Meanwhile, Serena (Yvonne Strahovski) is settling in to her new accommodations with Alanis Wheeler (Genevieve Angelson) and her elusive husband (Lucas Neff). Ezra (Rossif Sutherland) brings her flowers that have been left at the gate for her, and when Serena asks to speak to Mr Wheeler to thank him for his hospitality, she's told, like a child, that he's usually very busy… She is clearly no longer in charge.
Serena joins Alanis for breakfast, and it totally reminded me of them feeding up June when she was pregnant. Alanis has a plate full of meat and eggs while Serena has a gigantic bowl of granola and some hideous green drink – remember June being forced to drink one?!?! Serena is still talking about re-opening the centre, but Alanis, after talking about Serena as a shining example, says she thought the centre was closed for good. It's also super-creepy how she refers to her husband as Mr Wheeler – another way to demonstrate that Serena is not their equal.
When they get to the border, Lily (Christine Ko) tells them that the Guardian who has the information isn't coming across. Luke immediately says he's going. Moria and June are both incredulous, but when he insists, June looks pleased. Has she secretly been blaming him for not being more active, taking more chances? June insists that she's going too – and Moira clearly thinks it's a bad idea, which of course, it is…. Lily gives them a map and tells them to stick to it. Moira hugs them goodbye and tells them to make sure that they come back. The two set off hand in hand. We get some terrific aerial shots – which they must have done with drones.
As the two make their way through the dark woods, June has flashbacks to being taken and losing Hannah. Luke asks if she needs a break, but she insists on pushing on. Meanwhile, Moira and Lily spend the evening getting drunk. Moira tells Lily that June and Luke just don't quit fighting for each other. Is Lily interested in Moira? Back in the woods, June and Luke come upon a body hung in a tree with a sign – "rapist" – on it. Luke asks if it's Gilead, but June tells him they don't use words. I love how this image – and the lack of words – comes back in one of the next episodes.
Alanis hosts a tea for a group of women to come and meet Serena. Serena is clearly enjoying being the centre of attention, and when the baby kicks, all the women gather around her eagerly to feel it. Serena remembers early in Gilead, going to look at children available for adoption with Naomi Putnam (Ever Carradine). Neither want the children who have been taken from unfit mothers – because you never know where they came from. They discuss Handmaids – and Naomi thinks that sounds even worse. Serena tells her that she and Fred are going to keep trying to have their own – I loved the shot of the two in blue, back to back, looking in the windows at the children who need good homes, in a stark, sterile white corridor. It's worth repeating what an amazing job the cinematographers and set designers and wardrobe do with colour.
In the morning, June and Luke finally find Jaden (Owen Painter). He tells them raspberry at gunpoint – and Luke raises his arms and freezes while June cooly responds with the password – beret. Nice Prince reference! They've been told not to exchange names – but the Jaden insists that they go with him. Neither want to, but Jaden gives them no choice. He's likely right that it's too dangerous for them to be out in the daylight.
Back at the Wheelers, Serena takes a call with Lawrence (Bradley Whitford). Serena offers to let Alanis sit in on the call, and she looks shocked. She tells her that she has no head for all of that and wives shouldn't burden themselves with business. Serena is surprised to have Warren Putnam (Stephen Kunken) on the call. It's clear that Lawrence isn't too happy either. I loved that she called them both by their first names as if she is their equal. Putnam points out that she was supposed to be there putting Gilead in a good light on the world stage – and the riot and closure of the centre clearly didn't do that. She points out that she can't control the government. Putnam stresses it's already a very expensive proposition. Serena points out that June and Luke need to be dealt with. Serena tells them that they should focus on fertility – have a fertility centre not a Gilead centre. It focuses on what people want – not Gilead which will be always be contentious. Serena starts laying out her plans and Putnam cuts her off and hangs up.
Putnam tells Lawrence, who was open to Serena's suggestions, that they need to rank her leash. He then goes on to tell Lawrence, that Lawrence's proposition of a "New Bethleham" isn't going to fly with the other Commanders – essentially because he doesn't like it. It seems to involve bringing people back to Gilead who have fled. Putnam doesn't want to court the world. Lawrence tells him that if they keep the walls up, the country will die and it will all have been for nothing. Putnam is clearly a problem…
Jaden takes them to where he spends his days – and old bowling alley. It's got Christmas lights, a bar, a disco ball, and a real bathroom! They exchange backpacks, and he tells about the Plums. The treat them like princesses as they train them to be wives. They move them through quickly. Luke is shocked – Hannah is 12! He tells them it's a new system, so he doesn't know where the schools are, but he gives them a thumb drive with all the information he does have. Luke and June decide to stay for the day to be safe.
I actually really liked this scene as June and Luke have a kind of date night. I love both Fagbenle and Moss in these scenes. Luke says he loves bowling, and Jaden thinks his father took him before… He doesn't remember what it was like before – it's like a dream. He only knows Gilead, but he's working to bring it down, not because he thinks it's bad, but because people should be able to talk to each other. And Luke and June know that Hannah's memories will also be like a dream. Luke starts playing the organ – is it a Wurlitzer????? He plays around on it, and then settles on Al Green's "Let's Stay Together." Jaden asks if Luke wrote it, and he says yes! It's hilarious. June and Luke dance, and Jaden turns on the mirror ball. It's perfect. The two come back together – they aren't the same people – not even close – but they are still in love…
Serena begins to see even more cracks in her new life. She's out walking and sees a woman coming to the gates of the estate. She wants to talk to her, but Ezra stops her, telling her it's not safe, and that she should just enjoy the grounds. She remembers her first meeting with Aunt Lydia (Ann Dowd) to choose a handmaid. Aunt Lydia has handpicked the candidates for such an important commander and his wife herself. When Aunt Lydia points out that the folder Serena has picked up also caught the eye of Commander Waterford, Serena immediately casts her aside – she clearly doubts that Fred will stay loyal to her…
Mr Wheeler finally comes to see Serena, who is praying. He's there to follow up on her call of the afternoon. He's spoken with the Commanders and they're going to move forward with her plan for a fertility centre. Serena is eager to get back to work, but Wheeler is clear that his people will be doing the work. Her baby's needs come ahead of any plans – no need for her to be running about the city. He's brought her vitamins – and waits while she takes them – like a child or handmaid. She asks for a cell phone to conduct some business. He tells her no – security concerns… In other words, she's the security risk. He leaves her, in her room, to her night – like she's not welcome to come down and spend the evening with the Wheelers… I loved how much Serena's room reminds us of June's in her house.
Jaden is taking them through the woods by a short cut – NOT the map's path – when he steps on a mine. His leg is blown off and they are quickly surrounded. June and Luke try to help him by stopping the bleeding with a torniquet. Luke doesn't want to leave him but June pulls him away… but not soon enough to avoid being captured!
"Together" appropriately picks up, after another loving overhead shot, with June and Luke together in the back of a truck. June is waiting patiently while Luke is trying desperately to get free. June tells him it's not Gilead – the truck smells too strongly of chemicals. June tries to get Luke to calm down. They are moved from the truck to cages in the middle of some kind of warehouse after being photographed. I loved the difference in the two – June is clearly used to being a prisoner and doesn't lose her composure until one of the guards wants to know her "real" name – who owns her – because of her ear tag.
Meanwhile, Serena is visited at the Wheeler's by Dr Landers (Jeremy Shamos), her OBGYN. She was expecting to go to his office, but they go upstairs and Serena discovers that the Wheelers have installed a complete birthing suite there! Serena is not leaving that house for anything. I loved the shot down through the stairs of the Dr pointing up – Serena is very clearly caught in a box, a prison, just as surely as June and Luke are.
The exam itself is incredibly creepy. Rather than leave the room so Serena can change into a gown, he just turns his back. While doing a "quick peak," Landers starts talking about pari-neal massage to get the "tissue more flexible" to avoid tearing. Is he giving her a "massage" as he's speaking? He recommends natural oils – nothing chemical. Very Gilead. He comments on her blood pressure being high – being a prisoner will do that to you… She says she's just excited, but he recommends rest for the next couple of weeks. When is she due?? This becomes a problem in the next episode… And then, the ultimate creep out – he asks her out for dinner because the Wheelers recommended he do so! He would be a HUGE step down in status for her…
Back in Gilead Aunt Lydia finds out that Esther's (Mckenna Grace) uterine harvesting has been cancelled. Um… what now????? We'll just ignore what's going on there… It's been cancelled because she is PREGNANT. And we all know that Putnam did more than feed her chocolate. The doctor (Sean Sullivan) tells her that Esther will be transferred to the high-risk obstetrics hospital and be kept on bed rest until she comes to terms. He's under the impression that she was posted, and Aunt Lydia doesn't correct him.
Aunt Lydia goes in to see Esther, who is awake. There conversation starts out politely enough with 'blessed days.' Aunt Lydia gives her a sip of water as Esther is bound to the bed hand and foot. Aunt Lydia brings up the funeral – three weeks ago. It's clear that Aunt Lydia is feeling even guiltier about leaving Esther with Putnam. She is clearly furious as she asks Esther to tell her the truth. She asks if there's anyway that Esther behaved in a way that might have invited him – even unwittingly…. Esther tells her that she didn't do anything. She flat out says that he raped her. Aunt Lydia says it's terrible and that she's sorry. Esther doesn't believe it – they all do it. And that's a truth that Aunt Lydia doe NOT want to face. Grace is utterly fantastic as she totally loses it on Aunt Lydia, screaming and thrashing against her bonds.
Aunt Lydia goes to Lawrence to secure punishment for raping Esther. Lawrence doesn't see the sin. Putnam got her pregnant one day before she was about to be posted! Aunt Lydia tells him that the ceremony is sacred and blessed by God. Lawrence clearly has no respect for it – and let's remember that he hasn't ever had a handmaid that he raped – except when he was forced to perform the ceremony with June, and I'm pretty sure that he's been busy taking revenge for that… In the end, when Aunt Lydia takes him to task, he tells her to watch her tongue – but he also thanks her, telling her that she's given him a lot to think about. She is clearly not happy with his answers but leaves. It would be disingenuous to think he has much more than his own plans in his mind – is he going to act to help the handmaids or simply to further his own initiative of New Bethlehem?
In their cages, June and Luke are having very different reactions. Luke is pacing and yammering. June tells him to sit down and conserve his energy – to stop panicking. She tells him she survived. She finally gets his attention by moving closer to him. He tells her that when he thinks of her in places like that he wished he'd been the type of guy who could have come after her, could have been with her. She tells him that he WAS with her – and we know this because of all the flashbacks in previous seasons. Luke finally settles and sits down.
Serena and Alanis are in Alanis' greenhouse. Alanis remarks that the more you cut back flowers, the more they bloom. It's a very thinly veiled metaphor for what Gilead does to women – and what Alanis is doing to Serena. Serena echoes that she spent hours in her own greenhouse convincing herself that "pruning encourages life." Serena mentions Landers asking her out. Alanis gushes that he's a great catch. Serena tells her that while he might be nice, she's not dating her gynecologist. She goes so far as to say that she might not even get married in the near future. Alanis says she can't be a single mother, and Serena points out that she's a widow. Alanis insists that her baby needs a mother AND a father – does anyone doubt who's getting this baby? When Serena tries to leave and go for a walk, Alanis tells her it's too cold. Serena says maybe they need to arrange a call between Lawrence and Alanis, who says absolutely not and sends her to her room!!!!!!! Serena goes, and sits sobbing on her bed as the camera pans down the hallway – so reminiscent of June in Serena's house…
Luke and June are bantering and flirting when the guards come back. They take June's fingerprints – they're sending them back to Gilead. When they go in to Luke, he starts fighting them. June tells him to stop – and then tells them to stop when he stops resisting.
Lawrence, Putnam, and Nick (Max Minghella) share a drink. Lawrence jokes that Putnam is clearly trying to single-handedly (LOL) re-populate the planet. Then Lawrence goes on to say that 'to think, such a quick and impulsive act could have such huge political implications.' He characterizes it very specifically. Nick and Lawrence are both clearly disgusted. Putnam goes on to say again that Lawrence's plans for New Bethlehem are dead. Lawrence says it's a good example for Nick to see that you have to accept when you are outplayed… but he doesn't mean himself… Putnam even says that it wasn't planned – that is sanctioned – so it feels like more of a blessing. Putnam goes on to say that he's not surprised Lawrence doesn't get it – due to his lack of "action." It's clearly an insult. Putnam then says why seek power if you never enjoy the "spoils." He just keeps nailing his coffin shut more tightly…
Ezra brings Serena to speak with Wheeler. Neff's soft spoken delivery is absolutely creepy. He doesn't get out of his chair when she enters. She asks if he's asked her to come because of the "words" she had with Alanis. He tells her no – he'll let them sort that out. Clearly, women's interactions are of no concern to him. He finally invites her to sit down. He tells her that June was apprehended by one of HIS teams in No Man's Land!! He tells her that it's fully verified and they have Luke too. She never has to worry about them again – she can just focus on the baby. Wheeler is sending Ezra to No Man's Land to deal with her there. He could send her to Gilead, but he doesn't trust that they'll deal with her properly. Serena agrees. June has too many sympathizers there. Serena wants to go with Ezra. Wheeler tells her that he doesn't think it's a good idea. She insists she wants to bear witness. It makes no sense – though Wheeler seems to get her wanting to see someone die – for him to let her go, but he does.
June apologizes when Luke wakes back up. She tells him that he didn't know how bad it could be. She should have stopped him from coming because he didn't know what could really happen. He tells her that she doesn't get to say that. It was his decision to come. Luke points out that last time they didn't get to say goodbye, and he doesn't want that to happen again. June tells him "fuck that" – they're going to stay alive. Luke tells her that they're going to execute them when they get to Gilead. June says that last time they were apart, she never gave up hope – and HE never gave up hope because they knew that they'd find each other again. She tells him that they're just going to do that again. Moss and Fagbenle are just amazing in these scenes.
Serena leaves with Ezra, and Alanis accompanies her to the car, dressed in wife blue, telling Serena that Ezra will bring her back if she experiences the slightest discomfort. When Serena gets in the car, it's unclear if she is simply relieved – or possibly having contractions…
Luke and June are removed from the cages and June is chained in a bus with others bound for Gilead, while Luke is taken away to be "dumped." June finally freaks out as Luke is dragged away. We get another overhead shot with June's voice over, musing that no matter how you imagine your own death, she doesn't think it ever plays out the way you expect. No matter what you do, the end is always a surprise.
Back in the car with Serena, it's clear that she is experiencing discomfort – and we see her car in an aerial view as well – the two vehicles speeding toward each other…
The Putnams are enjoying a breakfast out. Everyone is staring and Naomi wants to know why – what has he done now? He tells her something she'll thank him for. Eyes come in and drag Putnam out and force him to his knees in front of Lawrence and Nick. Nick tells him that he's been found guilty by a special overnight session of the high council. Lawrence tells him he's guilty of the rape of "unassigned property." Putnam insists it's crazy. Nick pulls out his gun and shoots Putnam in the head. Naomi screams… Who else was happy to see the end of the slimey weasel?
Nick comes home, and Rose (Carey Cox) is upset. He tells her not to worry about Putnam or Lawrence or any of it. But she's worried about the kind of person it makes him. He's a bit bemused considering he's essentially just put down a particularly evil guy. He tells Rose that everything he does it is to make a better world for their baby… wait… what? Did we know she was pregnant?? I really like this thread of all the people who really are trying to make a better world for the children. However, I do have to wonder if Rose is going to end up being a danger to Nick – remember Mackenzie has already threatened him about keeping her happy. The two sit on opposite ends of the couch – not exactly the picture of married bliss.
Back in Gilead, Aunt Lydia has a group of handmaids by the wall as Putnam is hoisted up. She tells them that there is justice in Gilead for all who honor God. Putnam was an evil man. Janine (Madeleine Brewer) looks up and smiles slightly, saying she wishes she could have watched. The scene underscores the man hanging in the woods with a sign – no sign here – but also Serena's desire to watch June die. In all reality, a rapist in Gilead should have been subject to a particacution – ripped apart by the handmaids. Aunt Lydia takes them all home for warm milk.
Meanwhile, Ezra has June removed from the bus. I loved the bus moving on to reveal Serena – and June knows what's coming. June asks her if this is payback for Fred. Serena tells Ezra to cut June's bindings so that she can pray on her knees. Not necessary for her to pray though. Ezra raises the gun, and Serena insists that she should be the one to do it – God is giving her a chance for justice – June killed her husband and cursed her child. June tells her not to do it.
Serena tells her to pray, and June prays for their children. She prays that her daughters live a life of peace, a life without hate and violence. She asks Serena to give them a happy life – and Serena now has first hand experience of how the other half live. June prays that their children will do better than they have. And Serena turns the gun on Ezra and shoots him! But of course, he's wearing a vest. Serena is clearly in distress now, and she tells June to get in the car. Does she spare her because she finally gets what she's done to June or because she knows she can't drive?
"No Man's Land" picks up right where we left off and is a tour de force from Moss and Strahovski. Is so extraordinary when these two powerful actors share the screen! June wants to know what Serena's plans are – are they going to Toronto? Gilead? And what about Luke?! Serena shoots the windshield during a powerful contraction, and June slams the brakes on and takes off running. Serena tries to go after her, but ends up in the ditch.
June goes back and realizes that Serena is in labour. She takes the gun away impatiently, telling Serena to stop waving it around. Serena is too busy being in labour to answer any of June's questions – but insists that they can't go to a hospital because "they" will find her there. June sees a barn and tells her they're going there – maybe they'll have a manger! I love how sarcastic June is.
In another flashback, we see Serena arrive at a birth with her new handmaid – June. Serena is welcomed in by Aunt Lydia. And in case you'd forgotten just how silly Gilead is, we are plunged into OfClarence (Catherine Saindon) truly giving birth, while the wife (Marianne Sawchuk) ridiculously pretends that she is the one in labour. The best part of this scene was seeing Alma (Nina Kiri) and Brianna (Bahia Watson) again! Janine is also there and pregnant. She isn't too far along and doesn't have an eye patch. Both June and Serena find the whole thing ridiculous and share a very small smile and eye roll across the room.
We get a nice transition from the "Breathe" chant in the past to June telling Serena to breathe. Serena asks if that's it when the contraction passes… but June knows she's just getting started. She tells Serena that the first can take longer – Hannah had her in labour for 19 hours, and for the second, June was alone. She knew that if she died, no one would ever find them and it would be like they never existed. June enjoys Serena's pain on one level, but can't really stop caring about somebody in pain and the baby. When June tries to check how far along Serena is, Serena accuses her of trying to kill her and her baby. June loses her temper and tells her to do it on her own, leaving the barn.
June goes back and tries again to get the car out of the ditch, and this time she's ultimately successful. As June struggles, she flashes back again to OfClarence. The wives have left, and Aunt Lydia tells the handmaids to recite the prayer of purification. Aunt Lydia tells the doctors to do what they must – which is butcher and kill OfClarence to save the baby – she's completely expendable. June is shocked and appalled – and not praying, so Aunt Lydia commands her to pray for the child. It's clear that at least some of that reverence for babies has stuck – but at least some of it pre-existed in the world where getting pregnant has become so rare. But in the end, June can't leave Serena and the unborn baby, especially when she sees blood on her hands – and it reminds her of OfClarence.
Serena is shocked when June comes back. June guides Serena through, inviting her to feel the crown when it emerges, and smiling at the baby and Serena, telling her he's perfect when he finally emerges, crying. June even says 'praise be.' And then she flashes back to Aunt Lydia telling them that OfClarence has pleased God by performing her service. They leave to accompany their 'sister' home, while the wives all coo over the new baby in the living room. Serena stands a little apart and is the only wife to look at all like she cares. She and June share another look of understanding.
Serena is cooing over the baby. June asks her if it was worth it – all the lives Serena ruined and ended just to have a baby of her own…. And Serena says honestly, that right now, she thinks it was. June asks how his latch is, and Serena says it's strong and he's hungry. June relates that she had a really hard time getting Hannah to nurse. Hannah got a lot of colds and June would have to stay home from work… and sometimes she didn't want to stay home from work….
Serena asks June why she didn't kill her. June says that Serena was the one waving the gun around… but Serena means at the Cultural Centre. Why Fred and not her? June tells her that she didn't want to – tearfully, as if she's ashamed that she didn't want to. In the end, she and Serena have shared a lot.
Serena says she always imagined Fred would be there. She's decided to call the baby Noah and thinks he looks like Fred. June says that it's evolution: all babies look like their fathers so that the fathers won't kill them. Serena mocks her for bringing up evolution – rabid religious fanatic, remember, June! Serena asks if June thinks the baby will be like Fred. June tells her it depends on who raises him, on what kind of person they want him to become, on what you teach him, and on what you tell him is his to take. Serena says that she wants him to have everything, and June tells her that they all want that for them.
June insists that they need to get Serena inside. Serena says that they can't because the Wheelers will find her. She tells June that they've been controlling her every move, treating her like a handmaid – it's like she's June! Serena thinks that June should understand, but June tells her the hard truth. Serena and the baby are going to die if they don't get help. Strahovski is brilliant as she asks June to take her baby. Serena has nothing – she can't go to Canada… but June can take care of the baby, she has a future. She has a good man in Luke who would raise Noah right. Serena is convinced that God sent June to her to save her baby. She believes that June might be an angel for her. June is touched that Serena thinks that of her. Serena thinks that maybe she's just the ark or vessel. She carried him, delivered him, and held him and that's all she was meant to have.
June takes the baby, but there's no ways she is meekly giving in to God's will. And Serena thought June and all the handmaids were just vessels. And none of that mattered to any of them. Serena says she's sorry, but June doesn't care. They mattered, they do matter, they're people and have lives. And that's why she's going to save Serena because this isn't Gilead and she isn't Serena. Serena insists that she doesn't deserve to be saved, but June says it's not for her, it's for the baby. Serena is the baby's whole world, and Serena loves him and wanted him so much. The baby belongs with her – and that is God's will. June raises Serena's chin, they're both crying and look into each other's eyes. June asks "Do you understand me?" And it's an echo from a much earlier season…
June gets Serena to a hospital, and they whisk a very nervous Serena away. June asks to use the phone and calls Moira. Once Serena is settled, June goes to see her. They've taken Noah to NICU. June assures her that it's all normal. Serena is not happy that it's so impersonal and they've given her antibiotics and they're feeding Noah formula! Serena just wants to go home. June tells her that there is no home – there's just where she is. Serena agrees – no man's land. They are both without a home or country. Serena thanks June again, and the two clasp hands. June says you're welcome…
June walks down the corridor in slow motion. Has she finally achieved some peace? As she comes back into the lobby, Luke is there – they let him go at the border. He's given the USB drive to Tuello. June tells him that she's fine and she's helped Serena give birth. The authorities arrive, and it's clear Luke knows what's going on. They're Canadian immigration and they're there to detain her. Luke is gleeful – she gave up her diplomatic immunity when she left the centre. She won't be able to take the baby with her to the detention centre – Noah is going into child protective services. Serena is handcuffed to the bed, freaking out, and screaming for June not to let her take Serena's baby. Luke is gleeful that she finally knows what it feels like, it's justice. But June is clearly not happy about it.
This season continues not to disappoint. I love the way the various themes interweave and the show continues to highlight the plight of women. I'm really hoping that in the end, all the women will come together and fight for the same thing. It's also possible that with Putnam out of the way, Lawrence may also step up to help Serena. I think that Luke is going to be shocked by June's response, however. What did you think of the episodes and the season so far? Let me know your thoughts in the comments below!