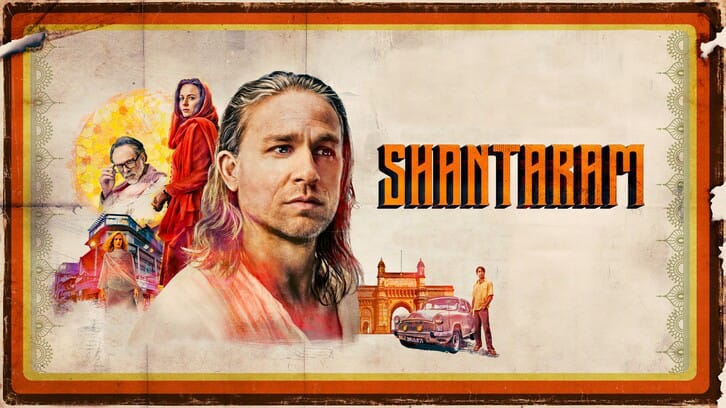 Shantaram "Bad Medicine" was written by Ben Dubash (who only has one other credit as a writer – StartUp) and was directed by Iain B MacDonald (Shameless, Preacher, The Punisher). This episode digs into the shadier side of Bombay and the plight of those at the bottom of the social order. I really like the way the show is highlighting how Lin (Charlie Hunnam) is being pulled in two directions – trying to do good but seemingly unable to break away from his shady past. It's also hard not to like both the angel on his shoulder – Prabhu (Shubham Saraf) – and the devil – Abdullah (Fayssal Bazzi).
The flashbacks tell us that Lin clearly has a conscience – so much so that it may prove to be his downfall. In the past, he pleads guilty at his trial even though his lawyer has told him to plead not guilty as they don't have enough evidence to convict him.
Lin continues to treat the inhabitants of Sagar Wada. He sends them to the hospital when there is a problem he can't fix. I loved the culture clash here as he's told it is obscene for him to touch married female patients. He is shocked when he finds out that the woman he's sent to the hospital for antibiotics has been sent away three times, so he takes her to the hospital himself. Unfortunately, graft is everywhere and they won't treat her without a bribe. Lin goes with Prabu to guide tourists to raise money.
Lin still needs a connection to access black market medical supplies, however, and turns to Khader Khan (Alexander Siddiq) for help. Khan agrees and tells Abdullah to set it up – but to take his time so that Lin will be more grateful. I loved him stalling by stopping for ice cream! Eventually, Abdullah takes Lin to a settlement that is even more desperate than Sagar Wada as it is where the lepers live. In order to win over the leader, Ruby (Monique Kalmar), Lin drinks tea out of the same saucer. While you can't contract leprosy from casual contact, there is some evidence that the disease can travel through water droplets – so drinking after her does carry a significant risk! Lin manages to get the antibiotics he needs to save the woman, but doesn't have enough money for the rest of the supplies he needs.
On the way back to Sagar Wada, Lin has to stop to use the bathroom. He's been ill because the boy who hates him has been feeding him fish from the latrine pond! He told Lin in was Bombay duck… LOL! While Lin is relieving himself, Abdullah is attacked and almost killed by Walid Shah's (Mel Odedra) lieutenant Rafiq (Rahel Romahn). Lin comes back in the nick of time to save Abdullah. Khan pays for the medicine to thank Lin.
Meanwhile, Karla (Antonia Desplat) is having no luck making headway on the Sagar Wada development. She meets with Pandey (Alvin Maharaj) who replaced Aadekar, but he's already taken a bribe from Shah and won't deal with her. Shah shows up and threatens her. Lisa (Elektra Kilbey) has left Karla's, and Modena (Elham Ehsas) takes her home and helps her clean all the drugs out of her apartment. When Lisa runs into Karla at Reynaldo's, she tells Karla that she's not using or hooking, but she's not going back with Karla. She tells her that Modena is looking after her. Maurizio (Luke Pasqualino) is now dealing Zhou's (Gabrielle Scharnitzky) heroin to Raheem – a drug dealer from Lagos.
I'm really enjoying this show! It has a great blend of intrigue and drama. I love the chemistry between Lin and Prabhu, and my favorite love interest by far is between Prabhu and Parvati (Rachel Kamath). I really love how she's able to hold her own. I could do with less of Lin and Karla as I'm not feeling the chemistry there. I'm anticipating that Lin is also going to be dragged further into Lisa's drama… What did you think of the episode? Let me know your thoughts in the comments below!