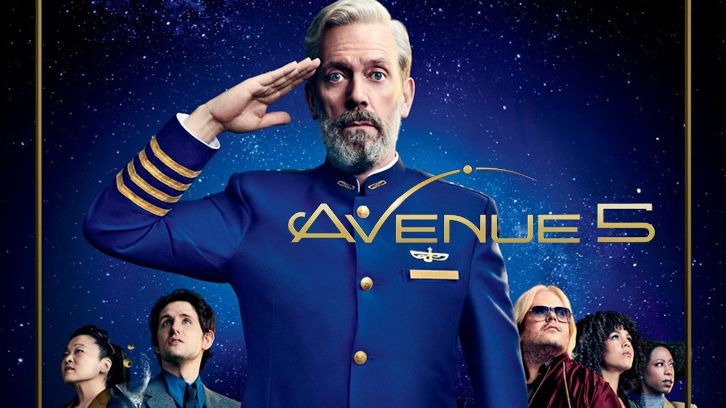 I'm still processing the fact that Avenue 5 really has returned after a two and a half year break. Naturally, the underrated dark comedy comes back to full chaos.
It's been five months since the events of season one took place, and Captain Ryan (Hugh Laurie) still hasn't told the passengers of Avenue 5 that they've been knocked off course (again, again), pushing their trajectory from the projected 6-month plan to 8 years. While everyone thinks they are only four weeks away from landing back on Earth, Ryan is using his seductive captain voice during dinner dates with married women while sharing reconstituted eel protein. Within just seconds of the premiere, it becomes abundantly clear just how terrified Ryan is of telling everyone the big, special announcement.

Avenue 5 doesn't pull back from dark, social commentary (let's not forget the airlock scene from last season), and this week's episode reveals that Earth has a new, trendy, streaming drama that imagines life stuck on the elegant space finger. It's all sorts of ridiculous and hilarious, and not just the fact that they hired a beard-less captain to play Hugh Laurie Ryan, but also the fact that people got hooked on a make-believe show-within-a-show where Judd is hooking up with TV Iris. I wholeheartedly believe this would happen in our universe.
Suzy Nakamura continues to be one of the highlights of this fantastic ensemble cast, and while a part of me was concerned about Iris' involvement in the show as she lands back on Earth, I'm pleasantly surprised and excited to see her character develop beyond being Judd's sassy assistant. Her appearance on a talk show, answering ruthless questions from the host (and viewers, live!), is a standout scene, without a doubt. She handles being interrogated with grace while still delivering some hilarious zingers and comebacks. I particularly loved her reaction during the Cracker Challenge when asked what historical figure she would go back in time and murder should she have the chance (it's Jay Leno).

Another big plus to separating Iris from Judd for a while is that it gives her the chance to interact with a slew of new characters, including Lucas (Arsher Ali) from the Office of the Other President. Lucas takes over Judd Mission Control, with the intent of "fixing" the comms delay with the ship and confirm that the passengers aboard are aware of their new, sad trajectory. Lucas appears to fit in quite perfectly with the rest of the cast; he is definitely a bit more "voice of reason" than most other characters, but not without his own charm. I'm looking forward to seeing him clash with Iris over the course of the season.



Speaking of voice of reason, Billie (Lenora Crichlow) continues to be one of the few genuinely concerned crew members aboard Avenue 5 alongside Rav (Nikki Amuka-Bird). This season has the potential to explore their dynamic together, both being smart women surrounded by a bunch of imbeciles. This is only slightly touched upon in the season premiere when Rav comes up with a pretty terrible plan to combat the food shortage issue over the next 8 years, but getting knocked off course again (damn kids), this time headed straight towards the sun, might inherently bring these two closer a little more. Avenue 5 is strongest when it focuses on the chaotic crew struggling to do things right, so here's hoping there is a lot more of those shenanigans this season.

If this episode is any indication, then this season is headed towards more chaos and more dark humor, which is exactly what made the first season so enjoyable.

Avenue 5 Zingers:

- "Are the portions getting smaller?"
- "No, I think you're just eating it from farther away."

- "You depressed, anorexic Santa Claus. That's what you are."

- "Pioneers? Pioneers of what? Pop-up cemeteries?"

- "I have a question: what the fuck?"

- "Okay, stop saying Rav's plan."
- "What would you prefer? Rav Mulcair's Festival of Murder?"

- "Okay, but, Frank, the vow is "to have and to hold," right? Not "hold hostage."