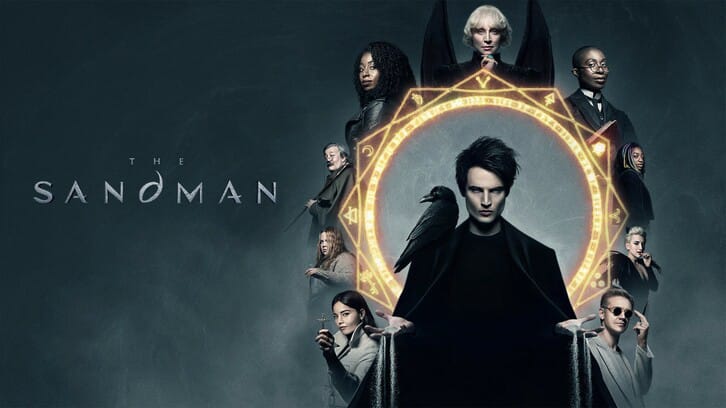 The Sandman "The Doll's House" was written by Heather Bellson (The Walking Dead, American Gods, Black Sails) and was directed by Andrés Baiz (Narcos, Narcos: Mexico). This episode was adapted from issue #10 "The Doll's House" and #11 "Moving In." Once again the acting is just fabulous in this episode, and I love the way they are interweaving the storylines.
I think it's particularly interesting for them to ratchet up the tension by teasing the storylines of The Corinthian (Boyd Holbrook), Desire (Mason Alexander Park), and Despair (Donna Preston). We know they are up to no good, but what are they up to? It seems The Corinthian is after Rose Walker (Vanesu Samunyai) and Desire and Despair have a history of going after Dream (Tom Sturridge). Did you notice that Despair wears crocs? Because nothing says despair like wearing crocs! Hilarious! Well done costume department!
As the episode opens, Lucienne (Vivienne Acheampong) is conducting a census. She reports to Dream that three of the Arcana have gone missing – Gault, The Corinthian, and Fiddler's Green. I loved using the stain glass window to reveal each in turn. So like the panels of a comic! Dream decides to use Rose – who is a Dream vortex – to find them. I loved how Lucienne didn't want to admit there was a vortex – that could destroy both the Dreaming and the waking world, but Dream is absolutely gleeful about her. I was really struck in this episode about how perfect Sturridge's voice is – the delivery, the pace, and his facial expressions.
Matthew (Patton Oswalt) gets his first big assignment – to watch Rose. And did anyone NOT love Mark Hamill as Merv Pumpkinhead??
Rose comes from a broken home. She and her mother had to leave her little brother Jed (Eddie Karanja) behind when they left her abusive ex-husband. In the present, Rose's mother has just died. Rose is still trying to find her little brother but has no money to pay for help. She has been given a mysterious job to fly to London and give a family history. Her friend Carl (Ben Wiggins) will be staying at her apartment while she's gone. Rose is accompanied by her friend, Lyta Hall (Razane Jammal) who dreams of her dead husband, Hector (Lloyd Everitt) on the plane.
Once Rose gets to London, she finds that the woman who hired her – Unity Kincaid (Sandra James-Young) – is actually her great grandmother through the baby she had while trapped in sleep for the time of Dream's imprisonment. Rather than asking Rose about her family tree, Unity explains it to her. I love how the show (and the novel!) has circled back to this. Unity wants to help Rose and promises her any money she needs to find Jed. Rose is also visited by the Fates (Nina Wadia, Souad Faress, Dinita Gohil) who try to warn her. Unity also gives Rose a ring – which is clearly going to be significant….
While Rose is in London, The Corinthian comes by the apartment, telling Carl that he's a head hunter (LOL! – really, just the eyes!) and he has a job for Rose. Carl invites him in and the two have sex. Surprisingly, The Corinthian doesn't kill him…
Rose moves into an eccentric B&B in Florida to try to trace Jed's placement in the foster system. The cast of characters in the B&B are epic. The house is run by Hal Carter (played by John Cameron Mitchell, who may have looked familiar from his terrific performance as Joe Exotic in
Joe vs Carole
). His performance at the drag club was simply inspired! And of course he sings "Everything's Coming Up Rosie!" The house is also home to Barbie (Lily Travers) and Ken (Richard Fleeshman) – who totally look the part and provide a stark contrast to Goth twins? Sister? Mother/daughter? Lovers? – Chantal (Daisy Badger) and Zelda (Cara Horgan).
The best is saved for last… After watching Hal's performance, Rose steps out into the alley behind the club to take a call from Unity and is almost immediately accosted by a couple of thugs. And then Gilbert (the always wonderful Stephen Fry!!!) shows up late and helps her fight them off – though it quickly becomes clear that she doesn't really need his help! He was only just arriving because he forgot the time as he was reading – something that will be important later…
Meanwhile, there is a "Cereal" Convention that has lost its keynote speaker. Of course, this is a serial killer convention as we quickly learn. Once again the casting here is terrific. Nimrod (Kerry Shale), Fun Land (Danny Kirrane), and The Good Doctor (Jill Winternitz) discuss who they can get as a replacement, and they all want to get The Corinthian. They don't have any way to contact him, so they decide to plagiarize his work… all three carve out the eyes of victims… And of course, The Corinthian shows up and tells them he wants to bring a plus one: Rose Walker!
The episode ends with Jed trying to get away from a clearly abusive foster "dad" who forces him into to the trunk of his car…
This was another great episode for me, nailing so many of the novel's elements pretty much perfectly. I also think they are doing a really great job in integrating the various storylines. What did you think of this episode? Let me know your thoughts in the comments below!