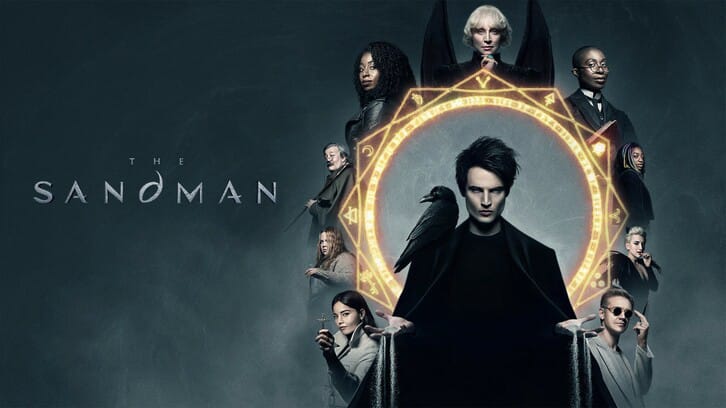 The Sandman "24/7" was written by Ameni Rozsa (Yellowjackets, Scandal, and The Catch) and was directed by Jamie Childs. Rozsa was responsible for the teleplay but a number of others helped with the development of the story. This episode was adapted from "24 Hours" and "Sound and Fury" – The Sandman #6 and #7.
Once again, changes to the original material didn't change the essentials of the story. Dee (David Thewlis) does sit at a diner and manipulate the patrons and staff. The characters are a little different and so are their storylines, but the point is what Dee does to them – and the world at large, which plays out on the television news in the background. The confrontation between Dee and Dream (Tom Sturridge) takes place completely in "Sound and Fury" and really would have been more difficult to film than what we see in the episode – which felt perfect to me.
I really can't say enough about Thewlis's performance. Dee in the novel is a monster both inside and out, but Thewlis imbues him with humanity – at least to a point. He's the outsider, observing the others unnoticed. The evil that he inflicts on them is simply to strip away the lies they tell to each other and themselves.
Bette (Emma Duncan) is an aspiring writer who feels she has an instinct for knowing people. Of course, in the end, she doesn't even realize that her "boyfriend" Marsh (Steven Brand) has been in a relationship with her own son – we're left to wonder if the relationship is actually consensual… Happily married Kate (Lourdes Faberes) and Garry (James Udom), who Bette fixed up, aren't even remotely happy. The first cracks appear when Garry won't eat the salad Lindy wants him to have. Yes. Most of the seven sins are on parade… gluttony, lust, wrath, pride, greed, envy…
Eventually, everyone has paired up for sex, and then start mutilating themselves or attacking each other, leaving them potentially dead, and that's when Dream finally appears. The fates (Souad Faress, Dinita Gohil, Nina Wadia) flashing between Bette, Lindy and Judy (Daisy Head) have told Dee his future – dust returns to dust – and we know who controls the dust.
Dream essentially tricks Dee into destroying the ruby, learning in the process that he doesn't really need his tools. Like every good comic, the episode ends with a tease of Desire (Mason Alexander Park) who has a bone to pick with their brother. One of my favorite parts of the episode is Matthew (Patton Oswalt) desperately trying to wake Dream up to go after Dee. What was your favorite part of the episode? How does this one rate in the series for you? Let me know your thoughts in the comments below!