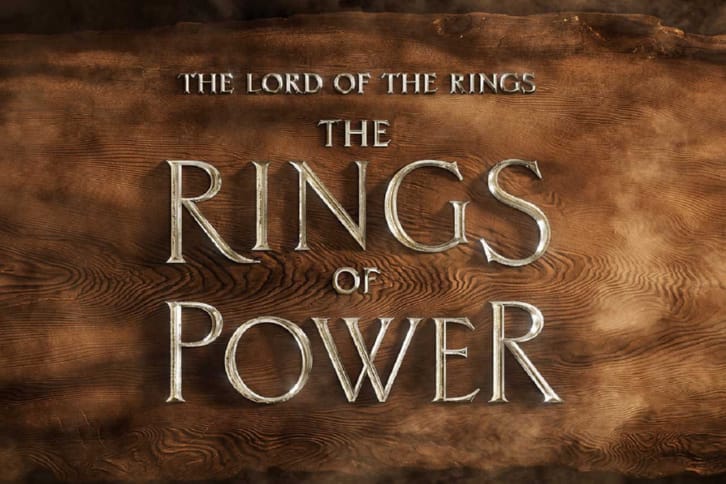 I'll be playing a bit of catch up with this review of The Rings of Power, looking at episodes 3 and 4. "Adar" was written by the team of Jason Cahill (Halt and Catch Fire, Fringe, The Sopranos) and Justin Doble (Stranger Things, The Path, Into the Badlands), and "The Great Wave" was written by Stephany Folsom (Paper Girls, Toy Story 4, Star Wars Resistance), J.D. Payne, and Patrick McKay. You can't say they don't have talented writers! Both episodes were directed by Wayne Che Yip, whose other credits include The Wheel of Time, Doctor Who, and Preacher.
I'm still finding myself somewhat underwhelmed overall by the series. It has spectacular moments, but so many of the characters are just irritating! And whiney! Though, to be honest, I always found Frodo to be rather annoying in that way too. As races go, I'm finding the Dwarves most interesting. But really, did they have to introduce an Aragorn figure in the form of Halbrand (Charlie Vickers)? Another King in hiding who has lost his throne and now must gather an army with the Elves in order to save them…
These two episodes continue to introduce new characters and expand the Middle Earth of the story. I will say that Númenor is beautiful and a very worthy addition even if its populace generally seems to leave a lot to desire. Of course, the tradition of the Harfoots migrating and "leaving people behind" didn't exactly endear them to me either! If you know exactly where and how you left them, why wouldn't everyone just help them keep up? It seems quite the opposite of their happy little song about sticking to the path and everyone being safe… It does seem like Meteor Man/The Stranger (Daniel Weyman) is becoming somewhat more coherent, and at least he's ready to help the poor Brandyfoots keep up!
Númenor introduces a lot of characters. Cynthia Addai-Robinson is one of the few actors that I recognized, and she does a terrific job as Queen Regent Miriel. I hope that they can keep up the complexity of this character and maintain her seeming integrity. She has to contend with her infirm father and a prejudiced populace in addition to the terrifying knowledge of the future that she's gleaned from the Palantir. And of course, Númenor sinking into the sea is right out of the lore…
There are two Númenor families of note – Elindel (Lloyd Owen), the Captain who rescues Galadriel (Morfydd Clark) and Halbrand, and his son Isildur (Maxim Baldry) and daughter Earien (Ema Horvath). By the second episode, Earien has been linked to the second family as Kemen (Leon Wadham) the son of important councillor Pharazôn (Trystan Gravelle) has taken an interest in her. Isildur is another tiresome character who through his own selfishness gets his friends thrown out of their training – and lead into joining the army.
There are some beautiful shots in "Adar," including of Galadriel's horse as she and Elindel ride across the beach to the great library. The library itself felt a bit "thin" – there is plenty of empty space behind the racks of scrolls. The set just felt underdressed to me considering the richness of many of the other settings. Galadriel begins to unravel the mystery of the symbol – it's a map! But for all her cleverness here, she completely lacks any statecraft for an Elf of her age! She lands in jail right beside Halbrand as she's just as hamfisted as he is. They really can't seem to settle on consistent motivation or actions of characters Galadriel and Halbrand swap whether to use caution or aggression…
The other really beautiful sequence in the episode is the fight between the Elves and Orcs. I did love them using their chains to fight – and of course Arondir's (Ismael Cruz Cordova) running up the chains to bring down the covering over the Orcs was completely reminiscent of Legolas. Arondir, after being captured, finds himself reunited with the entire garrison but by the end of "Adar" he is the only one left alive. In fact, Adar (Joseph Mawle) is one of the most fascinating characters so far! He is clearly Elvish, but it's speculated that he is the newest manifestation of Sauron – I'll be really interested in seeing more of his story. Mawle is well worth watching.
Adar releases Arondir to go and tell the people in the tower to join him or die. Meanwhile, things there are not going well, as apparently no one showed up with food… And is it just me or is Theo (Tyroe Muhafidin) the most annoying kid ever? Does anyone think he's going to have learned his lesson about listening to his poor sister, Bronwyn (Nazanin Boniadi)? The orcs in the sequence where they are chasing Theo is absolutely laughable. The makeup is not great and are they really supposed to be comic relief? In addition, they all run around looking like they are trying to just hit their mark, look in this direction, and run to the next mark… just not at all believable… and don't get me started on the Wargs. Although the attack on the Elves was satisfyingly gruesome – even if the CGI wasn't great.
Naturally, Arondir arrives just in time to save Theo and we get some nice slow motion archery as they completely unrealistically outrun the orcs out of the forest. Theo looks like he might care that he's almost gotten Bronwyn killed… but then, of course, he's still got that mysterious sword – and apparently Tredwill (Peter Tait) also know all about it. How obvious is it that they are going to throw in with those following Adar?
At least in these two episodes, they seem to be cutting down at least a little on the groups they cover, so we get the Harfoots in "Adar" (and hilariously, don't really get Adar until the next episode!), and then the Dwarves in "The Great Wave." It seems like Lord Celebrimbor (Charles Edwards) is going to be a bad guy – which makes me sad because I really like the actor! However, all his talk about suddenly remembering that Elrond's (Robert Aramayo) father had told him that one day his son – Elrond – would save him is just really obviously manipulative. He wants Elrond to find out what Durin (Owain Arthur) is hiding and tell him – essentially, he wants Elrond to sell out his friend…
I really like the relationship between Elrond and Durin, even if it does feel like a cheap imitation of Legolas and Gimli. I am still having a hard time with Aramayo, who just doesn't look like an elf to me… I'm also really enjoying the chemistry between Durin and Disa (Sophia Nomvete). Nomvete is also a delight to watch – and listen to! What a voice! I did love the singing to the rocks. There's no question, of course, that Elrond promising to keep the secret of the mistril is going to be a problem going forward. It will also be interesting to see if King Durin (Peter Mullan) and his son can stay in sync or if there is more trouble brewing there.
"The Great Wave" ends with Queen Regent Miriel going with Galadriel to help the Southland. It will be interesting to see how that goes – and what ends up happening in her absence. The show has thrown a lot of balls in the air. I'm not convinced that they are all successful, and I also begin to wonder where all the money went on this production given some of the holes I've pointed out here. Many of the choices, which seem to echo the LoTR films, like playing the orcs for comedic relief in many cases, just seem tonally wrong to me. What are your thoughts on the last two episodes? Still bothered by none of the female dwarves having beards? Which characters are you most invested in? Let me know your thoughts in the comments below!