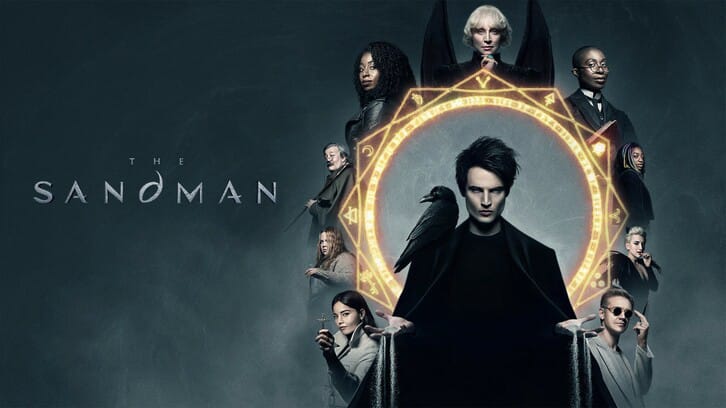 The Sandman "A Hope in Hell" with a teleplay by Austin Guzman (Why Women Kill, Scandal, and Grey's Anatomy) and was directed by Jamie Childs. The episode is actually based on two issues of the graphic novel: "A Hope in Hell" and "Passengers." The episode sees Morpheus (Tom Sturridge) retrieve his helm from Hell, and John (David Thewlis) retrieve his ruby from the storage locker where it was hidden.
I'm not going to lie. I've been looking forward to this episode because I really love the duel in Hell, and I was really looking forward to seeing Gwendoline Christie as Lucifer. I was not disappointed. The hair choice is in keeping somewhat with the comic, but her performance is spot on. Christie has the perfect bearing and is so subtle with Lucifer's reactions, which is perfect.
You can definitely see where the money ($15M an episode!) was spent on this episode. Hell is brilliant. There are many echoes of what the comic portrays, such as the gate to Hell itself – although, I think the series is actually more spectacular. The bodies which are embedded everywhere are subtle and creepy. I also liked that Hell is not what you expect because isn't it the point that it will always be worse than you can imagine? Matthew's surprise that it is cold and the added punishment of having to carry in your own fire is perfect.
Nada (Deborah Oyelade) is in the novel. However, she doesn't really give him the clue to defeat Lucifer. In fact, in the novel, Morpheus actually does battle with Choronzon (Munya Chawawa). We do see why Morpheus needs his objects back as he conjures Choronzon from the 1,000s/millions of demons with his sand in both. The fight itself is portrayed much better in the series. Another difference is that Matthew (Patton Oswalt) does not accompany Morpheus into Hell.
John is picked up by Rosemary (Sarah Niles), who agrees to drive him to Mayhew. In the novel, John steals a gun when he escapes from Arkham Asylum and hijacks Rosemary's car. The entire Rosemary storyline is a bit sanitized from the novel. Rosemary takes pity on John when she nearly hits him, and it's only as he continues to talk – about his dead mother and then murdering people – that Rosemary finally realizes that he's dangerous.
She does get him to the storage unit in Mayhew. John in the series seems to be a lot less psychotic – and of course, he's also not a gibbering skeletal monster in the series as he is in the novel. In the novel, Rosemary has told him her husband is a mafia hitman to keep him from hurting her. When she drops him off and admits she lied, John shoots and kills her. In the series, however, John takes pity on Rosemary's fear and gives her his protection amulet so she never has to be afraid again after he's gotten his ruby back.
In fact, Morpheus and John's paths cross in the storage unit. Morpheus beats John to the storage unit because the helm tells him exactly where the ruby is. However, when he tries to take the ruby it blasts him across the storage unit, knocking him and Matthew out, because John has altered the ruby to only respond to him.
John leaves Morpheus behind and leaves Rosemary alive. Thewlis is always a joy to watch, and he may be one of the only actors who could make John such a sympathetic figure. Of course, the changes to the original story also help to re-shape John's reception. So far, we don't really have much of an idea of what he's really done. Overall, this was another terrific episode. What did you think? Did Hell live up to your expectations? What about Lucifer? Are you sympathetic to John? Let me know your thoughts in the comments below!