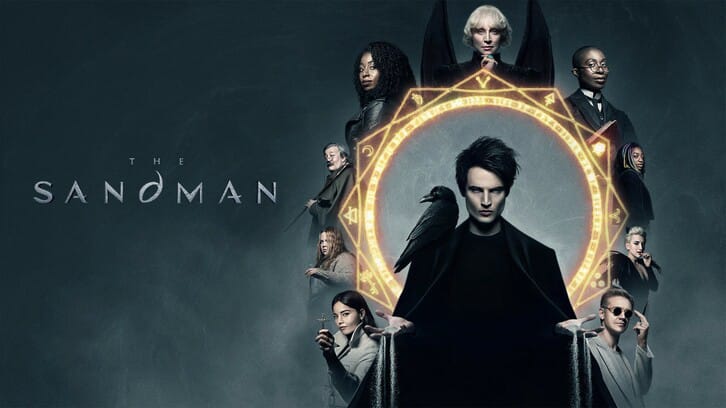 The Sandman "Dream a Little Dream of Me" was written by Jim Campolongo (Station 19, The Gifted, The Blacklist, and White Collar) and was directed by Jamie Childs. Like the first two episodes, this one is also grounded in beautiful visual, terrific acting, and superb source material. Like episode two, this episode deviates in very interesting ways from the source material.
First, instead of having JOHN Constantine, we have Johanna Constantine, delightfully played by Jenna Coleman. It's quite a lot of fun hearing Queen Victoria say fuck and see her fight demons! I suspect that Gaiman's story didn't really need more strong female leads, but rather that the series couldn't get permission (at a reasonable cost) to use the male Constantine as Warner Brothers is already using the property in two other series. Other than the gender swap, Constantine's storyline is pretty faithful to the novel, including Mad Hettie (Clare Higgins).
I loved the exorcism (not in the novel) from Erica (Meera Syal) the minister to the couple wanting to get married – the Princess (Hannah van der Westhuysen) and her footballer boyfriend Kevin (Stephen Odubola). I loved how she tricked them into saying the exorcism – and it turning out that it was Kevin who was possessed. Given how Agilieth (Marcus Fraser) ripped out of Kevin, it's clear why Johanna often doesn't get paid for her exorcisms! Agilieth himself was pretty cool.
It's clear from the litany of Johanna's lovers that she is bi, but staying consistent with the original narrative, Rachel (Eleanor Fanyinka) is the lover left behind… with the sand, becoming addicted to the wonderful dreams. Dream (Tom Sturridge) gifts her with a final good dream of a beautiful sunny day spent with Constantine to release her from life.
Retreating into pleasant dreams is also a theme picked up in Ethel (Joely Richardson) and John's (David Thewlis) story. He remembers her using the ruby on his birthdays to make his dreams come true – a pony in the backyard and snow in his bedroom in July. Ethel is desperate to get John to return the ruby to Dream in order to protect John. But John isn't worried. When Ethel gives John the protection amulet, she immediately ages at least 6o years and dies. Her aging and Rachel turning to dust were two more great effects.
With the amulet, John is able to escape from his prison – Arkham Asylum – and of course, the first person he meets is The Corinthian (Boyd Holbrook). We get some great exploding guards as John leaves. I love how understated both Holbrook and Thewlis are playing their madmen.
Of course, the entire sequence between Ethel and John doesn't take place in this volume of the novel. However, it does give us some psychological grounding for John. It seems they were both abused by Ethel's various boyfriends and it sounds as if their lives were generally spent running and hiding. Another rather big change is the introduction of Matthew the Raven (Patton Oswalt) here. Oswalt completely lived up to my high expectations for Matthew!
All in all, this was another solid effort. The changes that were made really only improved the story for me. This week social media has been full of Gaiman's tweets that we may not get a second season of this wonderful – and wonderfully popular – show. Will you be disappointed if this is the only season we get? I know I will be… What did you think of the episode? Were you surprised/unhappy about the switch from John to Johanna? Was this your favorite episode so far – or in the series if you've watched it all already? Let me know your thoughts in the comments below.
And just a quick nod to any Supernatural fans reading… it's fun to compare this episode to the Supernatural episode of the same name… demons and dreams... Kripke hasn't been shy about the influence of Gaiman on his work.