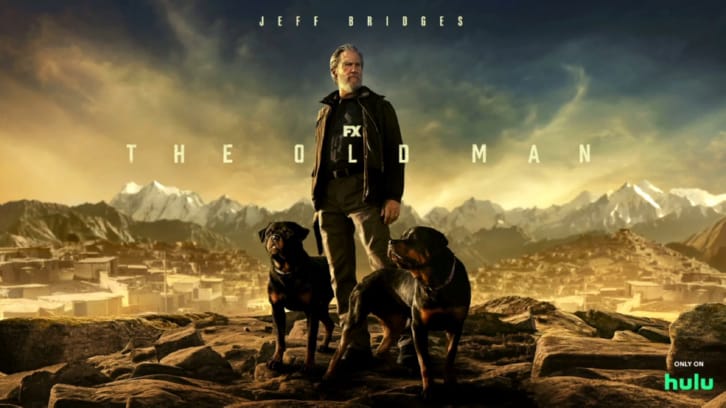 The Old Man finished up its first season on July 21, so I'm sorry for the delay in getting this review up (blame covid). The entire season was written by the team of Jonathan E Steinberg and Robert Levine. As we know, the show faced its own challenges due to Jeff Bridges's (Dan Chase) health (cancer AND covid). Bridges still delivers a compelling and masterful performance. In fact, almost all the acting was superb. My biggest disappointment with the show is that the ending didn't live up to the promise of the beginning. Which isn't to say that I didn't enjoy the series or that I'm not looking forward to a second season – because I am!
So, there are a number of things I think the show got very right. Casting Bridges and John Lithgow (Harold Harper) was brilliant as the two worked off each other perfectly – as you'd expect actors at the top of their game to do. Bridges' action sequences were fabulous and a definite highlight of every episode. Am I the only one who was sad when he had to leave the dogs behind? The best thing about the final episode, however, was Chase and Harper finally getting to work together.
I'm not a huge fan of Amy Brenneman (Zoe), and at first, I wasn't impressed with Zoe either. However, I thought the character showed real growth over the course of the season, and Brenneman's performance was excellent. I loved that she went from a clearly beaten down divorcee who couldn't even get her son's tuition right to a ballsy woman willing to stand up to Chase and challenge him. The budding romance was clearly far fetched but they definitely made it work on screen.
Joel Grey (Morgan Bote) felt a little like stunt casting. I really wasn't entirely clear on his loyalties and motivations, but in the end, I suppose it all boiled down to self interest and greed for power. I did feel like his role in it all was a bit less fleshed out. Of course, most of the characters had conflicting motivations, which was one of the compelling things about the series.
I did enjoy the flashbacks. Cutting in and out of time clearly helped in building the tension and layering the mystery and intrigue. However, what really made the flashbacks was how terrific that casting was too. Leem Lubany was compelling as the young Abbey Chase. However, Bill Heck as the young Dan Chase and Christopher Redman as the young Harold Harper were absolutely magnificent at capturing Jeff Bridges and John Lithgow respectively. Heck was a particular stand out as he had to make the character his own while still giving us enough Bridges to make it feel connected, and he definitely did it!
The one aspect that didn't really meet the bar of the rest of the season was, for me, Alia Shawkat as Angela Adams. She had a tough job playing on screen with Lithgow for the majority of the season. I did think she gave some of her best performances in the final episodes as she grappled with her divided loyalties between her two fathers. Of course, was anyone actually surprised when we found out she was Chase's daughter? Or when we found out that, in fact, she's Faraz Hamzad's (Navid Negahban) daughter?
It does set us up for a pretty interesting second season even while leaving us on a bit of a cliff hanger. Did she know that Hamzad was her father all along? Is she still in the dark? Was her goal all along to get back to him? What does Hamzad really want with her? What's going to happen with Harper and Chase? Are they both renegades now or can Harper somehow manage to become the "one" who needs to keep it all together, replacing Bote? I was also a bit sad to lose Waters (EJ Bonilla) so close to the end. He was an interesting character, and I think there was more to learn there.
What did you think of the series? Will you be tuning in for the second season? Who did you think was the ultimate hero – or was there one? I'm voting for Chase… Let me know your thoughts and hopes for season two below!