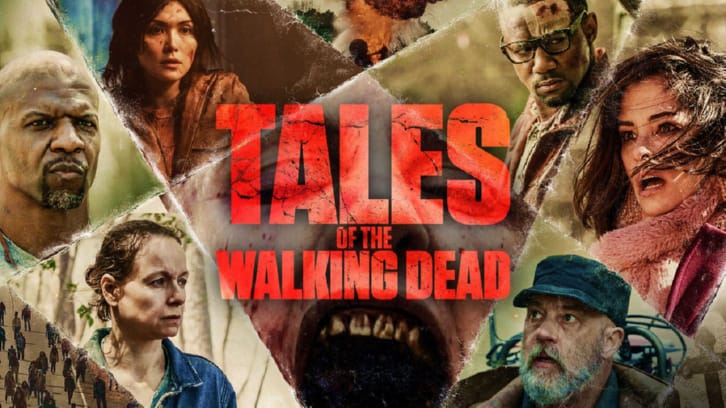 Tales of the Walking Dead debuted with "Evie/Joe" written by the team of Maya Goldsmith (The Walking Dead: World Beyond, How to Get Away with Murder, and Pretty Little Liars) and Ben Sokolowski (The Walking Dead: World Beyond, Arrow, and The Flash) and directed by Ron Underwood, whose other credits include Fear the Walking Dead, Hawaii Five-O, Once Upon a Time, and Agents of S.H.I.E.L.D. Underwood has a long and impressive career behind him, and I really liked the work Sokolowski did on Arrow, but World Beyond was a giant misstep for the franchise. I was not a fan of World Beyond nor of Creepshow, so I was a bit nervous about how I'd like Tales. However, the first episode got the series off to a solid start.
While "Evie/Joe" didn't have the same overall feel of
The Walking Dead
, if we're being honest,
The Walking Dead
doesn't have it anymore either. But I loved the horror movie/road trip vibe that the episode did have. Is Terry Crews (Joe) the best actor ever? Not really. Did he clearly have an absolute ball filming this? You betcha, he did! And that enthusiasm paid off big time for me. Olivia Munn (Evie) was absolutely brilliant as the hippie, new age sidekick to no-nonsense, jock Joe. Full disclosure, I am a big fan of Munn… Kersti Bryan is absolutely fabulous as Sandra.
I like that the episode takes us back to the beginning again – or at least shortly after the beginning and gives us a glimpse of what happened to a couple of survivalists. Naturally, the met in a chat room of end of worlders. Joe is coping pretty well when we first see him. He's a loner, so he seems ok with being alone. He's got things – SODUKO – to keep his brain sharp, and he has a routine, including exercise. He's also planned ahead with a self-sufficient bunker. He's also not quite alone because he has Gilligan – his Doberman. I absolutely love that he gave the dog that name – because he is stranded on his own desert island! I wish we'd seen a sign that called his bunker the Minnow… Things are fine until the inevitable death of Gilligan. Then, Joe starts to feel the isolation and makes the decision to find the woman he'd been chatting with on the forum.
Joe leaves his secure location on a tricked out motorcycle, wearing his collectible football helmet – wouldn't an actual motorcycle helmet have been better? Regardless, as prepared and capable as he seems, he runs into the traps that Evie has set and becomes her prisoner. She seems like she should not have made it this far. She's clearly set traps and is capable of killing the "toe-tags," but she's living alone in a cabin. Can we assume that essentially living off the grid has also prepared her for the Apocalypse? Because Joe has a kill switch on the motorcycle, she has to take him with her on her own road trip to try to find her ex.
Of course, the two opposites end up bonding on the road – until Evie distracts Joe who leaves the bike running – and some guy steals it, leaving them a baby goat as payment. The two split up when they get close to their respective destinations – and what are the odds that they'd both be heading through Ohio to the same area of Michigan anyway? Evie ends up in another cabin – her ex's. He's been angry-painting all the people he hates. She looks through canvases and finally finds a lovely picture of herself – he didn't hate her. He's not there, of course, and we never do find out what happened to him.
Joe meanwhile has found Sandra's house. As he's surrounded by walkers, she opens the bunker doors and he falls in, hurting his leg in the process. Um… Joe? If a place has as unwelcoming an entrance as that, there's a good chance the welcome isn't going to get better! Sandra is socially awkward – as you'd expect. Is this because she's socially awkward anyway (hellooooo internet friends!), or is this isolation-induced awkwardness, or door number three, serial killer weirdness?!!!! This was actually kind of a fun analogy to our lockdowns of the last two years – how are people coping now that they're back 'in the world'? Hopefully, better than Sandra…
Sandra offers Joe a gigantic brownie – "homemade" – and Joe digs in… and it's drugged. Sandra coming back with "clown" makeup was fantastic, classic horror movie. As was her proceeding to try to kill him and being interrupted by Evie showing up with the goat. This entire sequence was classic horror, and I loved it – just a little over the top, which it has to be because it is such a classic trope. Sandra getting the cleaver right in the chest was perfect.
Evie and Joe set off again – after a narrow escape from walker-Sandra. Um… kill the brain, guys! I really thought they might take over her bunker or find Evie's Ex's watch among Sandra's trophies, or at least, steal Sandra's ride that Joe had a picture of. But now, they set off on foot. Evie points out that they are alive and there is beauty all around them – well maybe not right there on the dead walker strewn bridge, but Joe gets what she means.
We'll likely never know what happens to them – but wouldn't it be cool to see them later – maybe in the Common Wealth or New York in one of the spin offs? Finally, it was perfect that Joe named the goat Skipper. It's a perfect name for a goat (they really do skip), but it also circles us back to
Gilligan's Island
. So, clearly, I liked this first episode after worrying that I wouldn't like the tone! My fingers are crossed that at least most of the episodes are this good and they didn't just air the best one first. What did you think of the episode? Are you in for the series? Let me know your thoughts in the comments below!