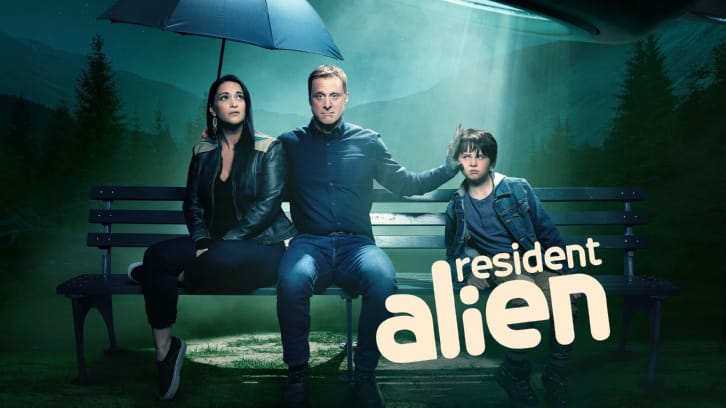 The first part of this episode didn't initially grab me as much as I'm used to being grabbed. I think it's because of the necessary setup for the episode's revelations. Those revelations were worth it.

We did have another encounter with the mysterious alien who is here to destroy the Earth. Which race is he from?

I will say that, if you're hiding in a military facility, it is really helpful to be able to telepathically threaten people to keep your secret.

So, which aliens are the threat?

Have we ever heard Harry name his race? All I can remember is him saying "My people."

We know two things now: (1) The captive guy was really abducted by aliens. (2) He was abducted by aliens who plan to destroy Earth.

What we don't, yet, know is which race he represents. Any guesses?


When I was a kid my grandmother would accuse me of having a one track mind.
I think that's a great description of how General Wright thinks. The answer to every qustion is 'alien'.
It's one of the things that makes her dangerous. It makes me nervous that she's in Patience.
Hopefully, she's smart enough to keep Logan around. Otherwise, she will waste more time and never find Harry.
(Although, let's face it. If General Wright ends the season with a captive alien, it will be Joseph. According to IMDB that is the evil alien's name.)
I was really annoyed by Ethan Stone when he first arrived. He was just too annoyingly perfect.
But, poor guy, he has been so royally screwed over.
I'm really hoping that, left to his own devices, he stops using and can get back to some semblance of his old life.
Best bet, say nothing, clear out your bank account and rejoin Doctors Without Borders.
Just quietly slip out of the country. (Something tells me that's it's not gonna be that simple.)
I love the fact that this show doesn't force us to wait forever for some information to come to light.
We didn't have to wait 5 or 6 episdoes for Harry to find out where the alien baby is hiding.
Let's face it. Max isn't the brains of team Max and Sahar.
The 'Max doing chores for Harry' sequence is not one of my favorite tropes.
But, I looked up the cost of drum sets. (I just couldn't resist.) That kid made bank considering how much work was required.
I'd pour glasses of milk for that kind of money. Being a footrest…that's a line I wouldn't cross.
Sahar, try Fabreeze. Perfume just joins the stink and makes it worse.
It occurred to me that she hasn't named the baby. Although she doesn't treat the baby like a "person", more like a pet. There are people who name their puppy "Puppy". So maybe his name is "Baby".
Unfortunately, or fortunately if the insanity is as much fun for you as it is for me, Harry's quest to connect with the baby still isn't settled.
Now that Harry has told Asta about the other alien, maybe she can step in and get Sahar closer to the same page as Harry.
I can't even discuss Judy and the cat. It was a little too disturbing.
I love the fact that they've brought back those moments where Harry thinks something extremely arrogant, and immediately punished for it. Tonight it was a bird attack!
The thing I love about this show is that embedded in all of the insanity are these wonderful character moments.
D'Arcy finally talked to her coach again. I get why she would be avoiding him. When you're walling in your pain you do not want to talk to the person who will tell you the truth you don't want to face.
On some level she knew he was going to tell her that 'people fall' and she should get back up. So put off talking to him until she was ready to hear it.
It's too bad that, after such a positive encounter, she had to hit the baby. That's gonna leave her a little messed up.
But even with that, she's still moving forward.
Asta finally talked to Dan about killing Corrington. That needed to happen. It was the only way for her to begin moving forward. I also loved everything Dan said.
The episode has been running as I type this. It suddenly occurred to me…when Asta and Harry face Joseph, will the General be fighting with them?
Will that be able to happen without her learning that Harry is an alien as well?
Harry wants to be a better friend. I'm trying to remind myself that it's the kind of change that doesn't happen over night. He'll probably backslide a time or two before the season is over.
I really want him to succeed. Asta deserves it. Can he fix things between Asta and Jay?
Additional appreciated craziness:
The discussion of Rocky Mountain Oysters. I think I mentioned before that I spend a chunk of episodes laughing so hard, at Liz and the Sheriff, that I have tears in my eyes.
Harry's reaction to the old spit in the hand to shake on a deal trick was fabulous. Best thing ever. It's an old schtick and massively gross. Boys!
Liv's work was acknowledged. Power to her for calling Det. [] for not giving her her deserved credit.
What did you think of the episode?