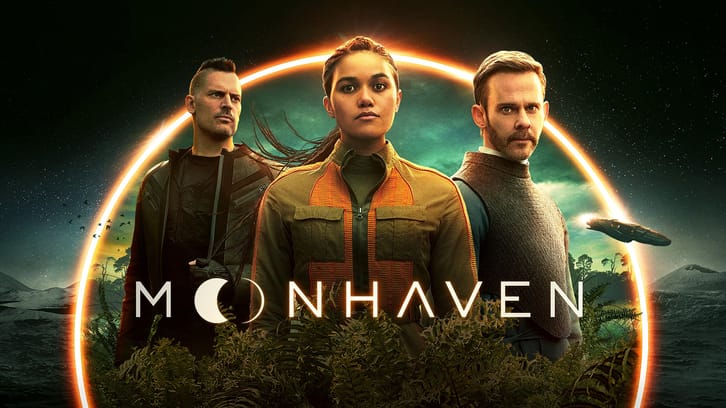 Growing up, one of my favorite novels was Brave New World by Aldous Huxley. What I love about Utopian Fiction is the world-building that is created through unfamiliar settings, language, and clothing etc. Often these works critique human nature in a way that strives to comprehend our mistakes and prevent us from making them in the future. Created by Peter Ocko, Moonhaven is a 2022 Sci-Fi television show on AMC+ that accomplishes these goals masterfully.

Set 100 years in the future, the series involves an Eden-like colony on the Moon inhabited by humans who have left an ebbing Earth. The purpose of this humanitarian mission referred to as "The Bridge," isn't to find a replacement planet but to act as a home for those attempting to find a solution to Earth's issues. Violence, injustice, and pollution are a few examples of human behavior that is prohibited on Moonhaven. The goal is to develop new philosophies that stem from unlearning, return to Earth, and spread this information. This colony acts as a home for those who plan to use IO properly, as it is our last hope of saving humanity. IO is a form of advanced technology that detects patterns in human behavior throughout history. Our responsibility is to work hand-in-hand with it, allowing it to aid us in preventing past behavior. Acknowledgment of its power not only reinforces humans to behave accordingly, but causes doubt within the main character and is rejected by others who have more sinister plans.

The plot follows Bella Sway, a lunar pilot who is unexpectedly accused of a crime and forced to stay on Moonhaven as punishment. As a result of being accustomed to Earth's societal norms, she is apprehensive about the Moon's cultural beliefs and practices. Bella also struggles to trust the idea of peace and redemption. Ironically as she is thrown into a murder investigation, she begins to discover the truth behind her own history and the conspiracy to gain control of IO.

What I enjoyed most about Moonhaven is the dialogue, which is riveting to say the least. Every episode has a handful of complex, yet promising lines delivered naturally by the stellar performances of the cast. As a viewer, I felt compelled to actively listen to the characters and find deeper meaning in the show's thematic concerns. The unique take on mental health, the capabilities of the mind, and criminal justice are crucial to the overall world-building. The detectives in the series often investigate crimes but provide psychic healing, rather than reinforce justice. The "darkness" of one's mind is to be treated to prevent acts of violence or malice. There's also an emphasis on healing, community, and understanding. I find these philosophies to be plausible solutions, showcasing the present day anxieties surrounding weapons and mass atrocities. Similarly, IO demonstrates the way technology i.e. social media provides us with access to the critical analysis of human history. This widespread awareness and urge for truth has shaped much of the youth, resulting in the determination to learn from our mistakes. Lastly, the incorporation of spirituality, horror, and the supernatural towards the end of the series was mind-blowing. The mysteries involving these elements kept me on my toes and immediately made me want to watch season 2.

Moonhaven has been renewed and will return in 2023. When it comes to ending a season with a cliff hanger, I believe the finale nailed it. I was shocked by revelations, felt satisfied with answers, became intrigued by new questions, and was given hope that there will be a positive outcome for Earth. If you're a fan of Sci-f or the Utopian genre, I highly recommend this show.