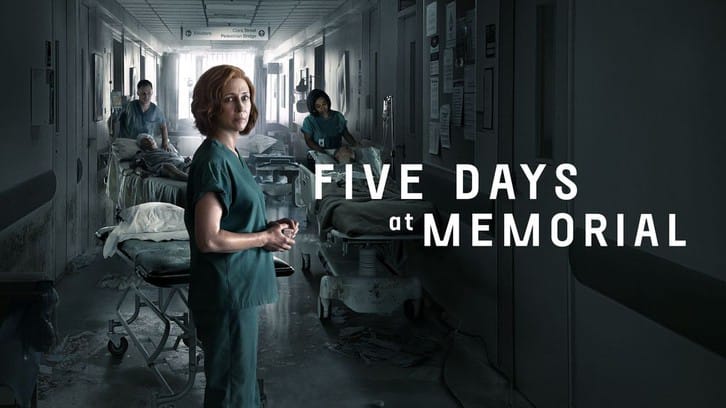 Based on Sheri Fink's 2013 book Five Days at Memorial: Life and Death in a Storm-Ravaged Hospital, Five Days at Memorial depicts what happened at a New Orleans hospital after Hurricane Katrina made landfall in Louisiana in 2005. It plays a little like a documentary in that real footage is interspersed with the fictionalization of the story, and the series follows the aftermath as investigators try to determine how 45 people ended up dying in the hospital.

As a non-American, I have to disclose that I only have a few memories of Hurricane Katrina's impact back in 2005. I remember the scale of the disaster from afar, but without social media or regular internet access at the time, I have to admit I didn't follow what happened very closely. Listening to Floodlines a couple of years ago helped me get a better idea of what happened, but when Five Days at Memorial was announced, I still had no idea the hospitals had been this badly affected, much less how some of them had dealt with what happened. So please forgive any gaucheness on my part about this, since I know how sensitive a subject it is.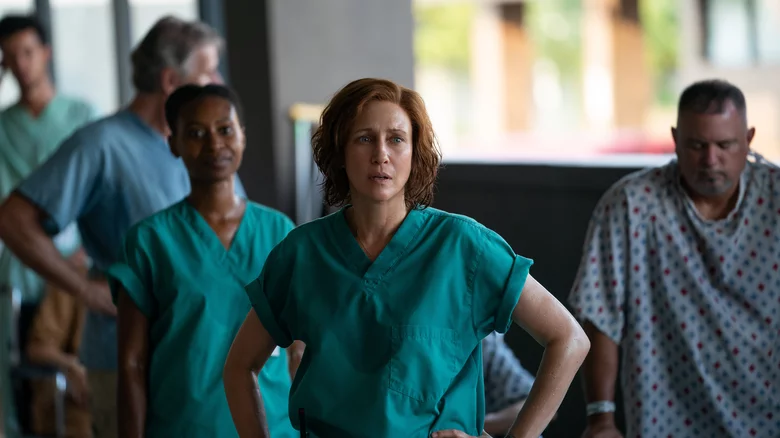 When Hurricane Katrina was first announced, Memorial Hospital and its staff prepared as it always had when hurricanes were forecast. It was also regularly used as a shelter for nearby families whose houses weren't as likely to resist the heavy winds and rain, meaning it transformed into a rallying point for the staff's close ones, pets, and non patients, as well as Memorial patients, and LifeCare patients. LifeCare acted and operated as a separate entity with a different overall owner, with seemingly little contact made with Memorial, as the show illustrates later on. While the hospital seems to be able to deal with the regular consequences of a hurricane (broken glass, falling trees, etc.), it's made apparent quite soon that in case of heavy flooding, nothing suitable is in place, least of all an evacuation plan. At the time, it seems like more focus was put on biohazards than environmental threats, and no one anticipated the level of destruction that could, and would, be brought on by New Orleans's sheer unpreparedness. Dr Anna Pou's (Vera Farmiga) little cans of tuna seem even more ridiculous in hindsight, as do Susan Mulderick's (Cherry Jones) piles of increasingly useless folders, all depicting plans that won't help anyone.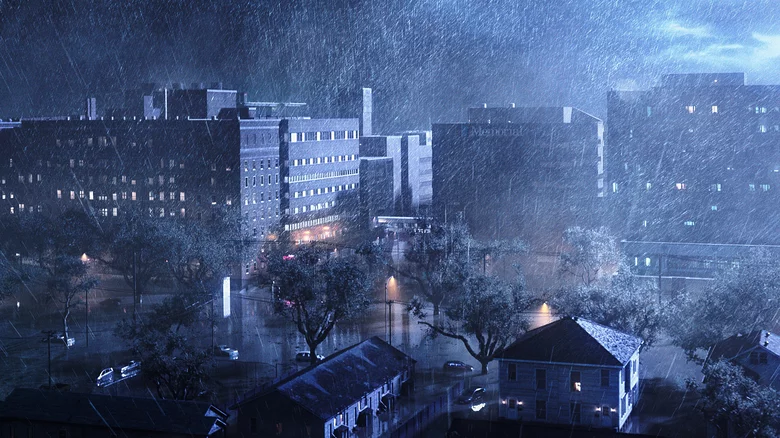 After the hospital succeeds in weathering the storm's initial impact, moral is good at Memorial since while there is damage, most of it is reparable and the worst seems over. Unfortunately, this respite doesn't last long since it quickly becomes obvious that the water, far from receding, is coming back. As worried staff gathers from the news, the city's pumps don't seem to be working, and the leevees have collapsed. The hospital's generators are (as is the case for almost all New Orleans hospitals apparently) situated low enough that if the water rises, they won't be able to work anymore. The AC's already off, but if they lose power completely, it'll be chaos. A hospital can only remain a hospital if it can provide care to its patients, many of which need ventilation and other crucial systems dependant on power, which is no longer available.
The rest of the series depicts exactly what went down, day by day, when choices had to be made: who to evacuate first, the sickest patients, or those estimated most likely to survive? Much debate exists about the legitimacy of triage "rules" and they often are as varied as the number of health professionnals that are asked about how they'd proceed. With no existing rulebook in place, Memorial's decisions quickly descend into complete chaos and inequality, with gutwrenching scenes and baffling decision making. It's also illuminating to observe how little was done by the U.S. disaster relief to organize the rescue, even though people were willing and ready to help, as well as how much bureaucracy can stifle any attempt at efficiency, often completely omitting the very real, very human aspect of the situation.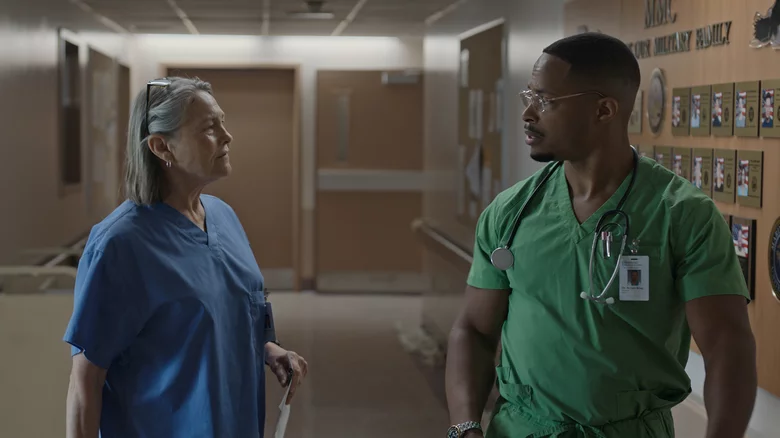 The cast is very much an ensemble, and is great as such, but Vera Farmiga and Cherry Jones definitely deserve special mentions here. Vera Farmiga succeeds in making you root for Dr Anna Pou during the first five days of the disaster, as she tries her best but ultimately unravels when faced with impossible decisions, all while becoming a villainish figure in the end when she faces the consequences of what she decided to do to the patients. Cherry Jones is fantastic as Susan Mulderick, displaying both her toughness as she suddenly finds herself having to make an evacuation plan out of thin air, and her vulnerability when it all becomes too much, especially in the scenes with her own mother.
The show does a great job to show how the hospital was failed at every single level, from its inherent structure, to its lack of organization, and to the government's utterly infuriating response (or lack thereof). By the end, especially since it took place so recently, it's impossible not to feel disgusted and angry over what happened, and why it happened. The show is also an hommage to the victims and their families, and especially at a time when we're still in the throws of a worldwide crisis, asks that something like this enver happens again.