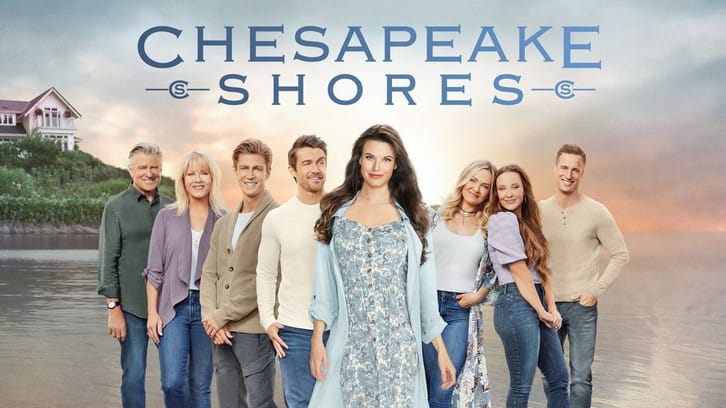 In my opinion this episode was not too eventful. They started building more of the storylines that didn't get touched on too much in the last episodes like the situation with the Pecks and Micks substance abuse. Let's dive into those parts of the story first.
The Peck Situation Both David's mom and sister are visiting David and Jess at the B&B, better call it hiding for the press and FBI back in Boston. As we know from last episode the FBI does know how to find their way to Chesapeake Shores. And so did the press. Midway through the episode the press shows up at the B&B trying to take pictures and stories of the Pecks. Jess immediately calls Connor for legal advise. With Connors advise she goes outside to speak to the press and tells them that the police is called and they need do leave the property and move to the end of the lawn because they are trespassing.
Micks substance abuse Last episode we saw Mick taking painkillers a few times and being secretive about it, hinting that he might be using more than does good. Which is confirmed in this episode. Starting at the Bridge where Mick seems a bit out of it, dizzy maybe. Luke immediately suspects something and straight up asks Mick about it, who denies he has a problem and storms out of the club. Later on Mick finally gets his cast removed and asks the doctor for a refill on his painkillers. Who doesn't give a new prescription to Mick and gives a warning that they do more harm than good. When Mick arrives home for family dinner he first goes to the bathroom to get freshened up, but is actually raiding through the cabinets in order to find more painkillers. Personally I am not that enthusiastic about the storyline. First of all it seems a little dark for a Hallmark series, at least compared to the ones I have seen. Secondly it is a pretty big storyline, considering this is the final season with only 8 episodes left. Don't get me wrong I do like to watch some drama unfold but this might end up feeling rushed or end very badly.
Bree her new story Bree has finally found new inspiration to write, this time it was found not within her family but in Luke with a story set in prison. She asks Luke to proof-read it for her since he is the expert. So he does and let's Bree know afterwards that it is pretty inaccurate and it feels like it is written from the outside in. This is followed by some awkwardness, Luke because he had to tell her the truth while wanted to be nice about the story and Bree because she didn't know what to do with it yet. This changes quick with Bree asking him to help her rewrite the story to make it more accurate. Reading it second time around Luke it way more positive about it since it is accurate.
The snippets After a successful first date it is up to Abby to organise a second and she is having a hard time deciding what to do. Neither Jess or Bree are giving the desired advice and opting a first idea to Evan which resulted in not getting the reaction she hoped for since Evan hated Jazz. Finally Abby comes up with the Idea of going crabbing, which is a big hit with Evan.
Meghan went into caring mom mode the last two episodes with taking care of a recovering Connor. Brining him disgusting smoothies and teas to help him heal faster. Even though everyone loves having Meghan around so much they also know she has a big opportunity waiting for her in Los Angeles. So Connor organises an intervention to get Meghan to reconsider taking the job, which she eventually decides on doing so. Curious to see if she will actually leave for Los Angeles and for how long and if she will be back. We learn that Kevin and Sarah have a trip to Maui planned, as we hear Kevin talk about considering to postpone it due to Connor's health issues. I am Hoping to see more of the two of them in the upcoming episodes.