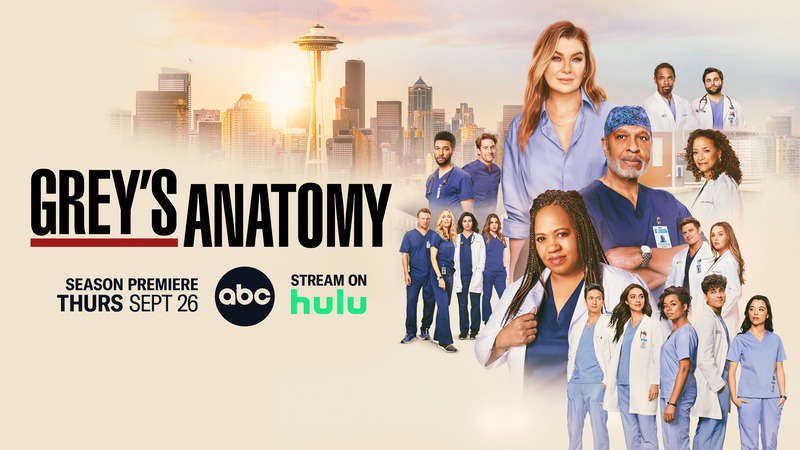 I personally felt like these last two episodes of season 18 were a memorial. A memorial for what Meredith was before. For what the whole team of doctors was before. I really felt the 400-episode vibes. Ending it all with a glimpse of what we'll see in the season 19 premiere, how things will change.
MEREDITH (AND NICK):
Meredith didn't listen to him and still tried to operate on the patient, with fairly unsuccessful results, all with Richard and the program examiner watching her every step of the way. With the blood-shedding that happened, she and Nick had to close the patient up and bring her to the ICU, untreated. And Richard pointed out he specifically told them not to perform the surgery but she did it anyway because all she could think is her opinion. And honestly… I kinda felt there was more to it than the surgery outcomes. All the conversation pointed out her choice of leaving Seattle with Nick and the kids. And I'm sorry for everyone who said she was selfish for that. She wasn't selfish at all. She could've handled the choices about the surgery differently? Yes. She could've made a different choice about moving away with Nick? Absolutely not. She gave everything to that hospital, and as much as she considers them family, she has her own family. She had it back when Derek was alive, and she has it now. And if her career (and love for Nick) brings her away then: good for her. But, on the other hand, I also agree with Nick saying she's probably insecure about leaving, which is normal, as he said. That hospital raised her to be the woman she is now. She met her husband there, she met her sister Lexie, and she met all of the people who love and support her right now. And I love how Nick gets that...he's so empathetic and respectful and caring with her. I see he's meant for her. Her end scene for this season, with all the flashbacks of her life, was so powerful. Something is starting here. We are leaving part of the old Meredith and we're welcoming a totally different era. And she said it. She said: "The end of an era is easier said than done." It's like seeing her younger self gave strength to start on her next challenge: rebuilding everything. Herself, her relationship, the hospital. And no, I'm not worried about the fight with Nick, as I said, he's very caring (and it's rare).
What I hope for next season: I wanna see her rebuild the hospital from scratch. Being chief is something she was meant to be the end, and she's finally there. And it'll be a rollercoaster, and I think at the end of this she will definitely go away. This is her ultimate storyline. On Meredith and Nick, I don't have much to say…I think they'll reunite in the first episode of season 19, I don't we'll have much angst or drama between them. They're adults and they love each other and I think that's enough.
BAILEY:
What I hope for next season: We all know Bailey has been the pillar of this show, and these two episodes have proven it in literally every scene, but as I've incessantly said, his woman needs a break. She's a badass, she's always been one, but I can't take it anymore. She needs to go away. And I can tell you this: I hope she works on what Schmidt said to her, on reverting these stereotypes about gay people's blood. I hope she puts her knowledge on this, trying to fight the system (with Schmidt's help of course). Like she promised. She's gonna do great things next season (and I may be crying just by writing this).
RICHARD AND KATHERINE:
What I hope for next season: I really don't know what to think about his storyline for next season. I think he will help Meredith adjust to her new role and will help her rebuild the program (maybe with the old methods he used when she was a resident? I am seeing something like that). I also hope to see more of him and Katherine.
MAGGIE AND WINSTON:
What I hope for next season: I hope they do what they said in their last scene…I hope they protect what they have but they also take time to deepen their relationship and get to know each other. Also, for Maggie, I want something big. A new experimental study, a new role in the hospital, I don't know…I want something more than just her relationship with Winston (which I like).
AMELIA (AND KAI):
What I hope for next season: I really wanna see Amelia and Kai grow together, and know each other better - good and bad. I think we've already stated they have so much potential as a couple but…how are they gonna deal with the long-distance thing?
SCHMIDT:
What I hope for next season:
I want to see him fighting for his rights on screen just like he did in the last two episodes of season 19. It's time for his character to step up a little more and be even more centered than he is (especially about the community).
OWEN (AND TEDDY):
What I hope for next season: I don't know what to hope for, honestly. But I'm curious to see what's gonna happen next…will we see them as they try to escape and hide? We will never see them again (unlikely but still a possibility)? Or they'll get caught and will face a trial and probably a life sentence? But my most important question on this is…what about those poor kids? I'm really shocked.
JO:
What I hope for next season: I want to see her focusing solely on herself, her career, and her baby. And I know some of you want her with Link, I know, and I can see your point but…She needs a break, she needs to be alone and work on herself and her mental health. She went through so much in the past what? 9 seasons? She barely had a break since she showed up the first time.
JACKSON AND APRIL:
Now…the most important thing: JAPRIL!!!! They kissed in the elevator. After years of pain and angst, they're finally endgame. They deserve it, but most importantly…WE DESERVED IT.
What I hope for next season: I mean I don't think there's anything to hope for…because I don't think they'll be back anytime soon (except, maybe, another episode? Considering Jackson said he would've been more present with the rebuilding of the residency program). Also...there's an attendings shortage. Maybe they'll bring them back until everything settles? We'll see. But I mean, what we got is enough. I'm happy like this.
What did you think about the episodes? What are your expectations and hopes for next season? Let me know in the comments!