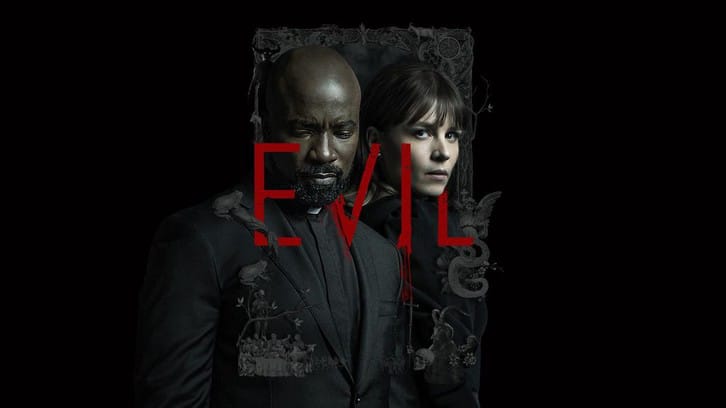 3.03 - The Demon of Sex
Written by Robert King and Michelle King and Aurin Squire
Directed by Nelson McCormick
Reviewed by KathM

Sister Andrea is seeing dead peo…er, demons. She's seeing demons. Big, icky demons who leave slime around like snails. When she sees one going into a room where a couple is seeking marital counseling with David, she asks to sit in on the session. David thinks it's weird, but then again so is Sister Andrea so he goes with it. Leo and Amalia, a couple David married some time ago, are unable to consummate their marriage. Kristen tries to help, in the end telling the couple to let go and do what feels right. This leads to a somewhat aggressive first-time lovemaking for the couple. They seem happy with it, and while the demon tells Sister Andrea that he's "won", I wonder why. I mean, some people just enjoy aggressive sex. I wonder what the demon means and hope we see the couple later this season or next (renewed for season 4!) to find out more. Maybe a demon baby?
Sister Andrea's talking to and monitoring the demon as it wanders through the rectory dovetails nicely with Leland's plan to get rid of the sassy little nun and leave David with fewer people to support him. He scurries to the monsignor to tell him that Sister Andrea's mind is going, she's talking to things that aren't there. Kristen assures him that Sister Andrea is as fit as a fiddle, but I doubt that will be the end of it.
Two sets of siblings get screen time: Karima and Ben and Lynn and Lexis. I love Karima and hope we get to see more of her. I liked the geek den she took Ben to visit; I think it was good for him. Ben's science seems to be a bit sidelined lately, and it's nice that he had a group to play with and bounce ideas around with. I was less impressed with Lynn, who I thought was more level-headed, but who insisted that Lexis go stand in a corner wearing some of Kristen's freaky animal fur and talking about how bad she was. Lynne was pretty matter-of-fact about it; Lexis let it slip about Rand, so she needed to be punished. I found it disturbing. This prompts Kristen to create a list of "commandments" they need to obey to keep the household (and the girls) in better order. The first commandment? "Thou shalt not lie to Mom." I yearn to see which of the girls breaks that one first.
Sheryl continues to limp her way through work; I wonder what she used to do before? I can see her owning a bar. Maybe an escort agency? However, after some advice from Lexis and a bit of trickery on her part, Sheryl manages to not only rid herself of an irksome employee but raise the stock prices with the help of a vapid would-be influencer. Just as well, because I shudder to think what Leland would do to Sheryl if she couldn't meet his expectations.
3.04 - The Demon of the Road
Written by Robert King and Michelle King and Dewayne Darian Jones
Directed by Peter Sollett
Awesome. Spooky and awesome. What starts out as your standard "ghost highway" story evolves into a dark tale full of demons, unexpected murder, a sad realization about angels, and one of my favorite songs by The Turtles ("So Happy Together"), Ben's mother's favorite song.
A woman comes to Father David in the confessional and tells him about her husband Jason, a truck driver who has recently begun sleeping in his truck because he's afraid of hurting his wife. Not good. When the Spooky Trio goes to visit, he tells them that he drove down the "ghost highway" (13 to 13A on I-95), lost eight hours of time on a road he shouldn't have been driving on and was chased by something human-like that wouldn't let Jason pass. His radio played things he'd never heard before, including what sounded like possibly preaching? Ben can't explain the lost time but thinks that the "man" who chased Jason was most likely someone messing around with a drone to scare drivers, but then David finds what seems to be a sigil on the truck. Oh, dear.
The trio decides that they should take a midnight amble to I-95 to see what they can see. While they do get the possessed radio station (666AM) with what sounds like a garbled sermon by a racist preacher (with a special message for Ben). He has David pull over and tightens a battery cable, which he thinks might be part of the problem. Kristen thinks she hears something in the bushes close to the highway but doesn't have time to check it out. Back home Karima talks things over with her brother; she thinks that someone might be messing with the radio signals on trucks on the highway, which is causing a number of problems. I'm not sure how it explains Jason's lost hours, though.
David experiences his own encounter with the highway a few nights later when Jacqueline (Jason's wife) calls to say that Jason took off in his truck and she's worried about him, David heads out onto the highway. While Jacqueline is afraid that Jason might have hit something it's David that ends up hitting a deer; when he gets out to see if it's okay, he finds a demon gnawing on the poor venison.
This is a great scene: David and the demon stare one another down, and the only sound for a while is David accidentally dropping his keys and trying to pick them up without taking his eyes off of the demon. In the end, it doesn't matter because suddenly the demon abandons its meal and heads for David until he stops right in front of a truck containing Jason, who seems absolutely fine. The "ghost" ends up being one of the truckers the men the trio met when they started to drive the road the first time. Turns out the guy is a clout chaser, broadcasting from a shack in the woods near the highway. Needless to say that the gang is not thrilled; in fact, Kristen is so enraged she smashes all of the equipment as they leave.
Unexpectedly as they drive off a car pulls off the road containing Victor Laconte accompanied by a man who looks distinctly non-clerical. This is confirmed when Laconte tells his companion to wipe everything down and leave no prints as he leaves the car, gun in hand.
Did you know there were demonic families? It seems that each sigil represents one. As Victor explains to David if the head of the house dies and the successor doesn't get to eat him, then the house "dies" and the demonic house disappears. Ick. David is confused because the idiot with the radio wasn't dead when they left. Victor smiles somewhat evilly and says that the guy has been taken care of. Oh, and did I mention that Victor was looming in a darkened corner of David's room again? I find his obsession with our young priest more than a tad disturbing.
Sister Andrea, who has been offered the opportunity to retire to a silent retreat, refuses in as few words as possible. In fact, her very occasional silence speaks volumes. The fact that she offers no explanation for the priests' concerns makes her "yes" and "nos" all that more powerful. She matter-of-factly admits that she sees demons (there's one! They wave at each other across the room.). She won't sign anything to formally retire to a silent retreat, and with David's help representing her gets the case of cognitive issues before a jury of her peers. I absolutely cannot wait for the next episode, which I hope features the National Coalition of Nuns extensively. I want to see Leland trembling in a closet, ladies!
It's a given that the priests of the Council of Heretical Practices are frustrated with Sister Andrea, who won't be a good little nun and go gently where she's told. Like that will happen. I really hope we learn more about her next week, what we learned this week (an encounter with Saint Bernadette at 15 while playing piano guided her to the Church) has piqued my interest. Tell us more, Andrea. Tell us more.
Oh, Kristen. I get that you want to help your girls learn about being strong, unapologetic women, but I always find your examples rather disturbing. It was actually okay to apologize for a little to the freak you beat up in the grocery store, but I found the subsequent physical attack on your property underwhelming. I just find it ridiculous, which may be my own prejudices. I'm more of a big stick girl. That being said, weren't they adding a bedroom and bathroom? That isn't what it looked like to me. If she doesn't stop trashing the contractor's work I'll be interested to see what they come up with.