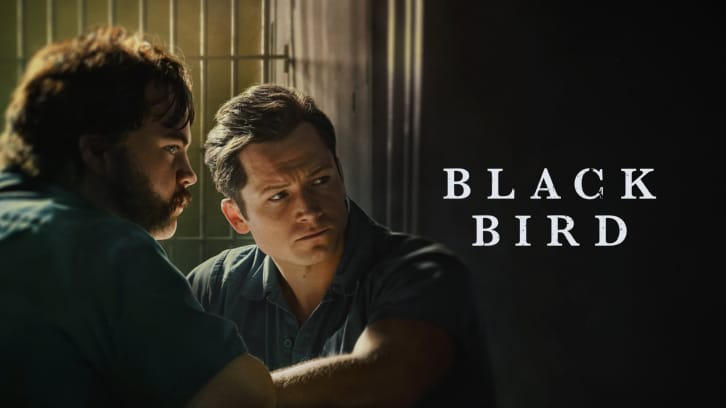 I'm starting to think that it's possible that not every true crime needs to be immortalized.
It's not a new thing to muse on the dark underside of America's obsession with missing and murdered young (mostly white) girls. The conversation has been had, and had, and had all over again, and yet every year we get our serving of both real and fictional murdered girls for us to consume.
Apple TV+'s Black Bird, at blessed least, is one true crime offering that tries to pull something more out of its tragic narrative than pure drama. Whether it does that effectively is another question entirely, but hey - there was an effort made.
Written by thriller author Dennis Lehane and based on the autobiography of James Keene, Black Bird takes us through the story of Jimmy (Taron Egerton, also the show's co-producer), a privileged playboy who has been convicted on drug trafficking charges and now faces 6 years in prison. That is, until a beautiful FBI agent (Sepideh Moafi) comes in and offers him a chance at a commuted sentence - so long as he is able to befriend suspected serial killer Larry Hall (Paul Walter Hauser) in prison and find out the locations of the bodies of his victims.
The first 4 episodes of the show are fairly middling, careening through the story with just about as much care for what happens as I had - little to none. It's hard to criticize a narrative that is based on a true story, but try I will: narratively, the show was extremely bottom-heavy, with every interesting angle and major development being crammed into the last two episodes.
Those last two episodes, may I say, are excellent, and feature world-class performances from Hauser and most especially Egerton. Egerton's performance, actually, is strong throughout. I found myself drawn into the show the most when I was able to notice the way he played Jimmy, a grossly unlikable sleazeball, with a growing sense of empathy as he is slowly drowned in the dark innards of Hall's twisted mind.
Notably, this series marks the last on-screen role of the late Ray Liotta, who plays Jimmy's angst-ridden and ailing father. Whether it was because of poor writing or the actor's reported own wavering health at the time, the character is a painfully underused link to humanity in the show's dark and often clinical look at the mind of a serial killer. Moafi also feels oddly set-to-the-side in many parts; even though her role is much more prominent, her levelheaded performance still seems to demand more to work with than she was given.
One thing that I will give in on is that Black Bird does explore some things that the majority of true crime and mystery shows would gloss over in favor of continuing to glorify the idea of a fair and moral justice system. Taking place for the most part in a prison, the show does not shy away from the mental toll that being a piece of the demented prison system can take, as well as the irreparable damage that learning about dark and gruesome crimes can do to one's psyche. It explores the line between what makes someone considered "crazy" and "not crazy" competently enough; and while it's definitely not treading any new ground thematically, these themes were executed with enough consideration and sensitivity to not be too painful to watch.
Ultimately, Black Bird is about three-quarters of a true crime story. Those three-quarters are not horribly told, and often even veer into prestige territory, but that does not change the thread of incompleteness that is woven into the very fabric of the show. It needed something else to click; some greater purpose to exist that it was coldly denied.
The first three episodes of Black Bird are available on Apple TV+ now, with the rest airing weekly.
What do you think of Black Bird so far? Let me know in the comments!