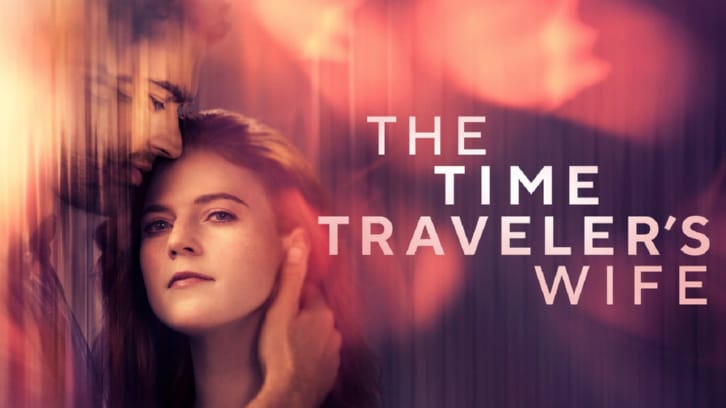 The Time Traveler's Wife "Episode Three" was once again written by Steven Moffat and directed by David Nutter. Rose Leslie (Clare) delivers an amazing and heart-wrenching performance. Theo James (Henry) is also fantastic in this episode. This week the focus is really on Clare. Once again the episode cuts back and forth in time and it's disorienting at times – though nothing compared to what Henry has to go through!
A much older Clare is addressing the camera – and it's unclear who it's for - us? There are hints that he may be dead at the time that this is filmed. Clare laments the time she's spent simply waiting for Henry to show up. The waiting begins from the moment she meets Henry as a child. Leslie does an excellent job 'acting' older. There's a nice segway from last week's episode's theme of knowing someone through why they are sad as we see her mother (Jaime Ray Newman) is "sad." Ignored for the most part at home, Clare (Everleigh McDonell) is thrilled to have a new friend in Henry. However, Clare's lack of understanding about how a calendar works and the fact that she doesn't pick up on the fact that Henry's wife's name is Clare too are a bit hard to swallow – she does finally figure it out at 13 (Caitlin Shorey) – though Henry continues to deny it.
Flashbacks tell us that important events draw Henry to them, but he tells Clare that he has no idea what time he's going to next. We also learn that looking at screens makes him time travel. It's possible that we get an explanation for the blood on Henry's bathroom floor when Clare hears her name called and runs into the forest, finding her Dad (Michael Park) and brother (Peter Graham) hunting. She sees blood on the snow… and then it disappears. Henry isn't worried when Clare tells him – 'all future ends in a brick wall.' Everyone is going to die. Knowing when and how won't help you.
At 16, Clare hides Henry's clothes. This scene was adorable. He tells her that once you start enjoying it, you can't see someone naked! Henry beats her at chess – winning all his clothes, and it's clear that he hasn't been playing as well as he could have up until then. He takes her for ice cream – and basically points her in the direction of kids her own age.
Clare goes to a party and stands Henry up. Jason (Spencer House) is clearly interested in Clare, and she isn't interested in him until she gets peer-pressure from her girlfriends. Henry looks worried when he finds Clare's note about the party, but it doesn't appear that he knows that she's been raped. There are nice parallels to the previous scenes as Henry is falling asleep when Clare comes running through the woods, screaming his name. It's pretty funny when she trips as he jumps toward her – and disappears, showering her with his clothes….
Henry appears on what seems to be the next day. Clare is angry and devastated and takes Henry for a drive. She's determined that she can't die – because Henry knows her in the future. He finally asks her what's wrong. He's put his own fingernails through his hands. He "mansplains" that her life is not on tracks and depends on all her choices. Henry tells her that they aren't together in the future.
Clare asks Henry if he's ever been arrested. She assumes that if he's put in jail, he'll just disappear eventually, and he tells her that it's usually from the back of a cop car. She asks him to kill Jason – without telling him why. He calls the younger version of himself and tells him to get an alibi. Clare has her father's gun in the glovebox. Her only explanation is that Jason is an asshole. I loved that Henry mutters he used to be an asshole too – and it's exactly what Clare told younger Henry when she met him! LOVED it!
Like all bullies and cowards, Jason pees all over, including on Henry, when Henry uses the gun to put him in the trunk. Clare is concerned when they can hear Jason breathing funny – and goes back to his house to get the inhaler for his asthma! She finally determines that they won't kill him. Henry will just hurt him while she watches. Clare finally tells Henry that Jason attacked her and shows him the marks on her body.
She tells Henry that Jason didn't rape her. But older Clare admits that he did and that she never told Henry – who has been dead a long time. Younger Clare insists that Jason just hurt her – and burned her – because she "changed her mind." Henry tapes Jason to a tree with a lot of duct tape. Jason tells Henry to read her texts… She texted him to thank him for a great night. I thought the show handled this really well. Women deny what happened – even to themselves – because it is too awful to admit that it's real. She also tells Henry she was frightened.
Jason tells Henry that Clare likes it rough. Henry loses it, telling him that she doesn't and never did – and knows because he's her husband... And of course, that's when Henry gets pulled out of time. He hands her a marker that he bought when he got the tape, telling her that he thinks she'll need it and then he disappears.
This was perfect. Clare didn't want to be alone with Jason – so she called every girl she knew and asked them to come – if a boy had hurt them. They all wrote their stories over Jason's body. She considered it her first sculpture. She tells us that she learned that art isn't just something that hangs on a wall. It can also be revenge.
Henry travels back to 24 year old Clare. He sees the marker – which she's kept in a place of honor – and finally understands the significance of it.
The only meet one final time in the clearing – when she is 18 and he is 41. They seemed to be dressed for a date – and a picnic. She doesn't see him again until she is 20 – and we have traveled back to their first meeting when Henry was an asshole.
I loved the way this episode was woven together. Great performances by both Leslie and James. The subject of rape was handled well. The rapist was a narcissistic bully and coward. I loved that Clare was able to share her cathartic moment with the other girls – and no woman watching would be surprised at how many young women showed up. What did you think of the episode? Let me know your thoughts in the comments!