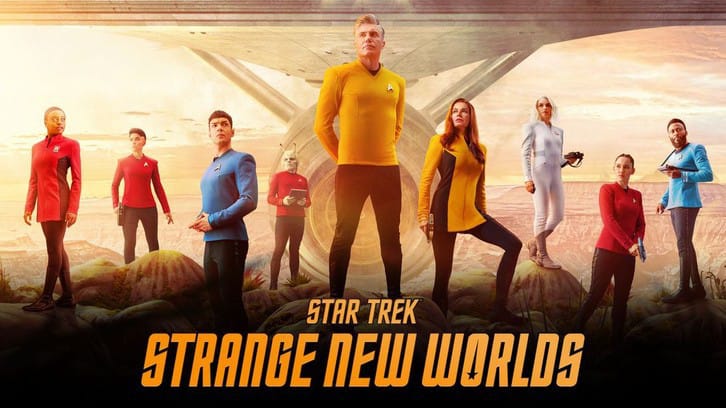 Star Trek: Strange New Worlds "Lift Us Where Suffering Cannot Reach" was written by the team of Robin Wasserman and Bill Wolkoff and was directed by Andi Armaganian, whose other credits include Star Trek: Discovery, Stargirl, and Arrow. While there have been some accusations that this episode borrowed heavily from a certain SF author, it's really just a pretty standard story. Utopia always comes at a cost – in this case the horrific torture of a child.
The episode begins with the rescue of three people on a shuttle being attacked and the Enterprise saving them. There's a distinctly Kirk-vibe to Captain Pike (Anson Mount) in this episode as we learn he's had some kind of interaction with Alora (Lindy Booth) and the two end up in bed together.
I am really enjoying following Cadet Uhura (Celia Rose Gooding) on her rotation through the ship. This week she's with security and trying to impress La'an (Christina Chong). I also loved that this episode is a bit like a murder mystery – and Uhura was on the job! She does impress La'an and solve the mystery.
The major storyline concerns the "ascension" of the First Servant (Ian Ho) – who is just a young boy. He is rescued along with Alora – president of Majalis – and Gamal (Husein Madhavji) who is also the First Servant's father and doctor. The First Servant is injured when he's rescued so he's taken to Sick Bay where M'Benga (Babs Olusanmokun) and Chapel (Jess Bush) discover that he has a complex within him and that their medicines are more advanced than Starfleet's. Naturally, M'Benga wants to know if they can cure Rukiya (Sage Arrindell), but they are reluctant to offer any help.
It turns out that Gamal is just as anxious to save his own child and colludes with a rebellious colony of the Marjalis who live on a hostile planet. They've given up utopia because they are vehemently opposed to the sacrifice of children. Gamal tries to beam out with the First Servant but he eludes his father and ultimately beams down to the planet to go through with his destiny.
Pike is invited to witness the ceremony. When the last First Servant is removed from the machine powering the core systems, both Pike and the First Servant are horrified at the mummified corpse of a child. Pike tries to stop it and is knocked unconscious and the First Servant ascends.
Alora had offered to help Pike avoid his future – they could heal him. However, after seeing the ceremony, Pike is clearly not interested and tells Alora he's going to report the incident to Starfleet. Gamal is going to join the rebels on their colony and continue to fight to save future Servants. He does give M'Benga at least some clues as to how to cure Rukiya before leaving.
This was another solid episode. I don't buy into the hubbub that the writers "borrowed heavily" from any particular source (though I could be wrong), as this is a really standard trope – the cost of utopia and whether people are willing to pay it. I think it has a terrific modern analogy too – aren't we sacrificing our own children by not doing more to control our environment? I'm also happy to see that I'm not the only one consistently impressed by Pike's Peak – aka Anson Mount's hair! What did you think of the episode? Let me know your thoughts in the comments below!