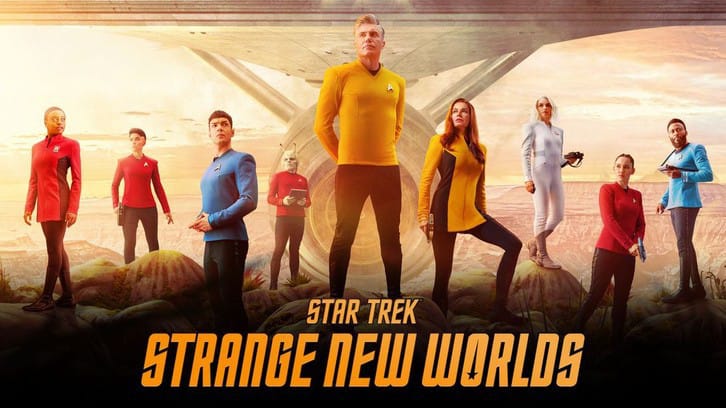 Star Trek: Strange New Worlds "The Elysian Kingdom" was written by the team of Akela Cooper and Onitra Johnson (no other credits) and was directed by Amanda Row, whose other credits include Nancy Drew, The 100, and Shadowhunters. This was definitely not my favorite episode so far. The entire fan fiction/fantasy role playing storyline seemed like a way for them to have a day on the holodeck before the holodeck had been invented.
Once again the ship is detained by a mysterious entity – who latches on to Rukiya (Sage Arrindell) and makes her fantasy based on the book M'Benga (Babs Olusanmokun) reads to her. None of the crew remember the experience except for M'Benga. Even Hemmer (Bruce Horak), who isn't affected by the fantasy, doesn't remember what ultimately happens. There is, as always, some good banter on the bridge before everything goes sideways – and "hit it" doesn't work…
I like a good period, costume piece as much as the next person, but there really didn't seem a lot of reason behind this. It was fun to see Ortegas (Melissa Navia) get to do more stuff and Uhura (Celia Rose Gooding) was terrific as the evil Queen. Anson Mount (Pike) was actually enjoying himself a little too much and slid into ham territory. It was a relief to see poor Ethan Peck (Spock) actually get to smile.
I was disappointed that M'Benga didn't fight harder to get his daughter to stay. It's also a bit hard to believe that a child would pick a new playmate over their father… However, it was nice that Rukiya (Makambe Simamba) came back to tell her father that she was ok and happy.
I did find myself wondering – wouldn't this also be a good solution to Pike's problem? Why not come back and join up here? What did you think of the episode? Let me know your thoughts in the comments below! I'll be back after the finale with a double review of the last two episodes of the season…