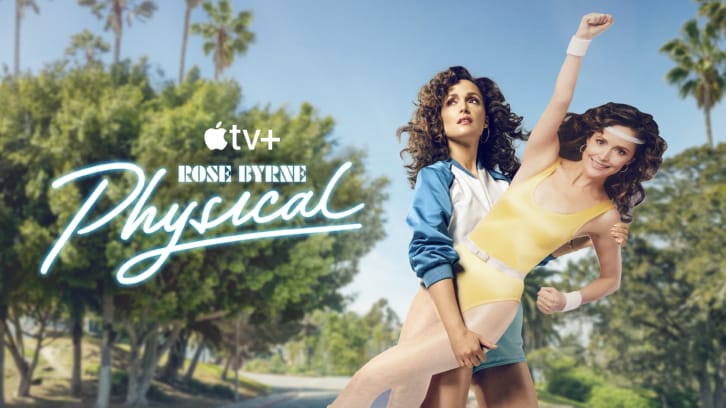 The first episode of Physical season 2 is aptly titled 'Don't You Want Me'. The answer to that question is a whole-hearted 'Yes We Want You'! What a joy that Apple decided to renew this show. Apple TV has been putting out some stellar TV for a while now with For All Mankind, Severance, and Wild Horses. Physical is included in that list of excellence.

We jump right in where season 1 left us. Sheila is back talking to herself infront of a mirror. However this time we see a somewhat different Sheila, more confident, not taking any BS anymore. That yellow (not rubber-ducky a**hole) stand-out dress looks absolutely gorgeous on her! She walks into the room ready to charm business man Auggie Cartwright into a new marketing campaign. During this time her husband Danny is gestering that he wants to leave. Lets be honest, when things don't revolve around Danny he's not interested. That's the Danny we got to know from season 1.
I'm loving the 80's music used in this series, when
'Love isn't always on Time'
from
Toto
kicks in, while Sheila and Danny are in the car back home, I got goose-bumps. Sheila's newly gained confident is still more in her head and in her voice-over but in the car scene Sheila snaps and tells Danny she hates him with her whole-self. Oblivious Danny acts like he gets it but Sheila and we know he doesn't. Sheila sleeps over at Greta's house.
Aw Greta, we all should have a friend like Greta. Greta, co-captain of the SS Divore, is super supportive and trying to subtly convince Sheila to leave Danny. It's in the scenes with Greta that I find Sheila the most unsympathic. Sheila is definitely not a 'nice' person in the general sense of the word but with Greta she seems even more cold and manipulative. Maybe it's the juxtaposition that brings this out more.
Back home Danny makes a lot of empty promises of change and tells Sheila he will be a stay-at-home dad so she can be the breadwinner. He apologizes and Sheila accepts it.
We get a short scene between San Diego real estate developer John Breem and his wife confirming that she is indeed pregnant. He's been heavly involved with the church and busy with work. He looks miserable and his wife is secretly aware. Strange detail, they are organizing a bomb-shelter. For the inevitable rature maybe?
Sheila is at a department store trying to sell her video-tapes. Auggie Cartwright's son has been instructed to keep track of sales. After a slow start Sheila gets some traction and ends of selling some tapes. Sheila's inner-voice about food is super triggering for anyone having issues with food or body image. It's especially these dialogues that get very dark and damaging.
In the next scene we get another great use of a 80's song.
Sheila E's
'The Glamorous Life'
starts playing and we see Bunny making her own tape on roller-skates. Bunny is still very angry at Sheila for stealing her idea, rightly so. Tyler and Bunny make a new video but at home they find out one of their roommates has recorded over it. Bunny then walks into the department store and stumbles upon Sheila's videostand, she steals a copy. It will be interesting to see how this develops, will Bunny and Tyler continue to be ousted by Sheila or do we see another team-up coming?
Annoying Danny has embraced his new false feminist side and has signed up for the school's outreach committee with fellow parent Greta. It also seems he wants to use this so called pro-female new outlook on life for political gain as we see him discussing it with sleazy Jerry.
The last scene is a bit of a shocker and frankly something I was hoping would happen.
Kim Carnes'
80's classic
'Betty Davis Eyes'
starts playing and we see Sheila entering a motelroom, as she did in the past, for some junkfood binging and alone time. To our surprise and delight it's not a hamburger waiting for her but John Breem. That undeniable and forbidden sexual chemistry that we saw between them has turned into an affair, of sorts..