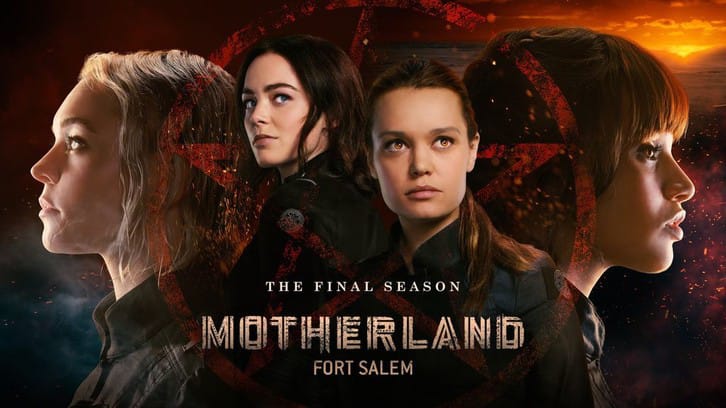 SPOILERS BEYOND THIS POINT. DO NOT CONTINUE READING UNLESS YOU HAVE FINISHED THE FULL EPISODE OR ARE OKAY BEING SPOILED.

This start of this new season is bittersweet, the excitement for what is to come is palpable, but the sadness of it all coming to an end is sad. At least the audience gets to come into this season knowing the story will have an ending and not be left forever unfinished like so many other shows. But that is only a little consolation for a series that clearly still had many seasons' worth of story still left to tell. The good thing is we still have many episodes left to go before we have to say goodbye, so let's stay in the now and look back at this incredible season premiere.

Picking up seemingly not all that long after the events of the Season 2 finale, the fugitives are embedded within a dodger group headed by Mac (John Stewart) an old friend of Scylla's (Amalia Holm). Nicte has now taken a new face, so we see her now played by both Arlen Aguayo-Stewart and Kandyse McClure. Compliments to McClure because she has really nailed the nuances of the character Aguayo-Stewart has worked so hard to infuse into Nicte. Tally (Jessica Sutton) continues her progressive alignment with Nicte via their regular training sessions. Sutton beautifully carries through the unique Tally and Nicte connection whether she is working opposite Aguayo-Stewart or McClure. The writers have been playing a long game with Nicte and Tally since they first introduced the character last season. It is really hard at this stage to predict what the ultimate endgame is for both characters, but the writing continually keeps pushing them together. Also, not lost upon viewers will probably be the fact that Tally laments about being single in the same episode she spends so much time with Nicte. Is this meant to become a romantic type of bond? A teacher and student bond? A comrades-in-arms bond? It will be very interesting to see where this unique bond settles when all the chaos calms.




While Tally is left with an uncertain relationship future, the same can't be said for Raelle (Taylor Hickson) and Scylla or Abigail (Ashley Nicole Williams) and Adil (Tony Giroux) who all have very healthy relationships. First, let's discuss Abigail and Adil because they seem to be center stage in one of the things the Camarilla are fighting to prevent, which is the union of sky and earth. During Abigail and Petra's (Catherine Lough Haggquist) brief Spree magic conversation, Petra seemed to think they were trying to prevent a union of marriage while Abigail ran out of time to tell her mom that Adil had hinted at the idea of them having kids. Could a child born of their union be some special being that could bring about the end of the Camarilla? Why else would Alban Hearst (Bob Frazer) have taken the time to make such an ominous comment to Petra last season? Also, it was probably not the smartest move by Hearst to inadvertently give some insight into something the Camarilla didn't want to happen. That will only push Abigail, Adil, and Petra even harder to find out what is so special about a union between sky and earth.

Perhaps they need to let Khalida (Kylee Brown) know about this as she seems like an untapped resource that can provide them with much information that could prove useful. She also seems much more open this season to dispersing the knowledge of her people and the Mothertongue. She even took time to explain to the young dodgers about the six sisters who set out to give language to the world via Mothertongue which is the central focus of all language. It was really nice when they had that breakout scene because it gave some context to the opening that otherwise was a little confusing with no basis for it. So, given her willingness to teach, she should definitely be a source that Abigail confides in to understand the potential of a union between her and Adil. Until then Abigail has a lot weighing on her as she tries to figure out what kind of future she and the others can even have while running for their lives.




As Abigail struggled with being on the run, Raelle and Scylla seemed to fall into a wonderful, albeit temporary, domestic bliss while living with the dodgers. It was incredibly nice that after nearly a whole season apart these two got to start this season not only fully aware of each other's secrets but also fully united. Let's just hope that if events of this season draw them apart it isn't for very long. Given this is the final season, it is desirable for the writers to give fans as much of this core couple as possible. Hickson and Holm really showcased in this episode why they are such phenomenal scene partners. Just by the way they look at each other while in character the chemistry and loving bond between the characters is palpable. The scenes of them being romantic in this episode are what viewers so desperately missed all of last season. The season promo indicates where their story is potentially heading and if that holds true this couple seems as though they may just get an ending worthy of a couple that has so entirely endeared themselves to viewers.

It was also lovely to see the continuation of Scylla and Tiffany's (Ava Marchfelder) story. Scylla clearly formed a bond with the young witch she saved last season, so it was nice to see them show how protective Scylla is still of her. She has almost taken on a mother or big sister role in Tiffany's life. That made it all the sadder that when the factory they were hiding at was compromised that Tiffany had to leave with Mac while Scylla headed off with the rest of the fugitive unit. It is likely we will see Tiffany again and it would be lovely if at the point we get to see Scylla and Raelle in a place where they can take custody of her and provide stability for her.




The fact they embedded the group within a group of dodgers that Scylla knew did make for some unexpected dynamics. Such as when Vira (Melanie Rose Wilson) made her grand introduction that only allowed Scylla a millisecond to avoid an encounter that could have made things very awkward with Raelle. It was pretty obvious that Scylla and Vira have some extensive history that was likely romantic in nature. The fact that Vira's second interaction with the group was different than the first says that Scylla must have laid down the facts. One thing that these writers have done throughout the seasons is make relatively innocuous introductions to characters that seem inconsequential only to reveal that they are pivotal to a larger part of the story. Vira seems to be on track to potentially be one of those characters. Keep an eye out for her because there is every likelihood this was not the last time we'll see her.

While the fugitive unit was busy with the dodgers Anacostia (Demetria McKinney), her boyfriend Sterling Woodlot (Luc Roderique), Petra, and M (Ess Hödlmoser) worked tirelessly to try to find out the full extent of the Camarilla infiltration. What they discovered is just how corrupt Blanton Silver (Victor Webster) is. They also discovered just how involved Hearst is in the Camarilla cabal that is looking to destroy witches. While investigating Silver and his associates a new player in all of this was introduced in the form of Kara Brandt (Emilie Ullerup). She seems quite involved in the group given how dark she knows Hearst can go. It was also quite interesting how she seemed to cozy up to Silver. She clearly has an agenda all her own, but it is far too early to predict what that might be. Interesting casting fact, Amanda Tapping who is an executive producer and director of this episode worked alongside Ullerup for the first season of Sanctuary. A little bit of fun casting that Tapping likely played a part in making happen. Ullerup is a talented actress who has proven she can play innocent and sweet as easily as she can play sinister and dark, so it'll be fun watching her develop Kara throughout this season. With Kara's key part in the Mycelial Fungicide Research program it is very likely she is here to stay for a good portion of this season. If this sinister group thinks the witches will so easily allow their precious Mycelium mother to be destroyed they are in for a rude awakening.
Worth noting is that Silver may be in for an entirely different type of rude awakening because it doesn't seem Penelope (Mellany Barros) is as deceased as he thought. If the aftermath of the inoculation event at Fort Salem is any indication Penelope is still very much at play in events occurring on base. Can Petra and Izadora (Emilie Leclerc) find some way to resurrect Penelope and utilize her against Silver? Or will Penelope remain a plague causing havoc for the inhabitants of the base? Only time will tell, but Barros was fun to watch last season, so hopefully, we'll see her in a physical form soon instead of just her ominous disembodied voice.
One character who made a triumphant physical return is Alder (Lyne Renée) who by all accounts seemed far better off than when we last saw her last season. It will be curious to find out if that field shepherd in Basque knew what he was doing or if his song just accidentally called Alder back to the world of the living. Whatever the reason, it is lovely to see Alder back. She looks as though she may be even stronger and more formidable than we've seen her in the past, so Silver and his Camarilla cabal should be very worried. No amount of witch work detecting devices or fancy technology will stop a witch like Alder from protecting her people. Alder's motives have always been questionable, as have Nicte's, but put these two in a fight against a common enemy and the enemy should be very fearful. We've seen several Camarilla versus witches battles over the last two seasons, but it is clearer now than ever that war is on the way. We can all likely safely gather which side will be victorious, but it'll still be entertaining to watch it all play out. This fight likely won't be without casualties, so here is to hoping all of our main favorites live to see happily ever after as the final frames of the series fade to black when the season draws to an end.
Overall this was an extremely good way to start off a new season. It reminded us of the events that played out last season without spending too much time on recaps. They immediately went to work setting up the storylines that will drive this season while laying out how new characters and storylines played into the overall foundation of the series. Relationships were allowed to flourish giving them all room to grow. Most importantly, the season made clear what all is at stake in this final season. It was a very well-done season premiere and has laid the foundation for what seems like it is going to allow for what will hopefully be a very satisfying end to a groundbreaking series.

Make sure to not miss the next episode of Motherland: Fort Salem next Tuesday, June 28th at 10/9c on Freeform.

Please use the comments to discuss all your favorite parts of the Season 3 premiere.