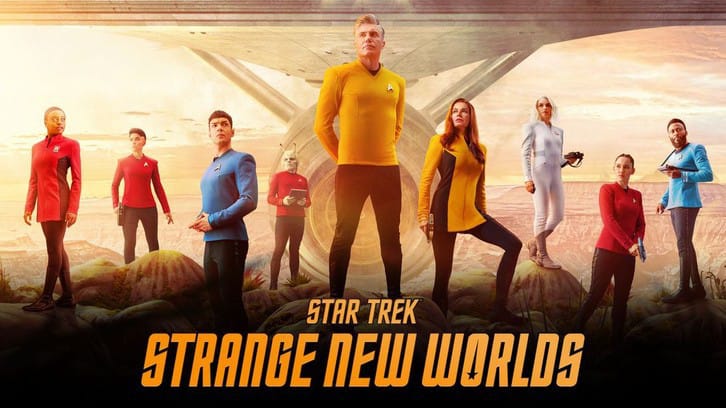 Star Trek: Strange New Worlds "Children of the Comet" was written by the team of Henry Alonso Myers and Sarah Tarkoff and was directed by Maja Vrvilo, whose other credits include Star Trek: Discovery, Star Trek: Picard, and Hawaii Five-O. Myers is co-showrunner, and Tarkoff's other credits include Arrow, Vixen, and Witches of East End. This episode focused on Cadet Uhura (Celia Rose Gooding) and her backstory, but also continued to tease out Pike's (Anson Mount) trouble in dealing with knowing his horrific future.
Mount continues to be fantastic – getting all the best lines – and he seems to enjoy his job as much as Pike does. The rest of the cast are also helping to build a terrific connection to the audience. The writers clearly had a lot of fun with this episode, building in references and shout outs to a number of SF classics. I'm sure I didn't catch all of them, but it was fun after the we saw Mount watching
The Day the Earth Stood Still
in the first episode. There was
Star Wars
– that desert planet sure looked like Tatooine to me! There was
Alien
– giant egg on a weird ship, anyone? There was
Empire Strikes Back
with the careening through the meteor belt and the shuttle craft hiding until the coast was clear. And then didn't that song progression and the mathematical language of music bring you right to
Close Encounters of the Third Kind
??? And did the "Shepherds" not look a LOT like ET? Great stuff, writers – keep it coming!
I'm sure that I wasn't the only on to be delighted to have the episode focus on Cadet Uhura. Fans of TOS will remember Nichelle Nichols' beautiful voice, so it was really cool to have that be an integral part of the episode. It's really clever of the writers to give us characters at different stages of their careers to be perspective characters for different elements of the ship and show. I loved Uhura immediately seeing Chapel's (Jess Bush) attraction to Spock (Ethan Peck) – and him being totally oblivious. She may be a newbee to service and the Enterprise, but she's clearly very observant and intelligent.
Pike is still struggling with how to deal with knowing about his death. Una (Rebecca Romijn) tries to convince him that what he saw might not be written or stone or necessarily interpreted as he did. Of course, the main plot – trying to move this comet that isn't a comet so that it doesn't crash into the Tatooine planet and destroy it – ties directly into Pike's issue. A species known as "Shepherds" is protecting the comet/ship and like all good religious zealots isn't going to let anyone interfere with fate – because the comet/ship knows what's what. In the end, apparently the comet/ship does know what's coming – but it was always planning on shooting off the exact piece of ice Spock sheared off to change its course. However, the comet/ship knew it had to get that close in order for the ice to hit the atmosphere and change Tatooine into Endor… So maybe, Pike's fate isn't as dire as it might appear – and in fact, we know that his ultimate isn't quite as horrible as the vision he's seen…
Strange New Worlds
continues the
Star Trek
tradition of forging new frontiers in another way too. Bruce Horak joins the cast as Hemmer – Chief Engineer. While Hemmer "follows" in the footsteps of Lt Cmdr Geordi LaForge (LeVar Burton) as a visually-impaired crew member, Horak becomes the first visually-impaired actor in the franchise. Horak also appeared on
Warehouse 13
but has mainly performed in theatre. Like all good Engineer's, Hemmer seems to be a bit crusty, but if his behaviour at the Captain's party is an indication, he also has the same playful spirit as the rest of the crew.
A final word about one of my favorite scenes in the episode. Uhura tells Spock that his pep talks leave a lot to be desired while they are on the comet. Toward the end of the episode, Spock revisits the conversation, telling Uhura that that moment hadn't been the right one of a pep talk. He goes on to tell her that if she decides she does want to be Star Fleet material, she has all the talent she needs. I also liked that Spock admitted that he too was still learning. It's a given that anyone playing Spock will be compared to Leonard Nimoy. Peck is doing a good job, and of course, it's important to remember that the writers are responsible for the words that come out of his mouth.
Overall, this was another really solid episode. I loved the focus on Uhura and I can't wait to learn more about Hemmer. I also liked how the wider theme once again served to highlight the personal struggles of the team. Once again, I do have to plead with hair and make up to tone down Mount's hair just a little bit! Am I the only one almost as distracted by his up-do as by Viola Davis' lips on First Lady? What did you think of the episode? Let me know your thoughts in the comments below!