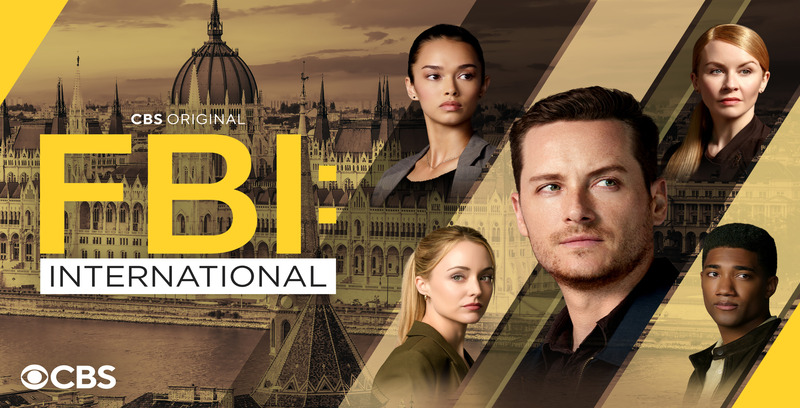 After the wonderful news that FBI: International has been renewed for 2 more seasons, it will be most exciting knowing it is returning to see what the writers will finish the season with this year.

This episode opens on a charter boat that is on the Danube River in Austria. The passengers are in the lounge and dining area enjoying dinner and a performance by a singer. The captain gets up to tell everyone they will be arriving in Vienna soon when suddenly the lights go out and he goes to try to investigate, when armed men enter the room and begin shooting. Everyone dives for cover and the men are yelling, "Where is he?" The captain approaches to tell them to take what they want and they hit him in the face. A man is shot as he tries to fight back and then the gunmen flee shooting everywhere as they go. After they leave, a mother screams for help as her young daughter has been shot.


Forrester arrives at the office and asks Raines if Vo is still stateside and he says yes and that the trial she is testifying in was pushed, when Kellett comes in to fill them in on the case. An American owned river cruise was attacked by armed men as they were sailing into Vienna, and reports said there were two gunmen with a third accomplice who helped them escape on a getaway boat. Forrester asks about casualties and Kellett tells him that one passenger was killed and four were wounded including a young Polish girl, 9 years old, is in critical condition. Her name is Anya Wosniak. Raines asks if there is any indication of motive and Kellett says they are unsure if it is a hit job, a robbery or an act of terrorism at this point. Jamie says Katrin is already on her way to Vienna, and Scott says he and Andre will meet her at the crime scene and asks Jamie to start interviewing witnesses, starting with Anya's parents.
The CEO is very upset and says that COVID destroyed the cruise industy and they spent millions trying to convince people cruises were safe again, and now this happens, but he says this was "an anomaly, correct"? Jamie says that they could have been making a statement and is there anyone with a grudge inside the company and he says is she suggesting an employee vendetta and she points out they have been cutting staff and lowering wages for month. He says that they did make a few cuts last year and Jamie points out "like forgoing proper surveillance on board or failing to conduct background checks on their employees" and he asks her is she realizes how much staff turnover they have and that pre-employment screenings are expensive. He says the captain is responsible for his crew. Jamie says Leon Bauer is the captain and how well do they know him and he says he has worked for them for a decade and has never given them any reason to doubt him.
A deeper dive into the captain shows he has been hit hard with debt, he is in the midst of a divorce and has a second mortgage on his home, and is also in a custody battle for his kids, so Scott says to bring him in. Raines also has info on Joseph Corbin, and found out his passport was a fake. France knows nothing about him and the info he was a banker came from what he had told the other passengers, so their victim is a John Doe. Forrester says to widen the search to other European countries and see if anyone can identify him. Jaeger interrupts to tell Scott that Tank is on the scene.
The team continues to open cans and find a kilo in every can. Katrin arrives with Tomas Richter from the United Nations Office on Drugs and Crime. He tells them they have been monitoring the waterways as it has become an increasingly popular way for traffickers to move drugs. From the symbol on the drugs, he is able to tell them it is the Balkan Cartel. The team begins to hypothesize that perhaps another group knew about the cartel's shipment and tried to rip it off before the ship docked but did not know where it was. It could have been another cartel or perhaps a local gang. Raines also has identified the deceased passenger. His name is Marco Horvath and he is Croatian and working for the cartel to supervise the shipment by posing as a guest. The team then tries to find out who were they looking for to tell them where the shipment was, and that the captain does not make sense since the gunmen let him go. Raines finds a crew member named Sebastian Klein, and he has a criminal history and was in charge of kitchen inventory, and he has now disappeared. Forrester cannot understand how he was hired, and Kellett said the company was not doing background checks. Scott says the captain would have had to sign off on it though, and Raines points out he is the captain's brother.
Katrin discovers that the company is contracting to other companies for local guides who speak the languages, and perhaps Sebastian had an accomplice as someone boarded the ship in Budapest the day before and would not be on the manifest. Scott asks her to find a name of who was on board. Raines did some digging about Sebastian's gambling and finds out he has a reward card at the local Riveria casino, which is a known Balkan cartel front location. With Sebastian on board, the cartel would have free reign for Sebastian to make drops all along the route. They feel the gunmen were looking for him when they could not find the drugs, and that he will be the link to the shooters. Katrin tells them that she has an address. The team search the location and they find an old motorcycle GPS and search the location history. Katrin also finds an empty box of bullets and says they should consider him armed. They find a pub that he has been regularly frequenting and Katrin and Jamie go to check it out. Katrin also gets the name of the woman who boarded the boat in Budapest and sends it to Scott, and it turns out to be Sara. He also asks Raines to check for any firearms registered to Sebastian and to sweep his quarters on the ship again.
Scott goes to see Sara and asks her about being on the ship. She tells him that she does private tours in Budapest and she went on board to meet the guests going on the tour. He says that she has never mentioned doing tours and she says that she speaks six languages and the companies contract her services. Scott wants to know why she was paid in cash and she says it is the customer's choice how to pay. Scott says it is very convenient that she was on that ship and then wanted him to miss work and asks if she sought him out and she says no and that she had just wanted to spend time with him. She asks why he is acting this way and he says because he has been burned by everyone close to him. He asks for the names of the people she gave the tour to and she says she will get the names for him and tells him to leave.
Kellett comes to get Forrester, because Bauer got a text that is a photo of a mountain, and he tells them he knows it is Sebastian, and that the photo represents a game they played as children that became a code between them. He says Sebastian sends him a picture of a mountain and if he texts back a picture of an Ox, he knows it is not safe. If he sends back a mountain, he will know it is safe. Scott tells him to send him a mountain. Bauer asks if they are asking him to draw him out of hiding and Forrester says yes, and they arrange for Sebastian to meet Bauer at his flat. Jamie and Scott will be monitoring close by, and Raines will be monitoring from across to street to keep an eye out for the river pirates and the cartel. They tell Bauer that the more information he can get Sebastian to share the better, to show he did not premeditate this with the robbery crew.
This seems to be a big moment for Scott at the end of this episode, as he is finally starting to realize after all these years and with what his mother did, that not everyone he cares about is going to burn him. This is a great move forward for him, and seeing him go to Kellett for support is wonderful and shows they have remained friends and close, and perhaps we will see a rekindling of some of their romance again before the season is over.