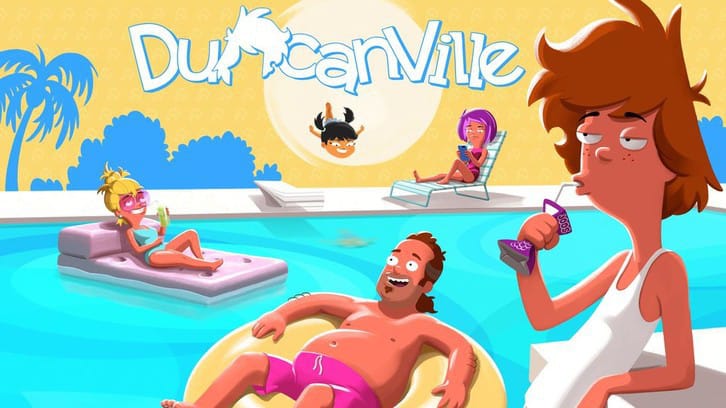 ANNIE TAKES A STAND ON AN ALL-NEW "DUNCANVILLE" SUNDAY, JUNE 5, ON FOX
Bebe Neuwirth Guest-Voices
Another All-New Episode of DUNCANVILLE Airs Tonight at 9:30/8:30c on FOX
Annie makes a stand against Teen Zone after she feels gouged by their prices at Jing's birthday party, and the kids face the repercussions. Meanwhile, Duncan struggles with a traumatizing experience in a wind tunnel ride at the party in the all-new "Annie v. Fun" episode of DUNCANVILLE airing Sunday, June 5 (9:00-9:30 PM ET/PT) on FOX. (DUN-303) (TV-14 D, L, S, V)
Voice Cast: Voice Cast: Amy Poehler as Duncan and Annie, Ty Burrell as Jack, Riki Lindhome as Kimberly, Betsy Sodaro as Bex, Yassir Lester as Yangzi, Zach Cherry as Wolf, Joy Osmanski as Jing, Rashida Jones as Mia, Wiz Khalifa as Mr. Mitch
Guest Voice Cast: Bebe Neuwirth as Patricia; Jess McKenna as Teen Zone Employee/Funtographer/Angela; Natalie Palamides as Bradley/Cashier; John DiMaggio as Commercial Announcer/Huxter Game Voice/Ride Operator; Jerron Horton as Bass Guitar Announcer; James Adomian as Hal; Betsy Sodaro as Octavia/Head Lice Kid; Joy Osmanski as Jing's Teacher.
DUNCAN SEES HIS MOM NAKED ON AN ALL-NEW "DUNCANVILLE" SUNDAY, JUNE 5, ON FOX
Duncan sees Annie naked and visits a hypnotist to erase the memories. Meanwhile, Jack starts feeling like a big shot when he begins throwing big deck parties in the all-new "Throw Momma From The Brain" episode of DUNCANVILLE airing Sunday, June 5 (9:30-10:00 PM ET/PT) on FOX. (DUN-211) (TV-14 D, L, S, V)
Voice Cast: Voice Cast: Amy Poehler as Duncan and Annie, Ty Burrell as Jack, Riki Lindhome as Kimberly, Betsy Sodaro as Bex, Yassir Lester as Yangzi, Zach Cherry as Wolf, Joy Osmanski as Jing, Rashida Jones as Mia, Wiz Khalifa as Mr. Mitch
Guest Voice Cast: Kathy Najimy as Helen Diggins/Major Jen; Natalie Palamides as Lil' Joey/Hector the Director/Porch Pirate; Betsy Sodaro as Octavia/Head Lice Kid; John Viener as Mike Pence/Lance/Announcer; Aseem Batra as Brendell/Karen Pence/Siri; Jayden Libran as UPT Driver/Tylan.
---