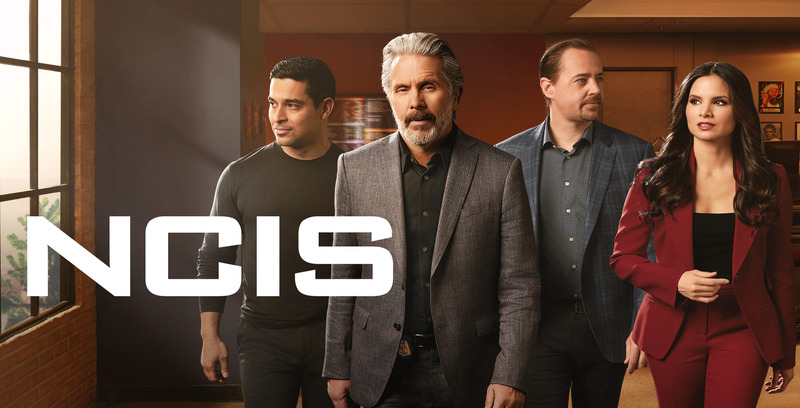 19.17 "Starting Over"
Written by Margaret Rose Lester & Scott Williams
Directed by Michael Zinberg
Reviewed by KathM
An episode about grief featuring not just Fornell but Dr. Grace as well! Nice to see them obviously, but not for such a sad episode. The victim, Tommy Miller, was part of a grief group Dr. Grace ran and Jimmy, Knight, and Fornell also attended. Tobias was actually Miller's grief sponsor, which I think is a cool and a very good thing for him to be doing. Way to help others while helping yourself, Tobias. Emily and Diane would be proud.
Unfortunately, helping others does not mean he gets to help much with the case, despite his assertion that Gibbs would let him (cue unanimous, "No he wouldn't,"). Try pastries next time, Tobias. They seem to be popular around the bullpen this season.
At first the team thought that Tommy may have committed suicide, but Jimmy determines that he'd been hit with a pipe before he fell over the building where he was working construction. We see the gang look at Tommy's brother-in-law and Rick Jordan, a father whose daughter died in Sudan as part of Tommy's company. He'd had a restraining order against Jordan, but it had expired the week before Tommy was killed. Part of the reason he's upset when McGee and some of the gang show up to question him is that Big Rick had received a fake text offering to return his surprisingly alive daughter for $50,000. He knows it's a scam, and lets McGee clone his cell information so McGee can see whether he can trace it.
As for Tommy, it turns out that he had a second family and his brother-in-law, Marty, told his sister Olive that he'd seen Tommy with his new wife and their child earlier that day. When she confronted Tommy he told her that Nina, his new wife, made him feel free of all of the bad things that happened in his past, like the accident that killed Sally Jordan. Olive, in her anger because she'd been waiting to have a family for Tommy for so long, confronted him at his job site and in her anger hit him with a pipe. Tommy lost his balance and fell off the roof they were fighting on, dead.
When they tell Rick Jordan that they not only found Tommy's killer but the information he gave McGee from his phone led to finding the Sudanese group trying to bribe military families for ransom, he doesn't really care. Instead he tears up and looks at the shrine he's built for his daughter and tells McGee and Fornell that even though he knew Sally wasn't alive, he wished that the text had been true. Fornell asks Rick to tell him about Sally, and as McGee leaves them alone he knows that Tobias has found another grieving person to mentor.
Grief took many forms for nearly all of the characters in this episode, but it was spoken about openly and respectfully. This is why Tommy's story made me angry. He had so many chances to talk about his feelings, so many opportunities to talk with Olive about what was going on with him. But grief can be such a weird thing and take so many forms. Just because Tommy wasn't able to come to terms with his past didn't mean he had to die.
On a happier note, down in the Kasie cave she is entertaining Piper, someone she has just started dating. Way to bring someone into a federal facility to play video games in the comfy chairs, Kasie! We, and Knight, are rooting for you. Although I am not a fan of Piper's hair: it was a little Bozo the Clown for me.
And what was up with Dr. Grace and her "it's a date/not a date-date" thing with Parker? I need more information. It was also nice to see a movie reference slipped in there in a less DiNozzoish manner.
19.18 "T'N'T"
Written by Christopher Silber & Megan Bacharach
Directed by Lionel Coleman
Reviewed by KathM
This episode is brought to you by Rules 45: clean up your mess and 40: if it seems like someone's out to get you, they usually are.
Isn't a crossover when character(s) from one show working on one story with those from another show? Except for Torres, Knight, and Parker going to Hawai'i, there isn't anything that makes this case a true crossover. I can't believe I care about this.
This went about how I expected it. One of those episodes that I wanted to care about, but it didn't work out. Torres gets to go to Hawai'i to take in a fugitive witness from a case five years ago. There isn't any real reason for him to go, since NCIS Hawai'i could get him on the plane and guard him, but Torres prevailed. Then again the witness had been hiding successfully for five years, and Nick had been tracking him for all those years, so I guess Torres deserved the trip. When the witness is killed and another witness who was thought to be dead and wants protection, the game is afoot once more.
The military contractors are the baddies, which usually seems to be the case. Who does it turn out was responsible for the munitions accident in Afghanistan?
Fortess founder CEO Brent Spooner, whose company is about to go public with his company, and it turns out that he and some of his cronies blew up the munitions area so that Brent could steal $40 million stored there to fund Fortress. Parker pops up as the driver of a limo that Brent uses to tru and escape, then arrests him. All done.
And why is Knight in Hawai'i? No idea. Her purpose seems to mainly let Ernie, the Hawai'i tech guy, engage in a serious crush and make Lucy uncomfortable because she isn't Ernie's favorite anymore.
The episode is called T'N'T for Torres and Tenant, who may or may not have had some kind of amorous adventure in Orlando several years ago. It is a rumor, but they have no chemistry. Nobody on this show has any chemistry with anyone else. Even though it comes out that they were trapped in Citrus Tower in Orlando for a night, I really don't think anything else happened except for possibly meaningless sex. There was a similar thing between Agent Alex Quinn when she and Torres started in Season 14, which looks like it might have been true because at the end of the episode where the rumor was spreading they gave each other a knowing look. The Bishop Factor looms in the background.
My favorite scene in the episode was Kasie and her blow horn. You steal that scene, woman!