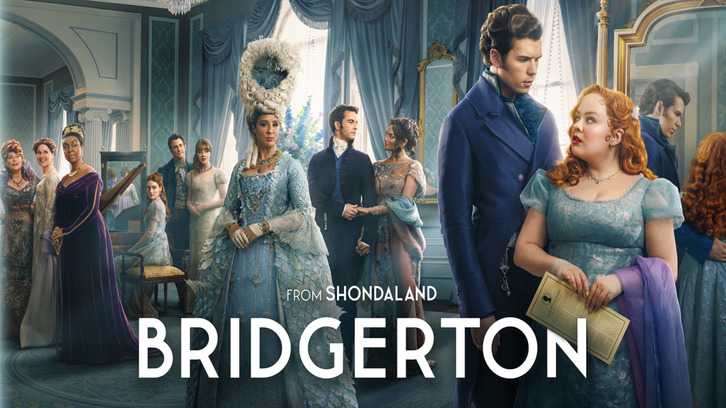 Full Disclaimer: The Reviewer hasn't read a single Bridgerton book.
Season Two of Bridgerton came out swinging. Weeks ahead of the season premiere Netflix's marketing department went out and delivered teasers and promotional pictures like rarely seen before. With no surprise considering Bridgerton was their best English-speaking show, only bettered by Squid Games in Netflix metrics. With the world on the tip of its toes, this season of the ton promised to be the best one yet. Now that the dust settled a bit, let us dive into the newest adventures of the Bridgerton clan.
The Season overall
And while I agree with the overall consensus that this seasons' love story surpassed the season one antics between Simon and Daphne, season 1 felt way more coherent. The storytelling, the pacing, and the world of Victorian England just felt more gripping during our adventures in season 1. The world of Bridgerton season two felt limited this season, pushing for stories to fill the way-too-long episodes, interrupting the pace of the love story, creating conflict that just didn't captivate me and made me turn to my phone way too many times. Yet, this season being lesser, in my humble opinion, than season 1 doesn't mean it was a bad season. Despite its flaws, this season delivered on many levels as some characters blossomed under the writing and were worthy of the swift binge.
The Love Story
Saying that Kathony was overwhelmingly beautiful and heartwarming is simply an understatement. Simone Ashley and Jonathan Bailey gave their heart and soul to Kate and Anthony and their chemistry is something for the TV history books. The writing explored their characters and relationship in such a profound way that it certainly isn't comparable to Simon and Daphne from season one. Yes, Daphne and Simon were captivating but the conflict of their story was so different as the two of them allowed themselves to love but not to live, Kate and Anthony didn't think they deserve either. The similarities between the leads of this season were painful to explore but delivered a fruitful resolution in the end. Kate and Anthony both carried their respective worlds on their shoulders and their head through the wall attitude made their road to each other way more difficult than it should be. Ashley Simone was simply a scene-stealer, the way she built Kate's character from scratch and induced her with honesty and power is what made Kate a worthy match for Anthony. Kate probably even proved to be far superior but as Anthony said at one point in the season, he never met somebody like her and neither did the ton. The casting department didn't fail by choosing Ashley Simone as their new leading lady and it will be a hell of a job to find a comparably good lead for season 3.
On the other hand, Jonathan Bailey surpassed every single expectation I had for him. Was he still rather egomaniacal and sort of spoiled? He certainly was but the writing this season scratched under that thick skin and showed the human under it all. The show explored Anthony in a way I certainly didn't expect and created a man I could root for, a man whose (most) actions I can support. Seeing where Anthony's trauma originated and how it shaped his actions proved to be a winning receipt for this season. Anthony not allowing himself to love cause he saw how the pain of losing Edmund destroyed his mother was brilliantly executed. The writing and Jonathan's acting created such a wholesome experience making even his stupidest actions a win for the show. Were the proposal and wedding too much? They certainly were. It just felt too much of a cliche to choose Kate's sister from all available ladies. The show showed how easy it was for Anthony to find a Wife, why would he choose the sister of the woman he loves? Did he try to prove himself and Kate something? Certainly, did it work for the seasons' story? Not really.
And still, despite some "terrible" story choices, this season was a success simply based on the amazing chemistry between Kate and Anthony. Kathony wouldn't be able to entrap so many people around the world if it wasn't for the trust between Ashley and Jonathan. Trust to let the characters take over so they would be able to play these roles to such a level of conviction that the internet would suffer a meltdown. The relationship between Kate and Anthony wasn't based on physical attraction or built on it, it was built on emotional intimacy, lingering looks, sadness, loneliness, and the sensation that at the same time they wanted to be miles away and millimeters close to each other. It is rare to encounter such type of chemistry in media these days and I devoured every single moment. My favorite moment between them must have been the Bee sting. The way Kate's voice softened and her guards went down the moment she saw him in panic just left me wanting for more. To simplify all my rembling, Kate and Anthony just felt destined for each other and that is just so sexy.
The Other Bridgertons
Anthony was the only Bridgerton man making me happy this season. Benedict and Colin's stories this season were fairly uninspiring. What did Benedict even do this season? His most memorable moment was when he was high as a kite during that dinner. His artistic storyline this season felt shallow and superficial, and his sexual adventures with that model/painter left much to be desired for. Considering this show is set in that specific time period, I never expected the writers to fully explore last season's teaser with Benedict and Granville but where are we standing with Benedict. Is he becoming next season's lead or will he continue to be an uninspiring character but solid painter who gets lucky a lot?
Luke Newton's Colin was truly frustrating to watch this season. The whooping Marina gave him was worth a watch tbh. Generally, the Bridgerton men are quite spoiled and entitled little men who aren't aware of the world outside their world. While I've expected Colin to return maturer from his trips he was just more aggravating in his actions. Also, Luke is fading in every scene he shares with his female counterparts. Marina and Pen's actresses are so superior to him that it makes some of the scenes painful to watch. I don't really know how the writers intend in making him a suitable match for Pen after all the things he has done.
Saving the family name were the ladies this time around. Ruth Gemmell's performance in episode three was some of the finest acting this show has seen. Such an emotional display of pain and grief, kudos. Seeing Violet Bridgerton and Lady Danbury plot throughout the season was a blast. The two actresses really enjoyed the stories they were able to tell and it transferred well to the screen. Lady Danbury didn't disappoint with her oneliners and insightfulness, while Violet Bridgerton was the perfect mirror to experience Anthony's stories. Both of them played vital roles in the leads' character arcs, showing how important they were to the story.
But Anthony wasn't the only Bridgerton giving Violet headaches this season, Eloise, unexpectedly, brought a fair amount of trouble to the Bridgerton household and I loved every bit of it. Seeing Eloise's struggles this season just made her a so much better character. The writers showed who Eloise was under all the layers she presented to her family and it was a joy to unravel each layer. Eloise's struggles to be Daphne's successor this season proved vital to her character growth. Daphne was everything that Eloise wasn't but Eloise was so much more than we ever saw of Daphne. Still, Eloise was plagued by self-doubt, she knew she would never be the daughter Violet wanted her to be and it hurt. Eventually, we saw Violet embrace Eloise and give her the approval Eloise desired. In an unexpected turn of events, we saw Eloise develop feelings for a boy. Theo was smart, witty, and not really impressed by Eloise's status, which made her so much more impressed with him. Eloise learned this season, that a true loves match is out there but only if it is a match of intelligence as well.
Last but not least, this season we got small dozed appearances of bang-less Daphne. It was refreshing seeing Daphne out of the shell of her childish ways and be a true dutchess. Thank fuck those bangs are a goner as well.
Lady Whistledown
While it felt that Lady Whistledown's pamphlets of doom weren't as deadly as in season 1, Pen's road this season was probably the strongest story of the season. Nicola Coughlan was just exceptional as Penelope Featherington. A lot of fans were surprised to see the reveal of Whistledown's identity happening back in season one when in the books it was revealed in season four. I myself asked myself what does this mean for the show and to my honest surprise, it was probably the best thing happening to the show. Seeing Pen work the balls, the printers, and make it all work was major Boss Bitch Energy. The show showed how Pen doesn't only work the word on paper but also in real life when necessary. The contrast between the invisible Pen at the balls and the Pen going head to head with greedy printers, just elevated all the work Pen does. Seeing how belittled and weak she felt during those balls made her work behind the scene so much more impressive. The face-off between Pen and Eloise in the final was gut-wrenching and powerful at the same time. I felt each word said by both characters profoundly and teared up as Pen's anger surfaced and she ripped into Eloise's facade, marvelous work by both characters. What is next in store for Pen? The final indicated that she will be more cunning than ever, but will she be able to with Eloise knowing her identity?
The Ton
The most prominent story outside of the Bridgertons' escapades revolved around Portia and the new Lord Featherington. Being a fraud seems to run in the veins of the Featheringtons, as Rupert Young's Jack was another dud. While the story felt quite tedious, especially when it started involving Colin, I did enjoy Portia and Jack's interaction. The chemistry was certainly there but despite all her flaws Portia would never let her girls suffer. Excited to see when the show plans on exposing Pen's secrets to Portia, that should cause a lot of commotion.
I was a bit disappointed by the Queen and Lady Mary. Expected them to have a bigger role in the overall plot. Mary was way too passive, while I really don't get the Queen's obsession with Whistledown, feels so trivial, to be honest. Meanwhile, my verdict on Edwina Sharma is still out. Her being a toned-down version of Daphne certainly didn't help her arc this season. Yet, I don't resent her for being the way she was. Charithra Chandran brought a dose of innocence to the story and seeing Kate and Anthony playing around with it made me feel a bit uncomfortable. I've hated siblings hopping even before it was a thing a decade ago.
PS. Major shout out to the Costume Department and the musical choices this season. The cast looked marvelous, can't imagine how much time they have spent on making all those costumes. The music choices were extraordinary, the "Dancing on my Own" and "Wrecking Ball" versions for Kate and Anthony's first and final dance were just so good. Got me emotional from the first not.
That is a wrap on my side. What are your thoughts on Bridgerton season TWO? And which Bridgerton's love life should we explore next season? Share your thoughts in the comment section down below. We'll meet next season when the Ton gathers once again.