If you aren't familiar with the story of how WeWork, a real estate startup masquerading as a tech company, rose and fell, you could listen to the podcast, or read the article that was the turning point in former CEO Adam Neumann's story, or, well, you could just watch this show. Startups are necessary, they provide innovations in a lot of critical industries, and when they do succeed, it can seem pretty miraculous. But the downside to that cheerful "work shouldn't feel like work!" mantra, ping pong table mentality, constant flex office organization, is that it can also be deceitful. The often touted "we're not a company, we're a family" should be the first red flag, and WeWork had many of them. Downfalls such as this one, or Theranos (which has its own podcast (released), show (just started airing), movie (maybe), and the works) are fascinating in that they reflect more upon the imagined value of an idea, than the market reality behind it.

WeCrashed starts with a board meeting, and minus the exciting presence of Mark Green (he's alive!) Anthony Edwards, things seem pretty dire for WeWork and its CEO: Adam Neumann (played here by Jared Leto, who's actually pretty great in the role). After this ominous beginning, the show almost immediately flashes back to how it all started: Adam Neumann is an Israeli businessman who moved to the States with his model sister. Before WeWork, he tried to launch several unsuccessful (which isn't hard to figure out why) ventures. At first, it was a children's clothing company: "Krawlers" which offered pants and onesies with knee padds, which I'm assuming saves the children from carpet burn or arthritis after all their crawling. The baby clothes retailers were not amused (maybe if the pads had included some kind of cleaning device?), and despite Neumann being passionate about it and desperately trying to find investors, it failed. Another one was the collapsible heel endeavor, which also feels like it's been done to death, never works, and is better kept in a tumblr archive of seemingly brilliant but in fact completely unrealistic ideas.

Adam also seems to try and scam people into his life: his neighbor, for one, who finds himself "invited" to drinks and actually gets conned into giving up his Chinese food and also providing the aforementionned drinks (and soy sauce). Neumann does try to improve by taking classes and become a more successful entrepreneur, but here too, his proposal of "concept living", which frankly, sounds like a complete nightmare, falls flat.
"I think you're either gonna be a billionaire or... you're gonna get arrested."
Similarly, when Adam first meets Rebekah Paltrow -yes, of
those
Paltrows- (played by a wonderfully ruthless Anne Hathaway) at a rooftop party, he's promptly turned down by her and has to pursue her relentlessly (and one might say, very annoyingly) before she even considers going on a date with him. To which he arrives
45
minutes late. The sheer audacity.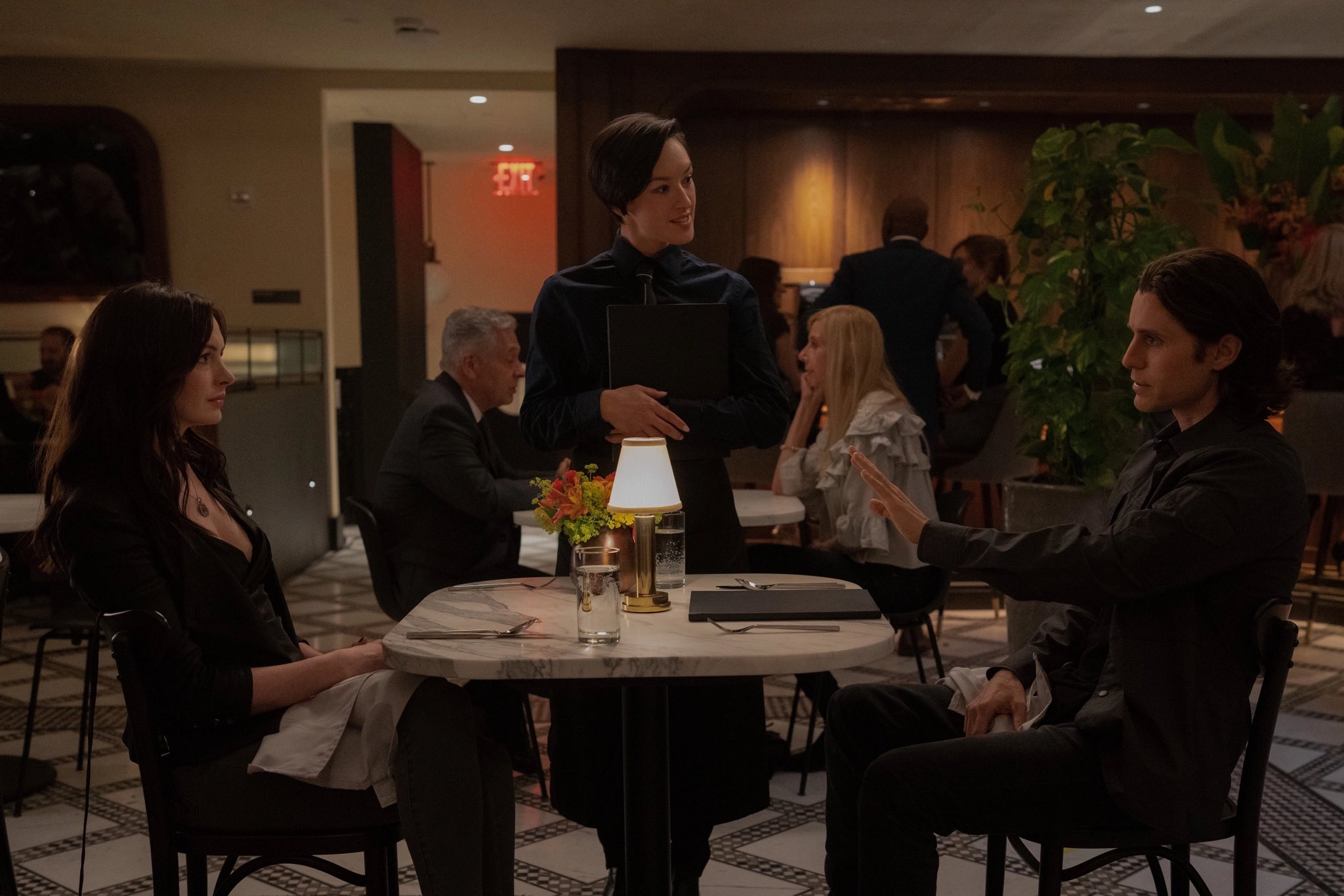 Rebekah must see something in him at that point that I do not, because despite her initial misgivings, pretty soon she and Adam are joined at the hip. She believes his previous attempts at creating companies failed because he wasn't passionate about what he was offering. Meet: Miguel McKelvey (Kyle Marvin), of Jordan Parnass Digital Architecture, who runs into Adam just as his idea for concept living was shut down. Adam has no idea who Miguel is, even though they've already met, and latches (erroneously) to just about every single thing Miguel says, scrambling to remember. Clearly a beautiful friendship in the making.

"In my building. In Brooklyn?"
"Brooklyn?"
"Jordan Parnass"
"Jordan! Jordaaan! Parnass! Good to see you again my brother"
"Good to see you too, yeah. My name's Miguel. I work at Jordan Parnass. We do American Apparel?"
"American Apparel! Beautiful clothes, I love the tube tops..."
"I, uh, work at the architecture firm, that designs the American Apparel stores..."
"Ah. The architecture firm. So you're not American Apparel."
"No. But we spoke already, you know that. My girlfriend, you were hitting on her at the birthday party. Lisa? I was the one buying shots, remember?"
"...Shots, shots, shots shots!"
Neumann needs a work space, Miguel is happy to provide something akin to a broom closet (why couldn't Adam work from home, and save rent?!). This leads to the co-creation of Adam's first successful venture with Miguel: Green Desk, an eco-friendly coworking space. Eventually, they sell it to their partner and move on to create WeWork, which, in a nutshell, designs and builds flexible workspace solutions for the entire company value chain: from freelancers and startups to Fortune 500 companies. Rebekah seems more like a third partner than anything since she is involved in just about every aspect of the new company, and she's Adam's confidence booster whenever things get tough. When it takes them a while to get someone to invest, she has a simple solution (along with what feels like an
Olivia Munn
reference).
"I manifested you. If you put positive thoughts out in the world, it works."
Not gonna lie, there is probably some truth about having a positive attitude and stuff, and if it works, well... I manifest a boyfriend I actually am into, please and thank you. In any case, it does work for Rebekah since next thing we know, she's in a purple (yes, purple) wedding gown, getting married to Adam. We also meet her father, Bob (Peter Jacobson) who doesn't seem particularly overjoyed by the upcoming nuptials. In fact, he seems a little doubtful of Adam's ability to take care of his daughter, despite Adam being at the peak of his confidence. But that may just be because Rebekah's father is more down to earth, and unlike Adam, knows that growth and especially "evaluation" don't necessarily and automatically translate into actual money. Especially since Adam learns right then and there that the huge investment he negotiated is likely just a pipe dream, and he'll never see the color of it. And while Rebekah is happily being lifted off the ground during the horah, the look on Adam's face is, to say the least, slightly discomfited.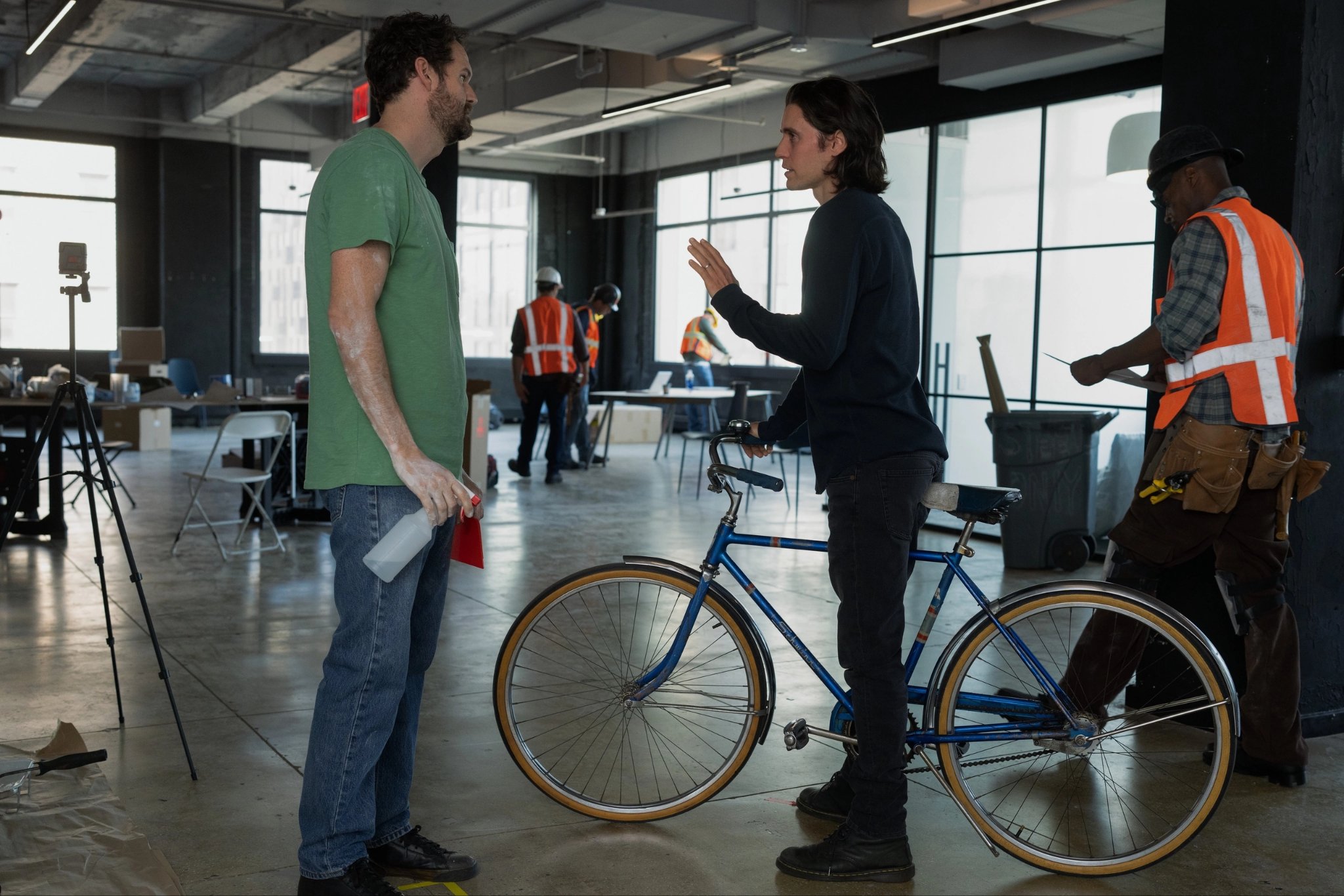 This, in turn, leads to Adam asking Rebekah to use the million dollars ("taking care of you" takes a whole other dimension when we see that check) her father gave them as a wedding gift in order to make the space he bought, well, livable. Rebekah finally caves, abandonning her wish to live in her dream appartment with a key to the neighboring park (this is something that apparently exists, you learn new things every day!), and construction starts. In exchange, she gets to use some of the space to revive her desire to be an actress (maybe spurred on by all those people asking if Gwyneth was going to be at the wedding, which did not go over too well after the third time Rebekah had to say no), since "High class escort #3" is probably not going to cut it on the old acting résumé. And by "revive" I mean offer the space to a director who desperately wanted to put on a play, which conveniently allows Rebekah to snag herself a lead role. Unfortunately, as indicated by her lack of any kind of big break (or even tiny break), it's quickly obvious that acting isn't really Rebekah's true calling. After a fantastically embarassing performance in which she suddenly adopts an improbable accent in order to display the best of her talents to the industry, she finally quits (and takes the space with her, to the director's dismay).
Back at WeWork, hiring is in full swing and Adam's methods are... unconventional. At the time, it's completely understandable that what he was offering seemed disruptive (watch me using nonsensical startup lingo!) but if you're in a job interview and anyone a. pressures you to give an answer on the spot b. mentions a "meeting on Sunday" and c. hires someone else from the coffee shop where you were meeting, also on the spot... Run. Run for your life and never look back at all those red flags floating softly in the wind.
Besides hiring innocent passersby, Adam also somehow forgets to disclose that he's acquired a second location in midtown to Miguel, his, ya know,
cofounder
? This happened after Adam plied a certain Stavros, who's operating the company on his parents' orders, with drinks and pushed him to sign the lease. Which Stavros regrets, and much like a cat playing with an already injured mouse, Adam lets him think he can pull out of it, no problem. Except NYC real estate is a small world, and if word got out that Stavros' deals meaning nothing, his career would be over before it started. Thus, the second location was born, and Miguel rallied after pouting for a little while. After hiring their brand new employees (including a 16 year old IT genius), the WeWork team gets together to greet their first clients to the first chant of "WE! WORK! WE! WORK!" which, as everyone has already said, does feel very cult-ish. And guess what! Rebekah's dream appartment comes back, since there's nothing Adam won't do for his wife.
From then on, WeWork grows at an exponential pace, and its reputation seems to precede it as the cool new place to be working. Each new employee receives a care package that includes what I'm assuming is a brand new Macbook, and is greeted with mimosas (regardless of what time they get into the office, it's always 5pm somewhere). A montage depicts life at WeWork as a neverending cycle of "WE! WORK!" chanting, drinking, drug taking, sex in closets having, and zero sleeping. In that stead, looms the first "Summer Camp", to which everyone is invited, and at which Adam, Rebekah, and their brand new daughter (who is apparently suffering from newborn constipation, and who necessitates "counterclockwise massages") arrive in a helicopter, because if they can do it on
Succession
, you can damn well bet that Adam Neumann is going to do it too.
Despite the idyllic setting, it seems that Rebekah's father is having some legal troubles, so she can't quite take part in the woodstock-ish fun Adam is having with his teams. The WeWork seminar is truly something to behold, its sheer size for one, but also the scope with guest speakers, live concerts, open bars, and lasting several days. While Adam parties, Rebekah is tasked with writing a character reference, and we learn a little more about her past. My only experience with character references is from
Gilmore Girls
, with Luke needing one in order to get custody for his daughter, so I had no idea we were about to discover that far from only getting a divorce (which he did though), her father was in trouble again. Which had already happened when she was young, after he created a charity for cancer and was accused of fraud after the charity stole the victims' money. Which makes his little comments to Adam about being a scammer, seem a little disingenuous, to be perfectly honest. Unfortunately, Rebekah's brother then actually got ill with cancer and died, and her father never truly recovered (she never ate meat again, which doesn't have quite the same impact, especially when she's bossing around the poor Communications Director about menus, which is
not
her job).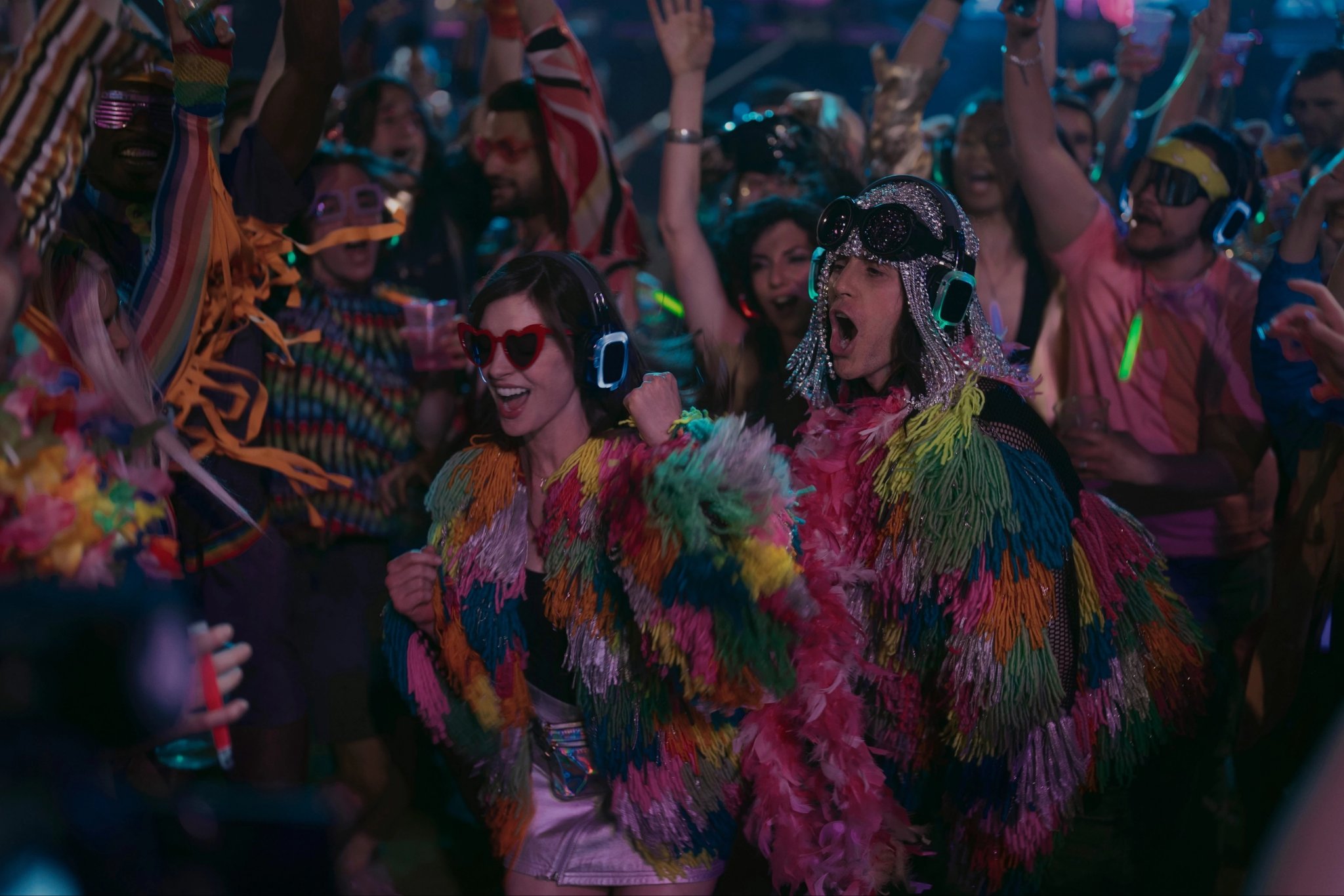 What does fall under her job description, is avoiding a PR disaster after Rebekah says, on stage, in front of a reporter who was covering the WeWork Summer Camp, that a woman's role is basically to uplift her man, and help him achieve his full potential. Yeah, big yikes. Rebekah tries to recover by holding a listening session with young millenial women working at WeWork, only to discover the working conditions are terrible for them, between the insane hours, the awful pay (when there's clearly money to go around, if the helicopter is anything to go by), the sexual harassment, and finally, the Fuck Closet.
After dealing with the legal team (the head of which has "COCK" written on his forehead after too much partying and indelebile ink), the communications director is fired, the reporter is hired (again, on the spot) and I guess Rebekah has finally found her calling: being Adam Neumann's wife and cheerleader, full time.
The episodes are dynamic and add enough material to what's most widely known about WeWork to prove interesting, so far I'm enjoying the ride! What did you guys think of the beginning of this series? As usual, sound off in the comments!