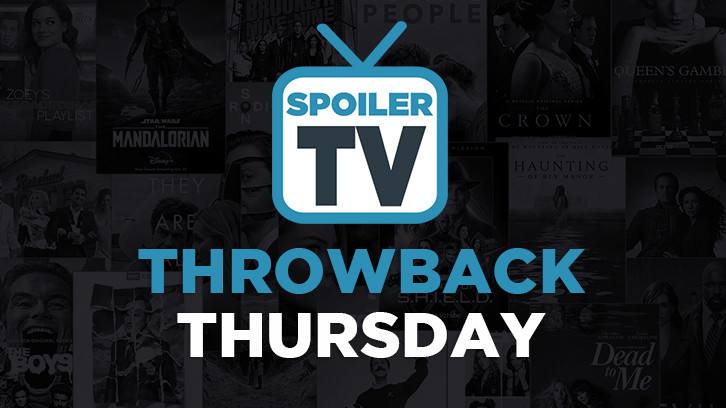 Throwback Thursday is a weekly article in which we look back at our favorite TV episodes from the past.

To be perfectly honest, I'm not much of a comedy TV series person usually, but I do have a couple of favorites (hi, Episodes!) and You're The Worst is quite high on that list. Back in 2014, when it started airing, it was an instant critical success thanks to its great acting, refreshing premise, and witty writing.

"Sweater People" opens as the season two premiere, after a freshman season in which Gretchen and Jimmy danced around each other and any kind of commitment, until they finally, a little warily, moved in together. In the first season finale, fleeting expressions or some kind of regret showed on both their faces as Gretchen brought in her boxes and Jimmy hastily asked neighbor/child/friend Killian for his key back, indicating he'd in fact never planned to ask Gretchen to move in until she freaked out about the ring she'd found. Which doesn't really bode well for their future, and in this episode, they're both struggling with the risk of becoming boring "sweater people" as their relationship evolves. This results in them partying every night, often to poor Edgar's increasing dismay, since he's finally found a paid job that doesn't involve coddling Jimmy with fine cuisine. After several benders in a row, both of them seem on the brink of, if not death, at least some severe liver dammage.
Between stealing the DVD rental machine and tearing after the Zoiddle car, their drunken and drugged up escapades are hilarious (don't do it though, kids), and so is their increasingly frantic reluctance to admit that they are, indeed, not fine.
"I'm having a blast. Yeah, I'm peeing blood. And I briefly forgot the word for telephone."
Part of it is spurred on by their alleged BFFs: Edgar on one side, and a freshly separated Lindsay on the other. Lindsay, after ignoring/insulting/humiliating Paul for an entire season, either by putting him down or cheating on him (making you wonder what on earth made her date him in the first place, let alone marry him), clings to the idea of Paul and not having her marriage be a failure. Like many women from a period one would have thought had ended, Lindsay seemingly went straight from her parents' home, to her husband's, and has no idea how to survive in the wild by herself. As Paul comes by to collect his mail, Lindsay seems surprisingly mature... until she lures him into bed, causing him to pre-cheat on his online acquaintance Amy. And even that could have been salvaged, as Edgar comes to the rescue when Lindsay ends up bawling in her wedding dress, surrounded by the "Paul Museum" and trying to come to terms with her new normal. At least, until she unearths the used condom and freezes Paul's sperm with an evil look on her teary face, which one fears will lead to some kind of DIY impregnation attempt involving a turkey baster (spoiler: it does).
Edgar tries his best to make her feel better, which would be sweet if it weren't obvious that he's hoping that now Lindsay's officially single (not that it would've held her back before), he actually has a chance with her. So maybe it's understandable that Lindsay blames all her marriage woes on love becoming "ordinary" and pushing Gretchen to keep up the partying, which now happens to include "butt stuff" and a dubiously sexy outfit. Unfortunately, this new (insane) lifestyle is also impacting Gretchen's professionnal life, since she can barely open her eyes enough to handle her clients. Getting told off by Sam (who, lest we forget, is frequently high by 10am) has to be a new low, even for Gretchen.
"Sleepy bitches lose their right to use normal people phones. Sleepy bitches only get to use phones made for hookers and drug addicts, and irresponsible garbage people."
Sidenote: more Sam, Shitstain, and Honey Nutz, please.
All in all, a very solid premiere for a show that only gets better as the episodes progress, with deeply flawed yet endearingly horrible (it's a thing, try
Succession
) characters. If you've never seen the show, do yourself a favor and give it a shot. If you have, you already know what I'm talking about, so sound off in the comments! Who's your favorite "worst" person on the show? Did you think the show started out great from the bat, or did it take a moment to find its voice?