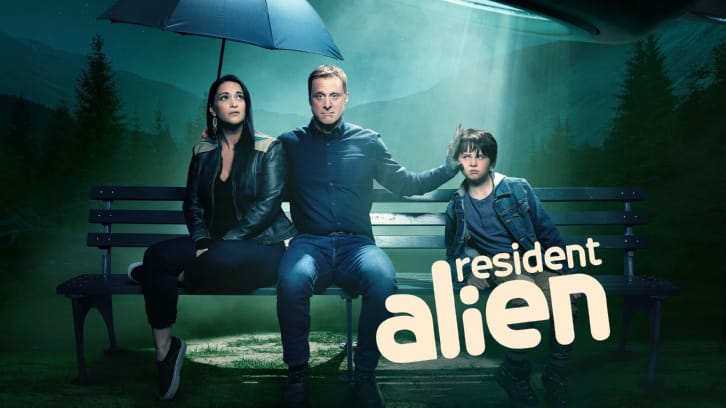 Have we been so conditioned as Americans, that when a bunch of people enter our home uninvited (literally breaking in) to throw us a surprise birthday party, we not only feel the need to be polite, we have to let them stay?

I was firmly on Harry's side when he tried to kick them out. I wouldn't have been too sorry if that alien baby had started munching on his "guests".

I was a little surprised that the baby was more alien than human immediately after birth. I was expecting some type of physical hybrid.

But, at least it made the punch spicy!

While Harry was trying to find the baby, a lot of character stuff happened.

My absolute favorite moment was when Jay invited Asta to join her for lunch on her birthday.

I hope what happened at the end of the episode doesn't spoil the opportunity for Asta to connect with Jay.


It was nice seeing Mike (I'm still not used to using a first name for the sheriff) was finally able to talk about his friend, Jesse, and laugh.
He even decided it was time to spread Jesse's ashes. He invited Dan to join him…but, not right now, because there's a man eating alien baby on the loose.
Dan is a quick thinker. Too windy is an excellent excuse to put off spreading a loved ones ashes without raising Mike's suspicions.
D'Arcy hit her first bump in the road to getting her life back together, and it cost her, her new friend.
Ben got busted for lying. Half the time I think this guy is a jerk.
It started with the secret resort idea. That went over like a led balloon.
It was one of those roaming arguments. Kate didn't have a problem with D'Arcy kissing Ben, but lying about what he'd been doing while Kate was out of town that made her angry.
When she found out that Ben didn't tell her D'Arcy spent the night and had had D'Arcy sneak out of the house, Kate blew a gasket. She accused D'Arcy had betrayed her.
I've been trying to figure out which side I would be on in that situation, but I've always been best friends with the wife, not both the husband and wife. Which of your friends' secrets do you keep in that situation?
At any rate, I felt sorry for D'Arcy in that situation. It felt like D'Arcy was being blamed because Kate and Ben regularly lie to each other.
Ben and Kate recognize that they don't talk to each other. They each suffer in silence. Personally, I believe this makes them, ultimately, an unsuccessful couple.
They promise each other to start facing their issues….then have sex instead of finishing the talk.
Yup. That's gonna work out well.
Harry and the baby finally connected. Literally.
The baby climbed on Harry's head and allowed Goliath to present Harry with the first major surprise of the episode.
There is
another
race of aliens on Earth. Their presences has caused Harry's people to canceled their plans to destroy the planet.
I want to know if this is territorial (they got here first) or if this other alien race has scared Harry's people into backing off.
Earth is safe, but possibly in for something worse.
Unfortunately, Human-Harry's enemy from New York shot Alien-Harry before he could find out exactly who these aliens are and why they're here.
Asta came to Harry's rescue. She shot the man who was ultimately responsible for Sam's death before he could kill Harry too.
This is gonna mess up Asta. Or perhaps covering for Harry's killings has made her more able to cope with the idea of killing someone in self defense.
The hunt for the baby wasn't my favorite part of the episode. Having the baby immediately disappear after hatching, took some of the punch out of the baby's birth for me.
But, there were a lot of odd bits in the episode that sort of made up for that lack of punch.
I did enjoy watching Harry being the birthday boy. How many of us wish we could really tell people what we think of the gifts we receive? I know I was trained to always be gracious.
Do you think Harry will find the baby again?
The next time we see the baby will it be more human than alien?
Will Harry hire Ellen to babysit?
What did you think of the episode?