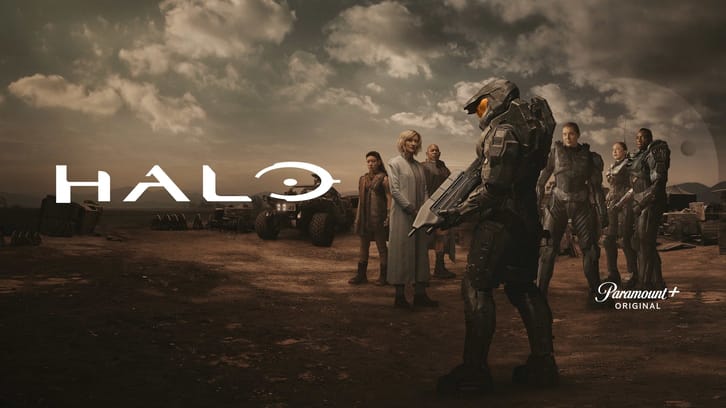 The latest video game adaptation to grace our screens, it's not likely that Paramount's Halo series is going to add much to the plethora of sci-fi we've seen so far, but if there is one thing for certain, it promises to be a fun adventure with the pilot holding plenty of promise for the direction of future episodes.
We begin with a lengthy introduction to the planet Madrigal and the classic plucky coming-of-age heroine Kwan Ha who, like others of her ilk in fantasy and sci-fi, dreams of leaving her planet behind and going out into the wider galaxy. She does achieve this goal during the episode but it is definitely not in any way she'd have ever wanted.
Beginning a show with a massacre is always going to be hard-hitting and a few characters really had the potential to become something greater within the show but ultimately the massacre is about the arrival of the Spartans and it's pretty clear they're there to kill the Covenant soldiers, not save any civilians. They seem to be the UNSC's definition of the perfect soldier - call me an idealist but I feel like the 'perfect' soldier would be a lot more effective if they actually cared about people.
Master Chief doesn't remain cold and emotionless for long though after coming into contact with an alien artifact which seems like it will be the catalyst for the season moving forward, both in terms of plot and his own personal character arc.
Certainly, a lot of questions are raised in the pilot episode alone in relation to Halsey's Spartan program and Master Chief's blocked memories of his childhood. I'm assuming his memories were blocked because they wanted him to be an emotionless killing machine which would mean the other Spartans have blocked memories, who I hope end up joining Master Chief before the season ends. It's going to be interesting to learn who these people were before they became Spartans and how that knowledge will develop their relationships.
And then there is Master Chief's mysterious connection with the alien artifact which probably isn't a normal occurrence. It's noteworthy enough that some oily Covenant alien feels it's worth informing his human leader about, a young woman who has also experienced a connection with alien artifacts.
Her position amongst the Covenant, judging from the first episode, seemed tenuous at best and it will be interesting to find out how exactly she ended up being such an integral part of their society. From what the Covenant alien advisor said, she's probably a little too fascinated by her human connections from an emotional standpoint, not just looking at it strategically. Whatever her story, she seems prime recruiting material for the ragtag band of outsiders that Master Chief and Kwan have formed.
The whole found family trope is a familiar one in sci-fi, not least because of the striking parallels between Master Chief and Kwan and the Mandalorian and Grogu, two helmeted warriors who protect a kid they were meant to kill. It's a tried and true formula and this show plainly isn't afraid of taking inspiration from what works in other sci fi shows.
It may mean it lacks the spark that will allow it to leave a lasting impression but for fans of Halo and sci-fi in general, it is a more than serviceable action adventure romp that will provide entertainment and maybe even a dash of intrigue.
What did you think of the Halo pilot? Are you new to the franchise or a long-time fan? Sound off in the comments below!