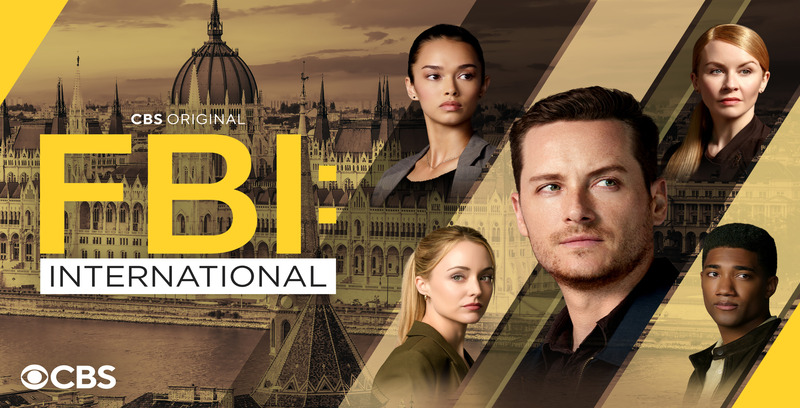 When we last left our FBI Fly Team, Forrester was at a crossroads between helping his mother and turning her over to the authorities, and struggling with his working relationship with his former girlfriend, Kellett. So let's see how these storylines develop further in this next episode.


Kellett arrives at the office and Forrester is already there. She tells him she heard he called counterintelligence on his mother and asks how it went, and he tells her short and sweet. She asks why he did not bring her in, and he says that when they first got together they agreed that if anything happened they would continue to work together with no problems. She asks if this is him being vindictive and he says no and he does not want to talk about it, and he says they have a new case and he wants to focus on that. He is also trying to figure out who will stay in Budapest as someone is away and Jamie says she will stay.
Vo and Raines arrive and hear them talking in Scott's office and Raines says break up clean up is going on in there. Jamie and Scott exit the office and Scott preps the team about the new case. James and Fiona Delvina were convicted in the USA for bilking 30 million in COVID relief funds. They fled the country while waiting sentencing and left behind their children, Amelia (16) and Gabriel (12). It appears they are career parasites, and they feel Fiona is the brains of the operation but James is looking at more time as his name is on more of the paperwork. Jamie asks how they got out of the USA and Scott says James's friend Luan Sinani crossed into Tijuana and Mexico City confirms that they flew out. The children are with their grandmother in California, who tried to get them emergency VISAs to Albania saying they need to be with family, but the VISAs were denied. The team packs up and Jamie lets them know she will be staying and helping them from Budapest.
They go to see Lorik and Agnes introduces them. They tell Abazi they are hoping for a peaceful outcome and he says that he does not know where James and Fiona are, but it would be James's family that would be the ones hiding them. Scott points out most of his family are in Los Angeles and Lorik says that there are some cousins still in Albania who would do anything for him and that Albania's are not like Americans, and that family is above all. He says he would not help them as Fiona disobeyed him and brought shame to the family. Katrin says that she is surprised based on his history that he would consider the 30 million embezzlement a shame and he says it was not the scam that bothered him as that is the American way, it was marrying James. He says she is running with dogs now.
Katrin says that with Abazi's organized crime ties, James and Fiona could be hiding in any of dozens of bunkers in the mountains used by the family. Agnes says if they are comfortable living underground and moving frequently, the odds of finding them are remote. Kellett says they are tracking all home and cell phones, social media and bank accounts and have found nothing yet so if they are communicating with anyone back home, they are doing it very carefully. Scott says they need to get the children's emergencies VISAs authorized for them to come to Albania, and Raines asks if they are using them as bait, and Scott says they will not know they are bait but they need to put the kids in play in order to tease out the parents' location.
Scott asks Raines and Vo to pose as state department counselors to facilitate the hand off with the family here. Raines asks is this plan not risky, and Scott tells him his first boss told him "If you are not willing to take risks on this job, go someplace green".
Raines tells Vo that he was basically in charge of his sister growing up and it is not the best way to spend your childhood. It is wonderful to see Raines open up to Vo, and shows clearly they are growing close as partners. It is also great to learn more about Raines, and this new revelation makes it clear why both in this case and in some previous cases, why Raines seems so protective when it comes to children being involved.
They then speak to Amelia and Gabriel, introduce themselves as members of the US consulate, and let them know they will be checking in and their Aunt takes them away with the family to go to their home. Abazi tries to hand them an envelope of money to make a cash donation to their embassy for the "Employee Vacation Fund" but Vo declines, and he tells them they have done their job and from this point on, he better not see either one of them again. Gabriel looks back as Raines as they walk away and looks frightened, and Raines renews his objection to this plan to Vo.
At the station, Vo asks Jamie where they placed the tracking devices and she says in the kids shoes, backpacks and cell phones, and Katrin confirms they are at Lorik's home and have not left since they arrived. Agnes then comes in and tells them that someone has called stating they know where the Delvina's are and are willing to exchange the information for their reward.
Kellett and Agnes check her out and her story is credible except her boyfriend in Greece may be a catfisher, and Katrin chuckles about when members of a crime family turn on each other and that she finds it funny. The kids are still at the house, but they sense that something is going to happen soon.
Raines brings Scott 2 million and they pat Lendina her down for a weapon and she has to sign for it but she refuses and Scott says it is fine. He explains she gets half now and the other half once they are in custody. She says they will be at the shopping center in 20 minutes and the surveillance team confirms an SUV arrived at the mall. The clothing is found with the trackers discarded at the mall, the team looks up and sees a man watching them, and Scott says that is likely their look out letting the family know they fell for it.
Katrin calls Scott and lets him know Lendina is likely regaining consciousness at the café and he says he will send local police and that he is a few minutes behind her. She says she does not know if the wife and kids are with him. Katrin stops James and arrests him, but he is alone and she alerts Scott he is alone but the kids must be nearby.
Scott sees a familiar face driving an SUV and he pursues the vehicle. The driver gets out and runs, and Scott finds the kids crying in the backseat and they beg him not to hurt them. He tells them he is from the FBI. He asks Raines and Vo to talk to the kids and Raines asks if it is to comfort them or get information and he says both.
They bring in Lendina and she says she is going to sue Katrin, and Katrin says she looks ridiculous.
Katrin and Scott try to get James to have his wife turn herself in and he says he will never betray his wife. Scott asks if he would betray his kids and threatens to have them separated in foster care if he does not help them, and gives him 5 minutes to decide.
They are monitoring the house, and there has been no sign of Fiona. Jamie says they need to get Fiona through James or they will not get her. Raines asks how far they plan to go with this with the kids, and Scott says as far as they need to. Raines asks Katrin if this has to do with his mom, and she says she does not know.
James agrees to reach out to Fiona but wants to have time with his kids first, and Scott says that he can see them when they have Fiona in custody. The kids hear them arguing and are afraid they will be separated, and James asks to see them through the window at least. He agrees to contact Fiona. They give him his phone and he calls a woman and tells her Fiona needs to call him now.
Scott warns James if she or the family try anything in the lobby they will smoke them and to tell them now if he suspects they will do something and he says no. She does not show up and texts and says to tell them she loves them. Amelia asks if she is coming and Scott tells her it does not look like it and she says if they keep her and Gabriel together, she can tell them where her mother is.
Vo comes downstairs and tells Scott that Amelia is in the break room and is ready. Scott gets a phone call from Jamie saying she hears Amelia is willing to give up her mom, and Scott says he cannot do it and Jamie tells him "Then don't". Scott goes to see Amelia, and she says to him that if he gets her aunt on the phone, but he stops her. He says they will keep looking for her mom, but she does not deserve this and he will make sure she and Gabriel will stay together but she does not have to live with telling them and giving her mother up. She hugs Scott and he comforts her.
Back in Budapest, Raines asks Scott if he needs to interview in some other places and Scott says no. Jamie asks Scott if he knows why agents date other agents, and she says in this job they take any kind of solace they can get and worry about the consequences later, and Scott agrees. She takes Scott into a blind spot in the office and kisses him. He says he believes this is a mixed message and the camera then moves to them in Scotts apartment passionately kissing and undressing and both stating "Just for tonight".
Therefore, it looks like we may have a chance to see Scott and Jamie reconcile over the remainder of the season, but regardless, it is clear that the feelings they have had for each other are still present on both sides of the relationship. It will be wonderful to see how this continues to play out over the episodes to come.