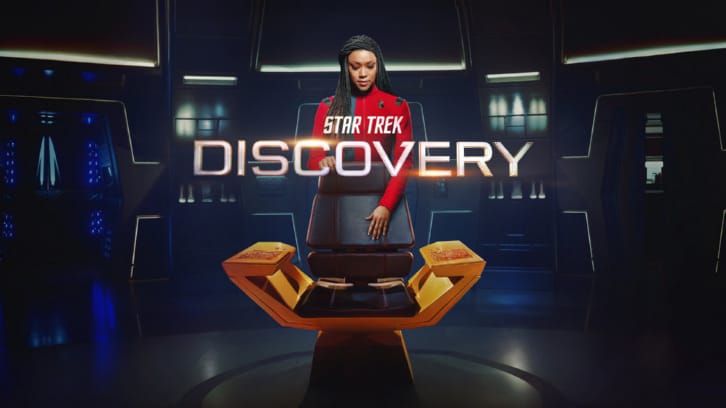 Star Trek: Discovery 4.08: All In:

Okay, hands up who expected Discovery to not only tick off the boxing match in a space opera cliché but also a poker match straight out of Casino Royale? This scaled back the drama of the previous episode before the show went on break to address the consequences of Book's decision to join up with Tarka on a personal level. Whilst the lengthy break was frustrating and the whispering was at a fever pitch this episode (although maybe fever pitch isn't the right word), All In was a solid episode that allowed Owo into the spotlight to shine again, maybe in a way that she hasn't truly been able to since the memorable New Eden back in Season 2, my favourite episode of the show.

Culber and Stamets' conversations about Culber's guilt was interesting – Stamets weighing up his own failures in the handling of the ship's AI. Culber realises that he could have done better with Book – but he's taking on too much even for someone as a workaholic as he is, and the demands are taking a toll. One of Discovery's best assets has been that its characters aren't afraid to talk it out rather than hold secrets from one another and Culber and Stamets both know each other better than that.

With such a dramatic shake up in the personnel change over the course of the series (Discovery had admittedly missed Tilly ever since she's left), Owo stepping into the spotlight was a welcome one as was the justification for Michael bringing her along. Their dynamic was natural as they entre a den-of-thieves type gambling hove that reminded me a lot of Deep Space Nine and Quark – to the point where the Ferengi were there in person, it's exactly the place you'd expect them to be. This gave way to pit Owo and Michael against Book and Tarka in a series of challenges. Owo wins a boxing match on the second bout, and the game of cards was as thrilling as a sci-fi series can make them. Its scaled down close encounter between Book and Michael allowed them to explore where their relationship is at now and if it can be saved – but Michael has made it clear that if Book won, there's no going back as the Federation will use Michael as their chief weapon to bring Book to justice. She's right – and Book wins, but Michael is smart enough to plan for a contingency and plant a tracker on him.

I did like the subtle differences in Federation command and Vance being able to hint at Michael finding ways to operate outside of mission perspectives was fun. The shakeup in the stakes presenting a familiar face as the primary antagonist makes up for the lack of agency on a personal level that Season 4 has had so far for every character outside of Book, and bringing Book into the picture again allows that shake up to raise the stakes even further. The DMA is a very real threat that's lingering in the background all the more and even this deep into the series we don't know much about it yet, but getting some answers on it sooner rather than later will be a welcome change of pace.

Star Trek: Discovery 4.09 "Rubicon" Review:

Star Trek: Discovery is having a kind of civil war of its own and the impact of Book's decision to leave is something that clearly isn't outwardly evil. One of the best decisions about the season has not to brainwash Book or to have him become malicious towards the Federation at any point – both him and Michael ultimately want the same thing, they're just going about it by two different ways – and the lack of forced drama between the two means that the show is approaching its method in a kinder way than say, Arrow or other shows that have gone down the civil war route before, if you will. Multiple members of Discovery believe that Book has a point – yet go along with Discovery's orders anyway, because they're Starfleet.

It also means that when Tarka's defence system activates, Book and Michael can work together for a change to pull Saru and Culber free along with their crewmembers – and never has it become more apparent that the people on this ship care for one another no matter what – but they're still two steps behind, until Discovery arrives at the next jump ahead of Book. It's a back-and-forth game of escalation as the two factions get closer and closer to their target – and now due to her personal stakes in the mission, Michael has a handler of her own in the form of Nhan – who acts as Book's Tarka on board Discovery. It's always refreshing to have Nhan back, and she fits seamlessly back into the dramatis personae of Discovery's roster even if it is only for an episode – but her presence comes with bad news. There's a way to stop Book if he won't back down – but it will mean the destruction of his entire ship in the process, leaving no option to beam him out. So understandably – everyone's keen on using this as a last resort, especially as Discovery is put at risk.

Tarka and Book's dynamic too is fracturing, Book isn't ideally happy about the lives of Discovery's crew being put in danger. This episode is all about showing both sides of the extreme – both Nhan and Tarka on board their respective ships are the ones unable to compromise, but Book and Michael are the ones who can have some middle ground – after Michael puts herself in front of the controller in a way to stall time for Stamets to get the data on the DMA in an attempt to calm Book down. It's a risky bet, as Book didn't back down before – but Book isn't unlike any villain they've met before, he's a lot more reasonable and logical than that, especially when he learns that the DMA will remain in place for another week without risk to life.

It is after all, like Culber said – compromise can be achieved, and whilst that plays into the criticisms that Discovery has been too into its emotions at times, but it's a welcome progression towards the series' natural end point – after all, there isn't anything here that isn't removed from anything that Trek has done before. But ultimately – all is for null and void, as Tarka is the one to act that throws everything up in arms, only to learn after firing that the DMA is powered from the other side of the wormhole – outside the galaxy itself, and destroying the old artefact only means that a new one appears in its place.

Also: what's the ship name for Saru and President Rilak? Because it's something I'm on board for.