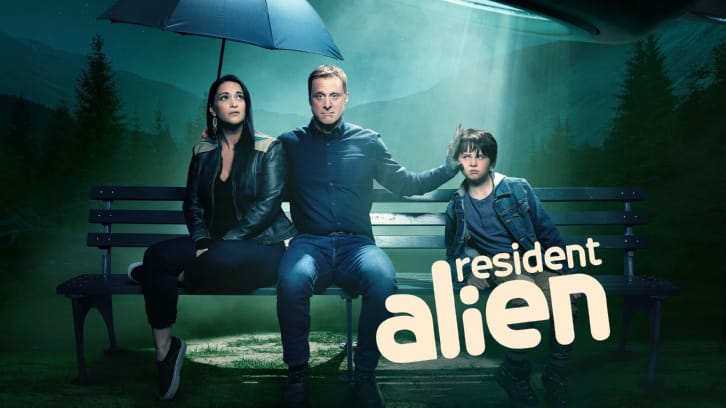 There was so much good stuff in this pair of episodes that my initial instinct is to burble out a list of all the good bits. I have to say that, so far, Girl's Night is my favorite episode of the series.

Crises abound in Patience.

Apparently tourist towns have rivals, and those rivalries can be vicious! The mayor of Jessup, Colorado, produced a tourism commercial that rubs in the fact that there were, not one, but two murders in Patience. And one of those murders left behind a foot!

Ben completely missed the up-side of Jessup's commercial.

Judy did not miss it. (At least I hope she owns the "Patience Murder Tour" company.)

Jessup's commercials were already having a positive effect on the Patience tourism numbers. Even Max's friends see the appeal.


But of course it took Sahar to figure out the correlation between Max's hair growth (and that weird "Hello, pretty lady." moment) and the ball he stole from Harry.
That young lady is rocking the smarts…both people smarts and book smarts.
Most of the people I've met have one or the other. Both is rare.
The timing of her telling Harry off was perfect. Although it was a little weird to watch Harry face those kids and not make any snide comments.
Harry spent most of
The Wire
trying to build the perfect place for Asta to shelter when his people destroy all life on Earth.
He does get points for not expecting Asta to clean up behind him.
After Dan informed Asta that stopping Harry from destroying the world was on her shoulders, I think Asta freaked out a little bit.
Then she wielded her power to force Harry to radio his people and tell them to abort their plan.
She got Harry to agree to contact his people, but we all know that there's no chance they'll abort just because Harry says so.
The one question they've never answered is why they want to destroy all life on Earth. Are they planning to move in or do we just annoy them?
Since Harry stopped practicing medicine, we've missed out on his grand proclamations about how awesome he is at stuff he's not very good at.
Which of course means his 15 minute online poker lessons were of little help.
I'm sure Harry would say his loss was because he was preoccupied by shopping for a bunker butler. The rest of us know it's because he's not good at it.
I hope you guys are having as much fun watching Sheriff Thompson and Deputy Baker investigating the murder. They are so much better as well.
Their kids are Alvin and the Chipmunks! (For you youngsters out there, look 'em up. LOL)
I was caught completely off guard by the last few minutes of
The Wire
.
When they tried to arrest Harry, I was actually a little nervous for a moment.
Replacing their memories was a good way to deal with a subplot that, if handled realistically, had no real good outcomes.
Even with a cameo of a "real" FBI agent, the new memory was a hoot.
Random thought. Did they ever get a DNA test on the foot?
I've spent several episodes marveling at what a great friend D'Arcy is. An episode focusing on the women of Patience took the elements I love about D'Arcy and amplified them.
I'm adopting GN59 into my life!
When Kendra arrived, the episode stepped it up a notch.
It just got better when they stole the town budget and discovered the pay disparity for female city workers. I knew Ben was going to cave before he even knew about it.
I'm loving the empowerment of Olivia Baker.
To bring the human theme of being a woman back around to Harry, Harry decided to impersonate Kate's cousin Carlyn and slip into her lab for some hardware he needed.
The whole segment was predictable, and I think they cheated with the Alien Harry sequence because it didn't really follow the standard real Harry rules.
Alex Borstein's interpretation of Harry was so good that it was still fun.
Another great pair of episodes. I was a little worried that season two wouldn't be as strong as season one. (That's happened to several of my favorite shows.) So far, it's been getting stronger.
What were some of your favorite moments? What did you think about this episode overall?