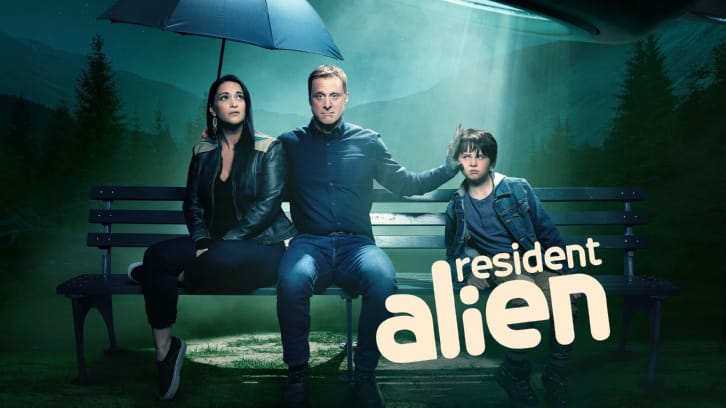 Annnnd we're back!

It took me a second to get my brain settled around the opening scene. I finally realized it was likely a Harry dream moment, but I'm not sure it was necessary. I would have been perfectly happy if that entire scene took place on Harry's ship.

It looks like this season is going to end with Harry having to confront another alien, from his planet, sent to complete his mission. I am looking forward to it.

Harry's biggest problem is that he's fallen for the humans. He apparently protected Max during the crash and pledged not to destroy Earth for Asta.

I keep wondering if there's an Asta/Harry romance down the line. Every time I enjoy a strong male female friendship they decide to throw them together as a couple. I hope they don't do that here, but won't be surprised if they do.


Harry's human topic was memory.
Aside from illustrating how he felt about his human actions (especially protecting Max) and mission failure it was a nice way to introduce the Sheriff's story arc the season.
The scene between the Sheriff and his father was one of my favorite scenes.
I like the way they're humanizing the Sheriff without removing the quirkiness about his personality.
I love the well oiled machine he and Liv have become.
Her reaction to the Sheriff's theory of how Harry killed Human Harry made me think…she's known him too long.
She didn't even blink when he mentioned the extra set of arms.
Sahar and Max continue to be major favorites of mine. I do believe she will be the first person on Mars. Max just likes the 'S' word.
"I know you are, but what am I?" never worked as well for me!
But the actress who plays Liv (Elizabeth Bowen) stole the show for me. Her reactions, while she was taking the Hawthornes statements, were hysterical.
The Hawthornes weren't my favorite 'weird' in the episode.
I would have happily traded the weird sex play montage for a little more insight into what drove Kate to destroy that vase.
She may be turned on by her husband the protector, but there's something more going on with her and it felt…um…to underplayed for me.
The Harry and Asta scenes helped make this episode for me.
Sadly, the fact that she had to Google Lennie Briscoe just made me feel old. LOL
Who is Darcy's new stalker? I drew a complete blank when Darcy realized she was copying her hair. I feel like I should remember her from season 1, but tonight I could not place her.
I do like the idea that Harry is going to have actual family around. Octopus (Number 42?) looks to be moving in. I hope that's going to be as much fun as I think it is.
I feel like I'm bouncing all over the place with this review. But there were so many great moments in the episode. I feel like a kid repeating "and that was good, and that was good…" over and over.
Since much of the episode was about getting Harry back to town, most of the story set up elements were focused on secondary characters. I thought it worked well.
What did you guys think of the episode?