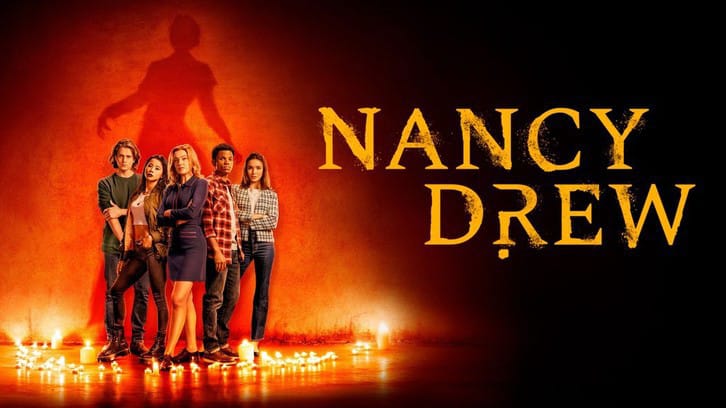 We're getting closer to the final battle between The Drew Crew and Temperance Hudson. Which was great, until we learned that they weren't ahead of Temperance, but a step or two behind her.

Like a true protector, Nick followed Temperance's instructions and didn't mention her threat against his kids.

Ace noticed a commonality that allowed them to seriously narrow down the ancestry list that the FBI generated. Anyone whose grandparents lived to be 100 is worth more investigation.

Nancy's investigation led to specific symptoms of someone hosting Charity's soul.

As Nick heads into the courtroom for the final jury selection process, he realizes that he's serving jury duty with the next host.

I was perplexed about one thing though….Did Nick realize the problem simply because the drawing he found was of Gettysburg, or did they eliminate a scene in which Nancy explained to the crew what she found?

Was it just a coincidence that Nick had his epiphany before Nancy could return from the diner and tell everyone what she'd learned?

I felt so bad for Lev, the host. His nightmares had advanced to the point that he was ranting in the courtroom.

It was too late for Nick to let Nancy know he was wrong, but Nancy's no slouch. She'd already figured it out.

My weird aside thought for this moment was, they just let this guy walk out of the courtroom without even checking on him? Where I live, if he'd had an aneurysm or something and later died. His family would have sued the city for not gettin him checked out.


But I got back on track quickly. LOL
The middle of the fight to save Lev was not the best time for the Crew to find out that the Copperhead can summon his target in addition to sniffing them out. (Yes, literally sniffing Charity's soul.)
They managed to save Lev by running the Copperhead all over town until The Magic Minute.
All of the victims died at the same time of night: 11:57pm. At 11:58pm the Copperhead turned and left. Those magical rules can be so annoying.
The entire exercise turned out to be useless, because Temperance has a pretty hardcore spy spell running.
That's my best guess about how she managed to figure out exactly what Nancy
et al.
were doing. She knew Lev would be with a police escort and where he would be.
***
Ryan invited Nancy to look through the family storage unit. It was another nice moment between Nancy and Ryan.
One of the bonuses of Nancy letting Ryan in on her world is that Ryan spotted something hinky about a potential sale and intervened.
It would appear that the buyer was Temperance. Good looking out Ryan. Unfortunately, it only served as a hint that Temperance was up to something they don't understand yet.
Nancy finally learns why Charity had her soul split into pieces. Temperance told Charity what she was planning for Horseshoe Bay.
The tale of the bully that turned everyone against her that Temperance spun is a lie. (Which most of us had already figured out.)
The Women in White never strayed from their goal of protecting Horseshoe Bay. They drove Temperance out of Horseshoe Bay to protect the town from her, not out of spite.
Whatever force drove Hannah to release the Copperhead was also intended to protect Horseshoe Bay. Innocent people died in the crossfire, but the goal was to keep Temperance from ever getting her hands on Charity's soul.
I need a reminder….Did Copperhead's murder of those carriers of Charity's soul destroy those pieces or just release them?
I had thought they were destroyed. Nancy had a line of dialog that implied that I'm remembering this wrong or they did a mid-season retcon.
Does Temperance only need one part in order to enact her destruction?
Regardless, she's ahead of the Drew Crew now. It's making the season conclusion something to look forward to.
***
What was happening with George and Nick this week is a huge part of why I'm not a fan of Ace and Nancy becoming a couple.
Shows do not believe in couples that are successful. Hence the ups and downs that George and Nick have had. I don't think it would be particularly interesting story telling for me.
George practically ran away from Nick when she dashed off to help Carson with his case. It felt a lot like this was George's first independent growth moment. It was a good one.
I really like the idea of George heading up her own private investigation agency. I know Nancy essentially does, but she's placed herself in a more specialized part of the market.
Loved the callback to
The Legend of the Murder Hotel
. (I think I have the right title. Let me know if I'm wrong.)
I was also really glad to have had the moment where Nick was talking about opinion vs. fact when serving on a jury.
Another great episode. It took me a bit to get excited about where the story is headed but, as Temperance nocked the cop and Lev unconscious….I realized. This is going to be fun.
What did you think?