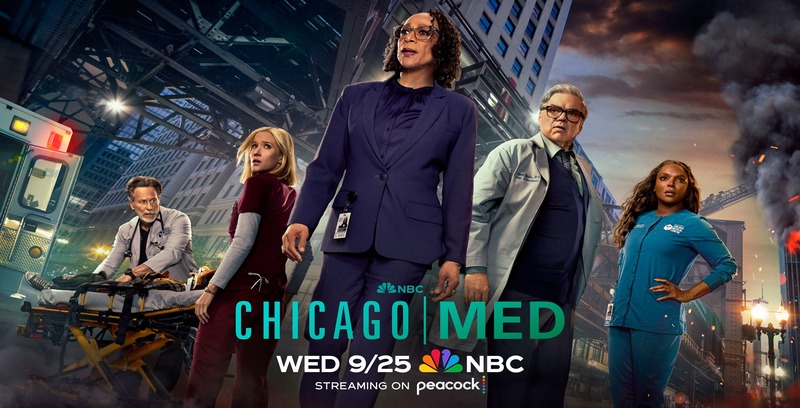 Well it feels like has been a long time since we have checked in at Chicago Med, and if you are a Chi-hard you have been anxiously awaiting the One Chicago return in January. So let's recap where we left off in December before our next chapter begins.

Maggie and Vanessa


This was such a lovely addition to the holiday episode, and hopefully there will not be a negative outcome for her sharing this information so publicly at the hospital. With any luck, this will mean even more opportunities for Vanessa and Maggie to further develop their relationship this season.
Vanessa and Stevie
While waiting for her test results, she becomes jaundice and her fever is going up. They are taking her for a CT when Maggie comes to tell the husband that the credit card was declined. This is confusing to her husband as he says he never uses that card.
When almost all the tests come back negative, Stevie has a hunch about what this might be while it is a long shot (something she saw when working with the homeless), and she does a very detailed exam of Eve, and finds an insect bite on her scalp and asks Vanessa to add some additional tests.
Her husband tells her it will be ok. After they leave the room, Vanessa and Stevie talk about how hard it is to keep lie up. Stevie says she never tells anyone about her mom and has always tried to keep up the image of a perfect life. Vanessa says she has been keeping up a lie too and it is costing too much. It is not long after this that Vanessa reveals to the staff that Maggie is her birth mother. It is nice to see some bonding between Stevie and Vanessa over some of the situations they have worked on together, and to see Dr. Hammer less guarded now with her colleagues about her past.
Maggie and Halstead and Scott
When they return, the parents have been looking on the internet, and are concerned that she has pyloric stenosis, but Dr. Scott reassures them that they feel she likely has a viral gastroenteritis. However a short time later the baby begins having a seizure, and they have to intubate her. Her parents are very upset, and Will asks for permission for them to take her for a CT scan, and they agree.
Scott and Halstead discuss possible causes for the seizure and they are unsure if she has sepsis or possibly a brain bleed. Halstead is quite upset at the baby being so ill, and says "What did she do to deserve this?" Clearly, there are other things weighing on Will's mind, which is another main story of this episode.
Lily stabilizes and Dylan tells Will that she needs a liver transplant but she will survive. Will says it is so unfair that the baby has to suffer and meanwhile there are crooks getting away with stuff. Dylan asks him what is going on and if he is okay and Will says he is fine and that he will see him at Christmas party (and that he hopes the punch is spiked).
Obviously, Will's detective work is weighing on his mind, and he is clearly frustrated with the Board's decision not to turn the results of the investigation over to the FBI. It is interesting to see this evolution in Will, as in the past he was willing to break the rules. However Will tended to break the rules when he felt it was for the good of a patient, and not for profit or personal gain, so perhaps he viewed his rule breaking as more altruistic. Regardless, it is clear he is distraught by Dr. Cooper not being brought to justice at this time.
Crockett, Blake and Avery
Marcel and Blake are going over the scans for pre-op, when Blake asks him about his aftershave/cologne and what he is wearing, and one cannot dismiss the energy between them. But then suddenly their patient crashes. He is unconscious and they intubate him and take him for a CT scan.
Ultimately, the surgery was a success. After the surgery, Marcel and Blake celebrate with a drink from a bottle that Blake was given as a gift from a patient. Again, the tension is clear and then they realize they are under some mistletoe and they kiss passionately.
Dr. Archer and Dr. Charles
Dr. Charles comes in and talks to Kyle, and says they are concerned for his well-being when he came into the hospital. He says he was not downtown and that he was on campus and heard the bells. Dr. Charles lets him know he was downtown and his car alarm was going off and asks could that be what he heard. Kyle gets very upset and shares with Dr. Charles that he has schizophrenia. He tells him he has been taking risperidone and things have been well controlled and Dr. Charles says he will help him figure out what happened today. Dr. Archer says he is cleared medically and he wants him to go upstairs to psychiatry as he says mentally ill patients make the ED a scarier place, but Dr. Charles says he wants to keep him in the ED for a while longer as he is not a danger to anyone, and he wants to figure out what caused the episode today.
Dr. Archer asks if Dr. Charles is going to clear his ED bed yet, and Charles and Archer talk about Archer's lack of patience with mental health patients. Daniel provides several examples from the last few months and Archer shares his experience from when he was in the war and that you had to treat and move on. Daniel asks Dean if he would be willing to try something and to meet him in his office.
Meanwhile, Daniel calls the tea store, and tells Kyle he found out that the tea blend he was drinking had St John's Wort in it, which for most people is harmless, but this herb is known to speed up how the body metabolizes certain medications. He says since he is responding well to the extra medication dose they gave him, and based on the fact that the St. John's Wort should be out of his system by tomorrow, he will feel a lot better very soon. Kyle is so happy for the help and thanks Daniel.
Dr. Charles then goes looking for Dr. Archer and finds Archer outside. Dean tells him that the VR was unsettling, and he is unsure how people get through the day with a condition like that. Dr. Charles says he understands how terrifying it must be to ask for help and worry about falling apart, especially as a solider, and he says they are brave at helping others but do not want to save themselves. He tells Dr. Archer that he is around if there is anything he can do to help. Dean then says he is sorry and that he could have done better with their patients, and that he is sorry that Ethan got shot. Dr. Charles tells him he knows and for the first time we see Archer get teary and we finally see some emotion and remorse regarding what he has done and how he has been treating people.
This seems like a big step forward for Dr. Archer, and this transformation and realization was beautifully portrayed by Steven Weber in this scene. One can only hope we see more of this more realized and sensitive Dr. Archer as the season moves forward.
Will and Jessa and Dr. Cooper and Sharon Goodwin
Peter Kalmick (head of the legal department) says to send him a copy of the recording and not say anything to anyone at this time. Will agrees to not say anything at this time, while they go to the board with the information.
In the meantime, Will visits Cooper in the hospital and asks about what he was saying about having regrets related to Vascom when he was having his heart attack. He says he does not know what Will is talking about and that it must have been related to his medical emergency. He talks to Will about how he wants to go away on a holiday with his wife and then start a private practice in Montana.
At the end of the episode, during the Christmas party, the FBI comes in and gives warrants to Sharon for files from the hospital and Jessa and Cooper are arrested. They think it is Will who did this and accuse him as they are being taken away.
Goodwin then tells Will it was her responsibility to report it, and says all fall out will now land on her and that is why she told him to stand down. Peter says there will be fall out because of this and we see a very unhappy board member as the scene closes (Cooper's father in law). We will have to wait to see what the future holds for Sharon at Chicago Med. However we have seen Sharon in tricky situations with other administrations before, and she seems to come out the other side of these episodes unscathed. Time will tell if Sharon will be able to ride this wave through in the New Year.
It was a lovely ending to the episode to show the Christmas party and different children receiving gifts from Santa (surprisingly played by Dr. Abrams) assisted by Dr. Scott and Nurse Doris. And the tacky Christmas sweaters being worn by the staff was the icing on the cake!! It was also interesting that as she is leaving, Blake says to Crockett that what happened was just for fun and because of the mistletoe and he agrees…time will tell if this is true, or if Marcel is in for a rocky romantic ride in the coming season. All we know for sure is we are so excited to have out teams back and enjoy more One Chicago Wednesdays in 2022.
What did you think of this episode of Chicago Med? Share your thoughts in the comments below.