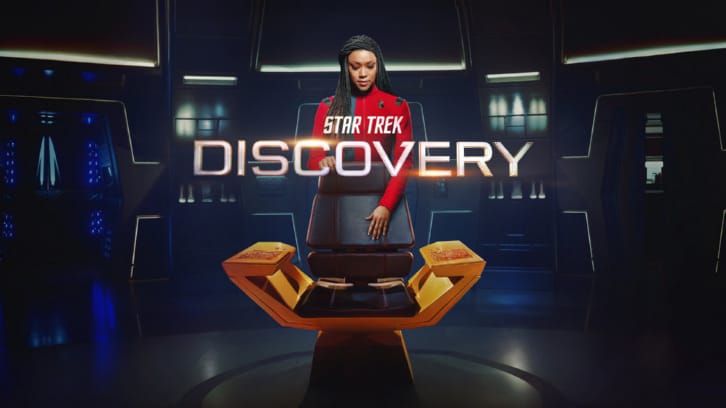 Note: all episodes will be reviewed in conjunction with the UK release of Star Trek: Discovery that is airing Fridays, Saturdays and Sunday nights at 9pm on Pluto. If you missed Friday's two episodes you can catch them again at the same time over the weekend.

Choose to Live distilled everything Star Trek should be into its runtime with a memorable break from the universe ending threat to investigate the killer of several Starfleet officers.

We saw Burnham reunite with her mother in a fairly emotional episode that was rather muted, but Tilly getting to point out to them that even though she didn't get on with her mother, she would do anything to hug her again was heartbreaking and yet another reminder that the crew of the Discovery chose to make this great leap forward into the future, knowing that they'd leave their family and everyone they loved behind. It was a moment that they've been wrestling with since, and leans heavy on Tilly's mind too – her conversations with Saru give into her mindset about who she is as a person, and the fact that she's brought along on an away mission with Michael and her mother shows that even Michael knows what Tilly's strengths are – and being a fighter is not one of them. But given that she soon finds herself with a purpose, bringing Tilly along turned out to be useful after all.

Meanwhile – Stamets and the team race against the clock to prevent the anomaly from killing anyone else which involves a conversation with the Vulkans. Book carries a heavy emotional burden as anyone this season with the death of his homeworld, forced to relieve it again in the aid of science – but rather than confirm Stamets' theory about it being right, it's dispelled by the Vulkans – who spent their time going over his contribution in silence, much to the talkative Stamets' annoyance – before confirming that there wasn't any Cherenkov radiation present. One thing that this show has been doing this season has been putting Stamets out of his comfort zone with people who he doesn't or wouldn't normally get on with – Book last week, and the Vulkans this week.

Writer Terri Hughes does a great job at illustrating the blunt differences between the two cultures, in a talk-heavy episode with decidedly little action compared to Discovery's universe-ending norm, but then that's a good thing. It was a total difference seeing Gabrielle get along with Michael – or not – and the real contrast between both characters was brought to life, with Sonequa Martin-Green and Sonja Sohn knocking it out of the park, with both characters more like work colleagues than family.

Gabrielle is now a member of the 32nd Century Qowat Milat and both her and Michael head to a lifeless moon to investigate a large internal cavern where they believe prime suspect in the attack on Starfleet Officers – J'Vini (Ayesha Mansur Gonsalves) might be hiding. J'Vini kills all but Gabrielle, Michael and Tilly and warns them to leave – but of course, they don't – and the group eventually arrives at a Prometheus-esque mausoleum where grave robbery is evident. Eventually the source of J'Vini's interest in the moon becomes apparent – the crypts are cyrochambers which malfunctioned a long time ago, leaving its inhabitants – the Abronians - hopeless to escape were a certain universe-ending disaster to head their way. J'Vini's quest to protect them is sped up by the aid of Tilly and Michael who are able to fix the engine. I did notice the subtle difference between why J'Vini is stealing dilithiumwhen the Federation are giving it out for free – they're only doing so to Governments, and as an individual – she doesn't qualify. Eventually – once her oath to the Abronians is fulfilled – J'Vini agrees to stand down and is taken into custody after an abrasive stand-off.

I love how open this show is being about healing and coming to terms with who you are and that it's okay to seek help. All of the characters are growing over the course of this episode and with Book going to seek help about his planet forcing him to relieve past traumas for the greater good in comparison to Tilly talking to Saru about her comfort zone being no longer a comfort for her (hence why she wanted to go on a dangerous away mission) and Adira talking with Culber about the worries that they have for Gray – it's an emotional episode that packs plenty of powerful punches, and Hughes is incredible at getting everything out of these characters.

The Gray/Adira dynamic has been one of this season's strongest smaller storylines and Gray finally getting the chance to embrace his body again was a welcome opportunity as was Adira worrying as to what life would be like without Gray always by them. Blu del Barrio and Ian Alexander have been excellent this season, so giving them the spotlight in Choose to Live will no doubt drive their storyline forward for the rest of Season Four – what happens to the Gray/Adira dynamic now it's changed – and how does that affect both characters? Either way, the themes at the heart of Discovery have been able to make the whole season so far feel in conjunction rather than disjointed and move as one, we haven't yet felt any storyline feel otherwise out of place this season.

I did love the slight homage to Deep Space Nine this week as a final note – when we notice the ship's new bar is manned by a Starfleet uniform-wearing Ferengi. I wonder what Quark would make of that?