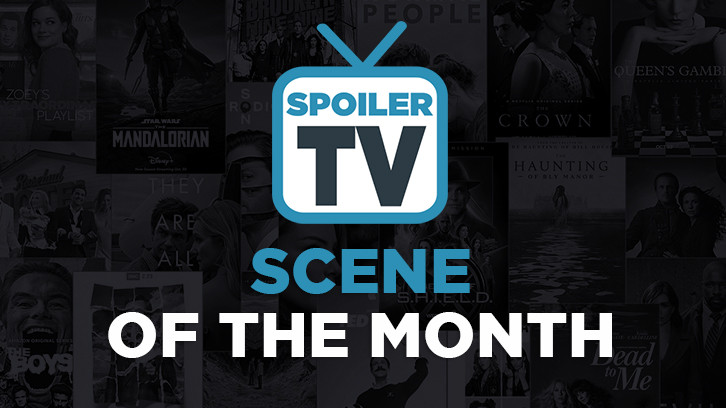 A monthly feature in which we're trying to find the most compelling, best acted, written, directed and just generally great, memorable scenes that we've seen in the past month on TV.
4400, "Harlem's Renaissance Man", November 15, 2021, Actors: Brittany Adebumola, TL Thompson, The Scene: Andre comes out as Trans
Marko:
In an unexpected turn of events the final scene of the show's 4th episode revealed Andre is a transgender. TL Thompson delivered a beautiful and complex performance giving an already strong character more depth and power. Brittany's Shanice acceptance gave this scene even more strength.
9-1-1, "Defend In Place", November 15, 2021, Actors: Peter Krause, Rockmond Dunbar, La Monde Byrd and more, The Scene: The FD units hold back a fire to help David finish a surgery
Prpleight:
The 118 and other units fight to hold back a major fire so that David can finish a surgical procedure. David needs 12 minutes to save a man's life. Bobby calls for all available units to "Defend in Place". It doesn't really surprise me that fire departments have this type of protocol in place. But, that's not what made this such an effective sequence for me. These days I occasionally find myself needing to be reminded that there are good people out there. Watching nearly every firefighter at the hospital running to Bobby's (and David's) aid while civilians in the parking lot join hands in prayer was uplifting. The song that was selected enhanced the sequence and added to the power of the moment.
A MILLION LITTLE THINGS, "Stay", November 17, 2021, Actors: James Roday Rodriguez, Allison Miller, The Scene: Gary tells Maggie he's seeing a therapist
Luana:
I love that's he's on a path of growth, and though I really like Maggie's new boyfriend, I'm sure we'll get to see her with Gary again, and I'm looking forward to it but I'm okay with them taking their time, especially if we get more scenes like this one.
AMERICAN CRIME STORY: IMPEACHMENT, "The Grand Jury", November 2, 2021, Actors: Annaleigh Ashford, Taran Killam, The Scene: Paula and Steve's argument
Matthew:
Paula and Steve fight after Paula learns their case has been thrown out. For me, this scene is all about Ashford's performance: For eight episodes, we've seen Paula being pushed into doing things she's out of depth with by her husband Steve, her legal team and many others. After he snaps at her for not taking a settlement, which she wanted to do but he didn't, she finally stands up to him and lets him have it. As Paula says, she can handle the general public and the media laughing at her, but she refuses to allow her husband to judge her the same way. Ashford's performance in this scene is raw and powerful to the point where you may shed a tear, regardless of how you feel about Paula.
ARCANE, "The Base Violence Necessary for Change", November 6, 2021, Voiced by: Hailee Steinfeld, Mia Sinclair Jenness, The Scene: Vi finds out Powder's bomb killed their family
Chlöe:
I was not expecting anything quite so devastating to happen in what I thought would be a fun animated adventure. The raw emotion Vi and Powder bring to the scene hits you in the gut and tears out your heart. Vi is caught up in her grief when Powder comes bounding round the corner excitedly and it physically hurt to watch her crumble as she realised Mylo, Claggor and Vander were dead. The two actresses exhibit some of the most phenomenal voice acting I've ever heard as Powder sobs and screams, begging with Vi whose pain turns into fury, the moment becoming the defining catalyst for the rest of the series.
BATWOMAN, "How Does Your Garden Grow?", November 17, 2021, Actors: Javicia Leslie, Camrus Johnson, Nicole Kang, The Scene: Poison Mary goes head to head with Batwoman and Batwing
Marko:
The empowerment and cutthroatness from Nicole Kang's Mary was chilling and terrifying as she dismantled Ryan and Luke with her newly discovered power.
CHICAGO PD, "Fractures", November 10, 2021, Actors: Jesse Lee Soffer, Tracy Spiridakos, The Scene: Jay reassures Hailey
Jessica C:
Jay has a history of making sure Hailey knows that nothing is going to come between the two of them. That they're good and they're always going to be good. This phone call he made to her at the close of the episode was filled with so much of that same depth. He's not only telling her that everything is going to be okay; he's also telling her that nothing can make him love her any less. This is the most difficult challenge they've had to face as a couple and it proves none of it has changed where they stand or how much they love one another.
COWBOY BEBOP, "Venus Pop", November 19, 2021, Actors: John Cho, Mustafa Shakir, Rodney Cook, The Scene: Jet and Spike vs. Teddy Bomber
Justyna:
When it comes to the first half of the season, I really wanted to highlight one of the moments that best display the great dynamics between Jet and Spike. These two are generally not very open or emotional people, but you can definitely see how much they care, with everything they're willing to do to protect each other. Spike's choice to take Jet's place on a bomb speaks volumes. There's also no hesitation on Jet's side to come back for his partner. The episode doesn't even need to include his return after their exchange. Really enjoyed the performances from John Cho and Mustafa Shakir and the friendship between their characters. Outside of the trust and sacrifice part of the scene, there's also the hilarious confrontation with Teddy Bomber. His choice of disguise feels absurd, but the struggle in understanding his words (or likely threats) towards our bounty duo makes the entire scene even more fun to watch. The fight itself is also rather clever and entertaining. All about the teamwork in the end. Nice to see the moment of levity and genuine laughter as well. Kudos!
DEXTER: NEW BLOOD, "Storm of Fuck" & "H Is for Hero", November 14 & 28, 2021, Actors: Michael C. Hall, Jack Alcott, Jennifer Carpenter, The Scenes: Dexter re-examines Harrison's altercation from school & Harrison tells Dexter about Hannah
Laura B:
Dexter re-examines Harrison's altercation from school. It's so nice to have this icy slice of Dexter back. I always felt that if it would be revived, that Jennifer Carpenter should absolutely play Dexter's new Dark Passenger and so I'm beyond thrilled that this show was able to get her on board! But I never could have predicted that she would not only be a version of Deb in extremes (which is saying a lot), but one who was trying to prevent him from returning to life of murder! I chose this scene for that reason -- The way Dexter has to so aggressively interact with his latest Dark Passenger to prove his point is a fresh take on the mythology, especially because of the way they both seem to more heavily interact in order to evolve together is a great layer back onto the events of original series -- not to mention the reveal about what Harrison did to Ethan is finally pushing a long-awaited envelope on how Harrison might have been effected after all!
Luana:
Harrison tells Dexter about Hannah - I loved this first relatively open conversation between them, and Harrison letting him know the consequences of leaving and not keeping track, what he had to go through after her death, I'm actually hoping we get to learn more about it, Harrison is a very compelling character and I can't wait to see more of him.
DICKINSON, "It feels a shame to be Alive -", November 5, 2021, Actors: Hailee Steinfeld, Will Pullen, The Scene: Emily talks to Nobody
Luana:
I like that they brought this back and I wonder if we'll see him again, the intensity in their conversation was incredible, and something I've been missing a bit this season.
DOCTOR WHO, "Village of the Angels", November 21, 2021, Actors: Jodie Whittaker and more, The Scene: The Doctor is transformed into a Weeping Angel
Justyna:
Even when she's surrounded by an army of Weeping Angels, I always trust that the Doctor will find a way to save the day. Which makes this moment especially memorable, as this time she's not only unable to stop them, but ends up transformed into an Angel herself. Even if only for a brief moment of transport to the Division. It's a shocking scene and ending to the episode, with a great performance by Jodie Whittaker. The second the Doctor realizes that she's trapped with no way out, it's written all over her face. The painful realization of the fact that the Weeping Angels used her kindness and need to help and save people against her. This is certainly one of the scariest confrontations against one of the Doctor's familiar foes that we've seen in a while. The visual effects of the Doctor turning into an Angel were also really well done. A true surprise in the story. Kudos!
DJRiter:
Recalled to Division by the rogue Weeping Angel, the Doctor turns into a weeping angel. It was a stunning turn and unexpected twist in this story of Jodie Whittaker's final season as the Doctor. She beautifully played the moment.
HAWKEYE, "Never Meet Your Heroes", November 24, 2021, Actors: Clara Stack, Vera Farmiga, Brian d'Arcy James, The Scene: The flashback to the Battle of New York
Justyna:
"The Avengers" might just be my favorite movie of all-time, it certainly holds a special place in my heart, so anytime there's a reference to the events from the movie, it easily captures my attention. This opening to the "Hawkeye" series was wonderfully done and adds additional layer to the well known story. We're seeing the Battle of New York once again, but this time from the perspective of a family who happens to live right across the Stark Tower. More specifically we're following the events involving young Kate Bishop. Kate finds herself surrounded by the destruction, terrified, confused and searching for her parents. She gets no response from them and she's not even sure if they're still alive after a part of their house collapses. But despite all the explosions and the tragedy she experiences on this day, she also catches a glimpse of Hawkeye who takes down the Chitauri heading towards her home, right before jumping from the roof of a nearby building. One of my favorite Hawkeye moments, seen from the outside perspective. Turns out this scene, this moment becomes a turning point in Bishop's life. Kate is inspired to become the best possible fighter, archer and (soon-to-be) a hero herself. Really enjoying the series so far. Kudos!
NANCY DREW, "The Gambit of the Tangled Souls", November 19, 2021, Actors: Riley Smith, Alex Saxon, The Scene: Ryan tells Ace that Nancy makes you want to be a better person
Beth:
A very small and sweet moment where Ryan is gushing about his daughter. It also showed that Ace is falling for Nancy by how he agreed.
STARGIRL, "Summer School: Chapter Thirteen", November 2, 2021, Actors: Brec Bassinger, Joel McHale and more, The Scene: Starman and the JSA help Courtney regain control
Justyna:
We've been expecting Starman to show up since the beginning of the season. Knowing that he's on his way has certainly made this moment less of a surprise but luckily it did not take away from just how great his entrance turned out to be. The transition from "only one can control it" to "well, maybe two" is perhaps an obvious one, but I still really enjoyed it. Definitely a goosebumps kind of moment. Eclipso has taken over Courtney, exploiting her hate towards him. But Stargirl is so much more than one negative emotion. She has love, hope and friendship in her life. People worth fighting for, people who love her and stand by her side, no matter what. Sylvester's arrival and the fight for the staff gives Stargirl enough strength to remember her loved ones and eventually regain control, forcing Eclipso out of his new host and leaving him vulnerable. The JSA, with some ISA support, end the confrontation a moment later. A great conclusion to the season-long arc and this dangerous enemy. Can't wait for the next season. Really enjoying the series so far. Kudos!
THE SINNER, "Part VII", November 24, 2021, Actors: Alice Kremelberg and more
The Scene: Percy is taken home
Luana:
We see in this flashback what happened after Percy went to the police, and it was so heartbreaking to see her be sent home, solidifying that she has no escape and no help is coming. This season has had its ups and downs but that aspect was definitely a highlight.
THE WHEEL OF TIME, "The Dragon Reborn", November 26, 2021, Actors: Zoë Robins, Barney Harris, Álvaro Morte and more, The Scenes: The final confrontation with Logain & The little girl gives Mat her doll
Justyna:
I've been really enjoying the show so far. I've missed watching epic fantasy stories and this one fits perfectly. I'll definitely need to check out the books. As great as it's been to learn about the characters and the world, I'm most invested in the mystery behind the Dragon. The introduction of Logain gave us a great glimpse into the One Power and how different it can feel in the hands of other people. I loved Moiraine confronting Logain and talking about "the raging sun that will be the Dragon Reborn". Then there's the confrontation - Aes Sedai vs. Logain where Kerene sacrifices her own life to save Moiraine and Liandri. That leads a heartbroken Stepin to go after Logain, breaking his imprisonment and causing Logain to fight back, injuring Aes Sedai and slitting Lan's throat. And then the most unexpected thing happens. Watching Lan dying becomes a breaking point for Nynaeve who displays a stunning use of the One Power and heals everyone in her proximity. Visually beautiful and significant character moment all in one. "Like a raging sun." If Nynaeve is capable of such incredible power, I absolutely can't wait for the Dragon. Kudos to cast & crew for all their work.
Luana:
I'm loving this show, and those final moments were insane, from the moment Moraine tells him his power is nothing against the raging sun that will be the Dragon Reborn, to the moment where Logain feels Nynaeve's power and is gentled, all of it was spectacular and you couldn't take your eyes off the screen. I just can't get enough of this show and though nothing is perfect I'm definitely looking forward to whatever comes next.
Chlöe:
The little girl gives Mat her doll - This is quite a touching quiet moment in the middle of the episode, nicely juxtaposed with the ominous reveal of the shadows of Shadar Logoth literally spilling from Mat's mouth before retreating back in. It creates a suitable sense of dread that is offset with the kindness of a little girl which reminds Mat of his sisters back home and sets up the emotional tragedy at the end of Mat's storyline in this episode.