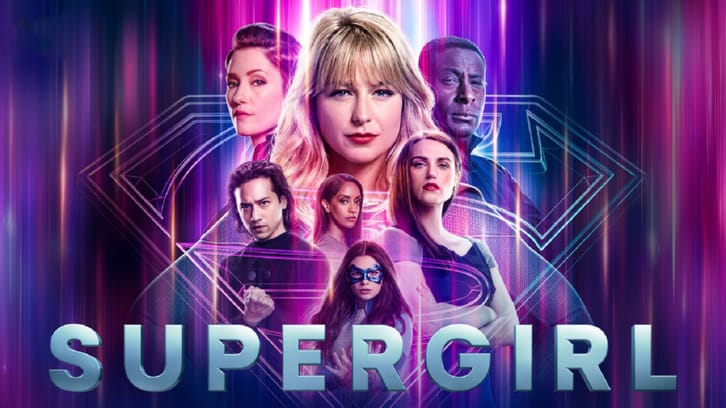 SPECIAL NOTE: This will be a review of the final episodes of the series Supergirl and will contain SPOILERS. Watch for a six-season Supergirl series overview next week.
Supergirl
who love the title character, everything she stands for and especially the Danvers sisters are not going to want to rewatch the series finale episodes
The Last Gauntlet
and
Kara
. If those fans were looking for a satisfying and triumphant conclusion to the storied superhero series, they are not going to find it or much to like about the series' concluding episodes.
Supergirl
's season six(b) big bad – the writing staff. The lack of attention to detail, show, storyline, and character history is nothing short of appalling and the outcome is a disappointing and disjointed mess. They left a lot of story open to interpretation. They were so uncertain of what they wanted to do with the characters that they ended up not doing anything at all. Even the montage of everyone's future was super brief and mostly unexplored as to what it meant for each person's destiny.
Kara
, the final episode of the series was only the second Danvers Sisters couch scene in season 6's entirety. The entire second half of the season after Supergirl's rescue from the Phantom Zone should have been about the sisters working together to find their destinies instead it felt like these final episodes, in particular were a slap in the face of Danvers Sisters fans.
Better Angels
Supergirl gives an impassioned hope speech inspiring people to take back the power that Lex and Nyxly were stealing. Adding season one music under this speech was a genuinely nice nod. While it was nice to see old friends Mon-El (Chris Woods), Winn (Jeremy Jordan), James (Mehchad Brooks), and Lillian (Brenda Strong) return they were woefully underused. Yay, for the creation of a new DEO. Having Nyxly (Peta Sergeant) earn the love totem while protecting Esme from Lex (Jon Cryer)'s murderous intentions was a nice twice, although again it was disappointing to see most of
The Last Gauntlet
's menace directed toward a child.
Kara
was the beautiful wedding of Alex Danvers and Kelly Olsen. Their vows during the ceremony officiated by J'onn J'onzz (David Harewood) who kept his promise to walk Alex down the aisle, were touch and tear inducing, Kara and Jeremy's duet of "We Belong" was appropriate and touching, and Esme as the chief flower girl and bird-house builder with Aunt Kara was charming and adorable. As beautiful as the wedding were a few things to quibble about. For starters, there were several questionable hair and fashion choices. The final moments before the ceremony with all the Danvers women (including Esme) was sweet although it was not necessary for Eliza (Helen Slater) to put down her mothering skills. Speaking of mothers, where was James and Kelly Olsen's mother? Did she even come for the wedding? And after that lovely Danvers family scene why was there no solo scene, not one line of dialogue, where Kara tells Alex how happy she was for her and kisses her sister goodbye before sending them off. In fact, the sisters did not share another minute of screen time, just the two of them for the rest of the episode.
Supergirl
to be entitled
Kara
it had extraordinarily little to do about the character. The writers either could not or did not want to figure out a compelling story to tell for Supergirl other than Alex getting married and having a child. Alex actually ends up getting an entire character arc her sister did not. Kara choosing to reveal her identity and stay behind and become the new Catco Editor-In-Chief as her real self comes across as a very unsatisfying conclusion, at least to this reviewer, because it was saying that Supergirl wasn't allowed to balance her Superhero self and a happy relationship and virtually every other Arrowverse superhero before her has done. Why does she have to end up being alone? This again makes no sense especially after taking into consideration the show's entire 100th episode
It's a Super Life
expertly explaining why keeping her two identities separate. It's as though the CW took delight in putting Supergirl and her fans down.
Supergirl
made sense. The entire totem storyline continued to be pointless and uninspired. Winn did considerable damage to the space time continuum, dropping nuggets of information from the future like the new DEO, Brainy and Nia's impending nuptials, and telling J'onn that he and M'Gann (Sharon Leal) were going to become parents. Apparently M'Gann finally returns from that patrol of National City that she departed on in episode 8
Welcome Home, Kara
and hasn't been seen since. And what was the point of wasting time with a Lex and Nyxly love story if there was not real payoff? Lillian's death was unnecessary as was the odd decision to dress her in a white suit although her strike heels were cool, which got confusing when Alex wore a white suit at the wedding. It was also a poor choice to have her admit suppressing Lena's magical powers and pushing science on her as a child. It was as though she was saying Lena's success as a scientist was tied to the darkness of the Luthor family name and a distraction from her true purpose: magic. And finally, why bring back all the heroes from the future, and include James, Lena, and Andrea in preparing a standoff for a major battle with Lex and Nyxly only to have Lex defeat himself by opening a portal to the Phantom Zones and having the Phantoms turn on him and Nyxly?
Supergirl
. Those disappointed fans who want to look back at the super series fondly should go watch standout episodes from previous seasons. Some recommended episodes include,
Falling
,
For the Girl Who Has Everything
,
Changing
,
Midvale
,
Exodus
,
Reign
,
Red Dawn
and
Alex in Wonderland
to name a few. What did you think of
The Last Gauntlet
and
Kara
? Were you satisfied with how
Supergirl
ended? Share your thoughts in the comments below.