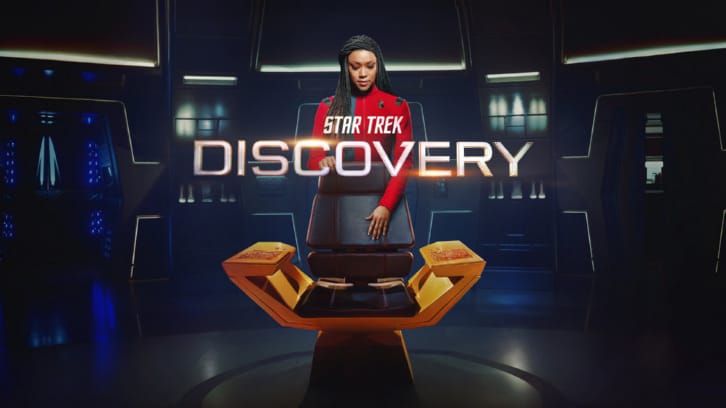 Note: all episodes will be reviewed in conjunction with the UK release of Star Trek: Discovery that is airing Fridays, Saturdays and Sunday nights at 9pm on Pluto. If you missed Friday's two episodes you can catch them again at the same time over the weekend.

After a U-turn quicker than Boris Johnson's government, following the pulling of all Star Trek: Discovery from Netflix ahead of its proposed Paramount+ launch in 2022, meaning that international folks would have to wait several months after the series in the US to watch, a mass campaign by fans and even actors, who were just as in the dark – brought the situation to Paramount+'s attention and now, a few days later – an impressively quick turnaround, we find ourselves back in the good old days, treating Star Trek like it's appointment television – literally – Pluto is essentially a linear TV channel online that shows repeats of Baywatch and truly bizarre series judging by their ads that look like rejected Saturday Night Live sketches. But we're not here to talk about Pluto – which had no technical problems and faced a clean launch – we're here to talk about Star Trek: Discovery.

I wasn't quite as keen on the third season as I was the first two – it was still good, just not quite as good – but now the crew are stuck in the current timeline of the far future and the Federation is ready to come out of hiding. They've disabled their shield that kept them invisible and have even welcomed on board the first wave of Starfleet Academy recruits – which the President, Lara Railik (Chelah Horsdal, from The Man in the High Castle), invites Captain Michael Burnham and the crew of Discovery, now experienced veterans given all new shiny uniforms (those uniforms!!) – to the talk. The fun introduction keeps the light-hearted tone of the Abrams Trek and of the glory days of Discovery when all its crew are in sync and working in conjunction as a team – Book and Burnham are fleeing through the forest perused by butterfly people – who never trusted the Federation in the first place, but have trouble flying in their pursuit of them. Burnham trusts them enough to accept the gift of aerial stability even in the middle of conflict, and it's here, in these moments – where Discovery soars. Fast paced, fun and energetic – making the absolute most of its dynamic – and the in-built chemistry between Sonequa Martin-Green and David Ajala.

In true Discovery fashion, it isn't long before we get another universe-breaking calamity that they have to answer this season. Something is ripping through worlds at whim – it targets Book's homeworld and destroys it seconds after he takes flight. He's able to get away – but now he must live with the knowledge that he is one of the last few survivors of his people, especially after everything they went through the previous season to save there. The flight of Book heading skyward with all of the birds trying to escape before failing was horrifying on a personal level to watch and this grief will no doubt live with him and take its toll on him going into the rest of the series. It's classic Trek – planetary destruction to give characters a personal edge, but it also reverses the position between Michael and Book – now Michael is in a position of authority as the Captain, and Book is driven to the point where he won't back down. This is probably not going to be the last time these two clashe – and Ajala and Martin-Green both bring their a-game to the table in a more emotionally driven second hour, that packs plenty of punches as it deals with the aftereffects of losing an entire planet.

One of the strengths of Discovery has been its relationships and its inclusivity in the cast, and the dynamic between Gray and Adira – Season 3's breakout new addition, was one of the most promising arcs of the first two seasons. Gray has been given a body that he can inhabit – via a similar method to Admiral Picard in Star Trek: Picard (the first time Picard has been name-dropped on this show) and is fine-tuning to suit his needs, such as getting rid of a mole. I do appreciate how the show made clear what relationships between the crew are friendly and what aren't – for example, the bond between Gray/Adira/Hugh/Stamets is something of a family connection that has been highlighted constantly, but Stamets – when he goes on a mission with Book via a hologram, they're basically strangers – and Book, who isn't even technically Starfleet – doesn't initially take kindly to having someone like Stamets as talkative as he is on board.

But Stamets' growth since the first season has been a journey of memorable proportions – and the quick bond between the two characters as they raced to save the day was one of the highlights of the series, with Discovery no stranger to putting characters that wouldn't normally get along in the same situation and letting sparks fly. It makes this ship's crew feel more like a ship's crew – a big criticism of the early seasons has been that the development of the characters has been limited to a select few, but even seeing the clear friendship between Owo and Detmer where Owo asks Detmer if she feels capable of pulling off a task and Detmer looks insulted that Owo even asked – Discovery does an excellent job at making these crewmembers and their relationships feel real. It does lead to a slower-paced second episode, but getting a refresher on these characters and who they are is always welcome – especially as over these three seasons, this collection of characters has turned into one of my all-time favourite Trek crews. The fact that this crew isn't afraid to talk to others about their problems highlights the strength of them as people – Tilly coming to Hugh to arrange a talk about uncertain feelings that she's having. It's one of the main themes of the series so far – encouraging people to talk about their issues makes you able to learn from them, and that's reflected too in the scenes between Book and Stamets.

The mission objective of the season is laid down with the stakes befitting of a final season – something is tearing up planets and as well as affecting Book's homeworld, it's also affected a small Federation outpost. President Rillak joins Discovery for an away mission that Michael initially expects as someone looking to prove herself, but quickly it becomes apparent that she's experienced and knows what she's doing – knowing when to take the small victory instead of the big one is what Rillak is there for and what makes her different from Michael – Michael is too concerned on keeping everyone alive – hence the Kobayashi Maru of the first episode's title, the no-win scenario that every Trek fan will be familiar with. Rillak presents a very intriguing character – and I hope she and Admiral Vance play a larger role in the season to come.

I really like that Discovery wasted no time in getting Saru back to his post, joining Discovery as Mr. Saru once more – not regressing in his character, but instead getting the chance to walk with pride rather than fear – to the point where even Tilly says that he's now taller. The interludes with Saru on his own felt pointless but they at least didn't overstay their welcome – even if Su'kal was never one of the strongest characters on the show and the sooner the series moves on from him, the better.

The visual effects are spectacular and the sheer effort put into the alien creatures – especially the work on Saru, looks better than ever – and in fact, the premiere – whilst a stronger episode than its second – might even be the best premier of the series yet. It's certainly on par with ones that have come before it – but then, Season 3 started really strongly too – it wasn't bad, just a step-down in how it ended. I'm absolutely on board for more of Discovery and really hope it can stick the landing going forward.