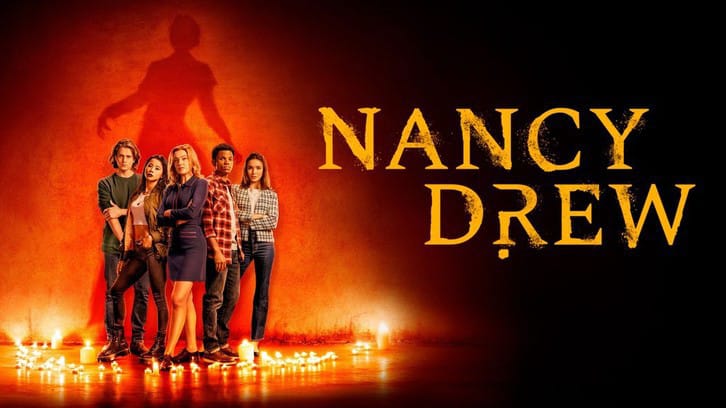 This week we're back to a more action focused episode and it was fun.

Nancy goes looking for the cell the Frozen Hearts Killer escaped from, and we finally get to see Nancy and her bio dad begin to connect.

I have been enjoying Ryan so much this season. He strikes me as the guy whose friends are frequently a decade younger than he is because of the way he looks at the world.

Since Ryan learned that Nancy was his daughter, his desire to connect with her has been almost palpable. He finally got his chance, and it was really sweet.

It was also a bit sad hearing him admit that the only thing he knows about his daughter's childhood is from the stories of Nancy Drew Girl Detective.


Despite the fact that Ryan's shoulder was dislocated, their quest was successful.
Nancy and Ryan learned several disturbing things.
The Frozen Hearts Killer has been returning to the cell Nancy and Ryan were snooping around.
It has a thing for a doll.
It's choosing victims based on specific criteria, and the missing Hannah appears to have let him out.
That's a lot more movement on the season's main story than I expected. It still feels a little early to do anything with the puzzle pieces, but it's lovely to have more pieces.
If anyone has any theories, feel free to post them below.
Ace used his girlfriend to put away her father.
I contend that nothing we saw of Bertram Bobbsey's parenting style would make me consider him a good father. Still, his daughter is loyal.
Amanda expected Ace to trust her to do the right thing. Instead he followed her and called the police. Needless to say, he no longer has a girlfriend.
This frees him up for a romance with Nancy, which I would rather not see.
Ace's quest for his freedom nicely dovetailed into giving George a little hope that she can separate her soul from Odette's and lives longer than the currently expected 10 years.
I agree with the priest. They didn't call that gadget a "Soul Untangler" for a reason.
Personally, I think George is mistaken. There is a difference between that machine killing her immediately and living for 10 years.
But because this is television....I figure the machine will either cleanly end the entangled soul story or spin us into another story, possibly one more dangerous for George.
Bess. Bess. Bess. Check the room. At least Ryan realized there are some things children shouldn't have to hear.
I did laugh when he apologized for sitting with the two boys. The best thing about the Bess runner was the gang seeing her hook up on the security footage. That was downright funny.
What did you guys think of the episode?
Does anyone have any good theories about The Frozen Hearts Killer and his obsession with the doll?
Why did Hannah let him out?
Where is Hannah do you think?
Is she still alive?