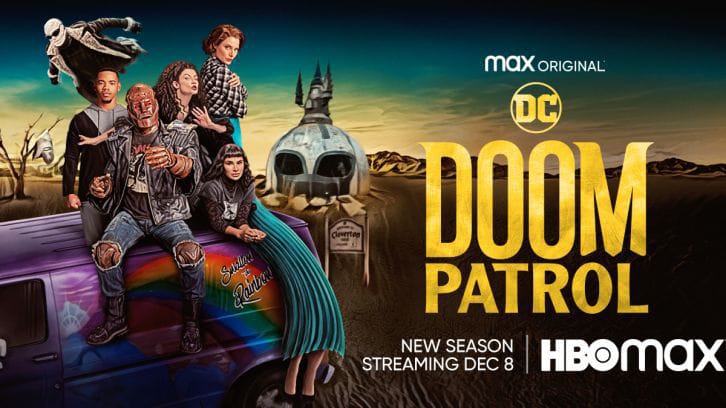 Welcome, residents of Doom Manor! Doom Patrol is back, and all is right with the world again. I've sorely missed these dorks! "Possibilities Patrol" is a solid, consistently fun season opener. The plot primarily deals with the Chief's (Timothy Dalton) death and how that affects our Doom Patrol in many ways. With Rita's (April Bowlby) blessing, Larry (Matt Bomer) seeks a higher purpose once he feels he's no longer tethered to Doom Manor by the Chief. Following a showdown with the Candlemaker,Season 3 kicks right off with the titular team mourning him and trying to figure out who they all are.
When we left off last season, the Candlemaker had whisked Dorothy (Abi Monterey) away for a reckoning, leaving the rest of the Doom Patrol waxed and out of commission. Now, Dorothy, tired of being afraid, decides that destiny-be-damned, she isn't going to fight someone who used to be her friend. After transporting them to a distant planet using her powers, she gives him an ultimatum: they can stay here, together, enemies on a distant planet. Or, they can return to earth as friends and leave fate to someone else. Thankfully, the Candlemaker chooses the second option, and the Doom Patrol begins to de-wax as Dorothy emerges from the earth, riding on the Candlemaker. However, the happiness is short-lived as the team notices Dr. Niles Caulder on the floor.
A week later, Jane (Diane Guerrero) the thing that isn't Miranda (Samantha Marie Ware), is still unconscious, and Dorothy refuses to bury her father until Jane has had a chance to say goodbye. The other members of the Doom Patrol are also struggling with conflicting feelings about the Chief's death. Larry feels encouraged by the negative spirit to leave for space, now that the Chief is gone, and Rita refuses to deal with her grief until she's overwhelmed at rehearsal for the town play and ends up showing her powers to the cast, who shun and tease her. Niles left a special key and card for Rita, asking her to please manage a secret he could trust to no one else. A week later, Rita finds that the key opens a secret compartment in the bookshelf, inside which an alarm lets Rita know that "arrival is imminent." Scared and confused, Rita ignores the warning.

In the underground, Jane escapes the well with Kay's (Skye Roberts) stuffed toy but finds her trapped in a cage, and all the other personalities unresponsive. Everyone, even Driver 8 is stuck doing a puzzle, and the train in the underground isn't running to the surface. "Miranda," tells Jane she's too late, and that she will be the only thing left when Jane is gone. It turns out that not-Miranda isn't even a personality based on Kay's abusive father, she's the infection in Kay's body made up of every hurt that Kay has endured, every abuse. Kay shows Jane an old plane they used to use to get to the surface before the underground was built. As Jane climbs in and prepares to take off, infection-Miranda appears and taunts that she will never make it to the surface, not before infection-Miranda has a chance to kill the body and everyone in it. The other personalities, buoyed by Kay, help push the plane through the winds that infection-Miranda has created, while on the surface infection-Miranda after trying and failing to get the Candlemaker to kill her steps onto a stool, ready to hang herself. Jane and the others get the plane airborne, and just as infection-Miranda steps off the stool, Jane makes it to the surface and Cliff catches her before she can hang.

Cliff (Brendan Fraser), after saving Jane, gets a chance to meet and hold his grandson after his daughter Clara (Bethany Anne Lind) gives birth. When Rita overhears Larry arguing with the negative spirit, she realizes that his want to protect and help her is the only thing stopping him from taking off into space. She advises Larry to go and try to discover something new and tells him that she'll miss them both, before Larry and the spirit fully merge and he shoots off toward the sky. And i can not describe how much i love this friendship, they mean everything to me. Jane finally gets to say goodbye to the Chief and sends his body off with Dorothy in the new and improved Danny the Van.


Meanwhile, Silas Stone (Phil Morris) visits his son. Vic breaks the news about the Chief's death. We learn Vic's objective to aid Roni (Karen Obilom) and how he's struggling to let her be. Silas imparts pearls of wisdom to his son. Next, it's opening night for "Our Town." After the show, the woman playing a skewed version of Rita Isabel Feathers (Charity Cervantes), encounters a machine that emerges from the ground. Madame Rouge (Michelle Gomez) steps out, and the first thing she does is urinate, using homegirl's playbill as toilet paper. Her face contorts to take on the woman's physical appearance. Suddenly, the woman, frightened by Madame Rouge's shapeshifting abilities, falls into the crevasse left by Madame Rouge's time machine. The ground closes up, and MR sets out to look for Dr. Niles Caulder.

The season just gets better from episode 1.The greatest addition to the show has been Michelle Gomez for sure, a time traveler who has forgotten who she is and what she's supposed to be doing. The chemistry she has with evryone she interacts with is unmatched. Of course she was not the only new character this season, there were also the Dead Boy Detectives, and the Brotherhood of Dada. Doom Patrol has a lot of competition in the field of "weird superhero shows." Staying on top of every superhero TV show is a part-time job at this point, but the fact that we're in an ecosystem that can support Legends of Tomorrow, WandaVision, The Boys, and Titans. Doom Patrol still stands against any of them and the writing for season 3 has been top tier. There are perhaps five minutes of real "action" in a given episode of Doom Patrol. Most of the time, the outlandish supernatural moments — the "super" parts of the superhero show — are totally unrelated to any bigger mission or plot. Jane uses her super-strength to punch Cliff out of a neurologically induced paralysis, or Rita literally melts down in response to pressure. In the vast spans between bursts of heroics, the characters are bickering, doing comedy bits, tinkering with steampunk machinery, or turning into zombies. You know, having fun.

Thankfully, several of the main cast members are successful, relatively stable experiments — in particular, Robotman, who has truly come alive as a collaboration between Brendan Fraser (who voices the character and plays him in flashbacks), Riley Shanahan (his onscreen body, in his cyborg iteration), and the rest of the costuming, production, and post-production staff who create him. Fraser's vocal performance subtly shifts the emphasis of Robotman's enthusiasm from childlike to Boomer grandpa, and gives the show an emotional center through sheer force of will, even when Cliff is high out of his mind, or inexplicably speaking Japanese.

My less favorite thing about this season which did not have many of those, is how little of The Sisterhood of Dada we saw, they more or less vanished from the story at this point, and it's unclear how they managed to pull off the flagellation or where every member other than the Fog has gone off to. Hopefully this will be explored next season and we can get a clearer idea of their whole deal and their motivations in the present day, because they were unfortunately thrown on the back burner in the back half of the season. It's also unclear how the team is able to prevent Cliff from exploding toward the end of the episode of Doom Patrol. We get an incredible hero moment from Rita (more on that in a moment), and then the scene shifts to a later time. This beat would feel less jarring if a great portion of the episode hadn't been concerned with the fact that Jane and Cliff were about to meet a fiery end. Ultimately, the last few episodes have had a number of moments where it felt like the stakes have been raised and lowered (or dropped entirely), but it's most prevalent in this concluding chapter.