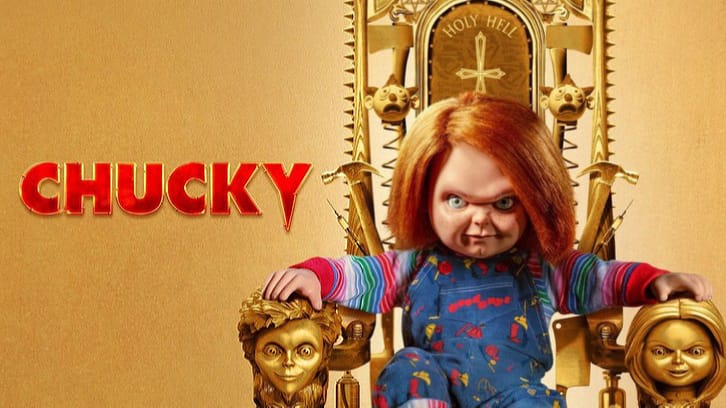 Welcome to this week´s review. Chucky's fifth episode begins to weave the old with the new as some of the franchise's most beloved actors and stars make an appearance. Poetically aired on the 33 anniversary of Charles Lee Ray's death, "Little Little Lies" marks the halfway point for Chucky and it doesn't disappoint. Chucky's fifth episode not only begins to answer some of the questions that have existed since the series began, but also begins to tie in some of the franchise's other characters and former actors. "Little Little Lies" is a cohesive blend of old Child's Play films and the new series. Chucky's fifth episode adds Jennifer Tilly and Fiona Dourif to the cast, who are both more than familiar with the killer doll franchise.
Both Tilly and Dourif only have a limited time on the screen during this episode, which works because of their longevity in the franchise. Despite their limited screen time, Tilly and Dourif play a huge role in tying older plots of Child's Play films with the current Chucky series. The opening credits of "Little Little Lies" give a preview of what the episode is going to contain. Instead of creating Chucky's title card solely out of blades and various other dangerously sharp objects, it is joined by small red hearts. This is a subtle reference to Chucky's female counterpart, Tiffany Valentine, who has not been seen in the series thus far. Throughout "Little Little Lies," there are a few teases before Tiffany makes an official appearance, but part of the episode's beauty is its pacing and the unveiling of the new information that will play a huge role going forward.
Taking the wide view, "Little Little Lies" is an exploration of how we close ourselves off, and how opening up can lead to exciting new possibilities. As Chucky's nailed throughout the season, Jake (Zackary Arthur) and Chucky's individual perspectives on this dynamic position the two as excellent foils for each other. For Jake, that process has seen him progressing from an insular, dark loner to a young man with compassion -- for others, but more importantly, himself. Not that that stops him, Devon (Bjorgvin Arnarson), and Lexy (Alyvia Alyn Lind) from stomping the burned Chucky doll to bits after it reappears in the Cross house. Like a few of the episodes before it, "Little Little Lies" begins with a glimpse back into the life of Charles Lee Ray.
It starts with Charles observing a couple in an 80s club. The blonde woman (who goes by Delilah), attempts to arouse Dwayne by getting a little aggressive with him. This catches the attention of Charles, who begins to find himself enamored with the young woman. Later in the episode, Charles and Delilah set their sights on a redhead, who they take back to the Hackensack Hotel. There, Charles watches Delilah and the woman he has nicknamed "Red" together, before pulling out a knife ready to kill her. Delilah is taken aback, but Red encourages Charles to kill her. This makes Charles feel that Red is the one for him, and together, he and Red kill Delilah. Following their murder, Red reveals herself as Tiffany and remarks that Charles will be her Chucky. He responds by insisting that she should go blonde, which matches the Tiffany that Child's Play fans have become accustomed to.
The introduction of Tiffany weaves well into the plot that is currently plaguing Jake, Devon, and Lexy in Hackensack. Aware of Chucky's dangerous motives, they set out to destroy the doll once and for all. Their plan experiences a few hitches, especially after Lexy and Caroline's parents gift Caroline a new Chucky doll (whose name is Tommy) in order to replace the one that had been burnt in the house fire. Despite the Freddy Kruger version of Chucky being thrown down the hospital's garbage shoot, he magically reappears near Caroline and her new Good Guy doll, Tommy. Once he is thrown in the trash again, Lexy, Jake, and Devon decide to conceal him in a sack and beat him to death. Their plan is ultimately successful, as the doll loses its head and breaks into several pieces.

Jake's work in letting his guard down is marked by a very sweet kiss between Jake and Devon, who are ready to take their relationship to the next level now that they think they've saved Hackensack from Chucky. It's played with such earnestness by Arthur and Arnarson and connects because we know what a big moment this is for Jake especially, having been shamed and mocked for his sexuality for a significant part of his life. A flashback to the 1980s shows us the closest analogue for Jake's milestone that Chucky has. To get a sense of how Charles Lee Ray navigated his own choice to let someone into his life, we flash back to the 1980s when he meets an ever-so-slightly sadistic new friend named Delilah. In a full-circle piece of casting, Fiona Dourif steps into her father Brad's shoes as Charles Lee Ray, with Brad dubbing over her performance. Their physical resemblance is uncanny on its own, but aided by judicious camera work and costume choices, Fiona Dourif recreates her father's physicality to perfection. The illusion starts to break as Charles and Delilah bring another woman back to Charles' place for… well, not child's play. The flatter lighting and lack of sunglasses to obscure Fiona's face draws more attention to Brad Dourif's dub job, which ends up distracting from this new look at Charles' early days.

With their lives no longer plagued with the impending threat of Chucky, Lexy, Devon, and Jake begin to relax. In addition to the significant developments that begin to connect the past and the present, Jake and Devon finally share their first kiss, marking a huge turn in their budding relationship. "Little Little Lies" also reveals the secret that Junior's mother has been harboring since the series' first episode. While it appeared that she may have been having an affair, it is actually revealed that she has been diagnosed with stage 4 cancer and has yet to tell her husband and son.

As these small developments guide the new plot introduced by the series, larger questions and history begin to come into play. In the present day, everyone is taken back to the same hotel room in Hackensack where Charles and Tiffany killed Delilah many years ago. Now, there is a man who has been bound to a chair, forced to watch two women, Tiffany (Tilly) and Chucky (Dourif), intimately engage with one another. After an argument occurs between them, Tiffany vanishes from sight and Chucky goes to grab a knife. Chucky accidentally cuts herself, causing her to fall to the ground. She then reveals that her name is actually Nica Pierce, a woman who has appeared in Curse of Chucky and Cult of Chucky. Nica reveals that Chucky murdered her entire family many years ago and that she was placed in a mental institution for it. While she was there, she explains that Chucky split his soul into various pieces and that one piece of him lives within her, seizing control. Chucky soon takes control back from Nica, leading to the man's death.

The explanation that Chucky (and therefore Charles) has been dispersed in fragments offers clarity on the woman and her baby that were spotted in last week's episode. The unidentified woman or her baby may contain a fragment of Chucky within them, leading to the eerie similarities that they had with Chucky. This connection becomes more important by the end of the episode. "Little Little Lies" ends with a town hall meeting that hopes to uncover some new information about the strange deaths that have occurred in Hackensack. Following the Mayor's coaxing, Detective Evans tries to introduce the principal to the stage to speak. Instead of her arrival, her head rolls through the curtains, which slowly open to reveal her dead body tied to a chair. It is then revealed that Chucky transferred his soul into the Tommy doll in Caroline's possession, shortly before he was thrown away. This means that the doll Jake, Devon, and Lexy destroyed was no longer a threat.

"Little Little Lies" bodes extremely well for the remainder of the series. The build-up that has occurred thus far with crafting a complex dynamic between its new characters, offering a new version of Chucky that is still very in touch with the history from his previous films, as well as introducing other characters from the franchise, means that Chucky has a lot that is could still unveil. Now that Chucky has introduced the human version of Tiffany, who is a huge piece of Chucky's story, it is possible that a doll version of her will appear soon.

Overall, "Little Little Lies" is a very well-done mid-point for Chucky. Answering some questions while still leaving them largely unanswered in terms of what will result from them, as well as introducing brand new problems and circumstances help keep the plot of Chucky interesting. Now that critical elements of Chucky's history have been unveiled, the second half of Chucky will be unlike anything the first half could have featured. This is my favorite episode so far, i think i´m going to be saying that about each one until the season finale. I´m just way too excited about those easter eggs and the returning faces from the franchise.