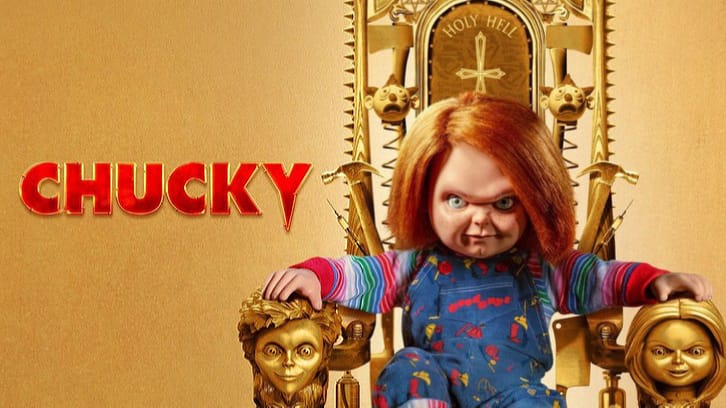 Welcome to Chucky season 1 episode 6 review, titled 'Cape Queer' (a play on the film Cape Fear), parents die whenever Chucky's near. And this episode really leaned into that aspect of this iconic franchise. Chucky is proving itself to be a wildly ambitious ride but is also trying to do too much. The latest episode "Cape Queer" suffers because each scene either furthers or wraps a separate subplot. A tangle of creative directions unfolds like a frantic attempt to introduce new narrative elements while ongoing arcs still scream underdevelopment.
The return of Alex Vincent and Christine Elise as Andy Barclay and Kyle should feel more momentous, and yet their renegade Good Guy doll assassin schtick is but a blip on this sixth chapter's radar. Don´t get me wrong, I´m a sucker for easter eggs and flashbacks to the origins of anything but i just think that their return could have been a bigger deal. With that being said, Chucky has been able to keep its madcap premise moving forward at a brisk pace while still managing to flesh out the characters in surprisingly grounded ways. While "Cape Queer" celebrates the show's strong black comedy sensibilities in some pretty dire circumstances, this week's episode moves at too quick a pace to do justice to the major events that take place as Chucky (in all his various forms) closes in on Jake and his friends.
Last week's "Little Little Lies" finally introduced Tiffany (Jennifer Tilly) and the Chucky-possessed Nica (Fiona Dourif), establishing them as an oncoming storm for Hackensack's residents. "Cape Queer" introduces the storm chasers. Andy Barclay (Alex Vincent) and his foster sister Kyle (Christine Elise) are two of Charles Lee Ray's longest-standing survivors, and travel the country eliminating the Good Guy dolls that the killer imbued with pieces of his soul. As the two pose as census takers to get close to "Charlie," the show re-establishes Kyle as Andy's caretaker nicely by contrasting her controlled questioning of the unsuspecting family with Andy's straight-to-the-point attitude. Andy says all he needs to about how seriously he takes the threat of Chucky (Brad Dourif) when he pulls out a gun and shoots Charlie/Chucky in the head as the doll's 7-year-old owner holds him in her arms.
It's the kind of pitch-black comedy that Chucky thrives on, but later scenes featuring Andy and Kyle buckle under the weight of too much "previously on Child's Play…"-style recap. Chucky has mostly succeeded in its trips to the past by thematically aligning these vignettes to what's going on in the present. Here, Andy and Kyle's past is simply represented by quick shots from the first two movies in the franchise that tend to distract from rather than add to their current mission as Chucky hunters. The opening scene did a fine job of illustrating Andy's fragile mental state without having to cut to a "Cult of Chucky" clip featuring Andy torturing Chucky's severed head. God, this franchise is weird.
While Fiona Dourif was the runaway star of last week's episode, Jennifer Tilly is the veteran MVP in "Cape Queer." Tilly hasn't lost a step in bringing Tiffany's gleefully deranged bubbliness to life, and if there's a ceiling for how zany she can get while satiating her own bloodthirst, Tilly hasn't even come close to finding it. Tiff laughs off having stabbed Nica in the leg ten minutes prior to confirm that Chucky had lost control of the parapeligic's mind with a throwaway ease that really hammers the strength of Tilly's comedic chops. What I'm appreciating about the series, though, is that time is still being dedicated to the small emotional beats of the core pre-teen cast.
Chucky began as a queer teen's story and while the story is obviously getting bigger and more sensational, the character moments that land the best in "Cape Queer" are centered in this queer coming of age tale. Not that seeing Tiffany (Jennifer Tilly) scaring a realtor off or Andy and Kyle re-enacting Pulp Fiction isn't great, but it has a completely different vibe and impact. "Cape Queer" is pretty obviously centered around a pair of mothers and the relationship they share with their son. After last week's reveal that Bree (Lexa Doig) has terminal cancer, this week we get to see her come clean to Junior (Teo Briones) in a tearful moment…and then get brutally dispatched by Chucky in a nice callback to both Bride of Chucky and Cult of Chucky.
We do get another flashback to Charles Lee Ray and Tiffany's early days in the '80s, but it's a case of diminishing returns compared to last week's well-crafted exploration of their first meeting. While "Little Little Lies" went out of its way to film Dourif and young Tiffany actress Blaise Crocker in ways that mitigated any sense of uncanniness in these different actors bringing established characters to life, the bright, residential neighborhood in which this scene occurs allows for no such obfuscation. Hopefully the show won't rely too hard on these flashbacks; to ruin the magic of Fiona Dourif's excellent recreation of her father's Child's Play performance by going back to that well too many times would be a shame.
Whatever end Chucky is moving to, it has no qualms leaving its teens motherless in getting there. Bree's (Lexa Doig) stage 4 cancer diagnosis, revealed last week, seemed like setup for her to sacrifice herself for the kids at one point, reinforced by her acceptance of her fate in her therapy session. So Chucky pushing her out a window and sending her plummeting into the windshield of her own car -- face-to-face with Junior (Teo Briones) -- was a genuine shock. But unlike Luke's death in the premiere, which was played with a tongue-in-cheek sense of macabre, Bree's fall and Junior's experience of it is one of the show's darkest death scenes. Unfortunately, the absurdly long lead-up to Chucky's pushing of Bree and the terrible visual effects as she flies through the air detract from this monumental event in Junior's life.
Now that he's broken up with Lexy -- a scene that feels two episodes overdue -- the isolated, haunted Junior is on the precipice of the same corruption Jake narrowly avoided, which sets him up as yet another threat for Jake, Lexy, and Devon as we move into Chucky's final two episodes of the season. Where Bree's death felt vital to the story, Detective Kim Evans' (Rachelle Casseus) fatal tumble down the stairs at the hands of Chucky was a relative afterthought, but I don't think many will miss her anyway. Detective Evans never had much to do outside of pushing the various criminal investigations forward and giving Devon (Björgvin Arnarson) someone to softly rebel against. For as important as it was to Devon to come out to his mom, that scene doesn't have the same emotional impact as Jake and Devon's first kiss because Kim's more or less a stranger to us. With Kim accepting Jake's innocence and Devon's sexuality, she had no real conflict left to resolve and felt like an easy choice for the chopping block.
Having broken up with Lexy, being ignored by his friend Devon, and losing his mother, Junior's left with his cousin Jake (whom he disliked) and a demanding father he didn't share a healthy relationship with. Junior's completely vulnerable. He's ready to be manipulated by Chucky to take a step or two over to the dark side. I'm fully expecting Junior to try and hurt or kill Jake. The one loose thread Detective Evans' death leaves is the intriguing question of Ms. Fairchild (Annie Briggs), somewhat bafflingly accused of the Chucky murders. Evans' mention of Ms. Fairchild's "delinquent" past is a plant just waiting to pay off, and makes you wonder whether the flame-haired teacher has any connection to the other redhead currently laying siege to Hackensack. How cool would it be if Miss Fairchild could end up being Chucky and Tiffany's child Glenda.
Another awesome moment in 'Cape Queer' featured Tiffany's interactions with Nica. With a trigger suppressing Chucky's control over Nica again, I enjoyed seeing Nica try and fool Tiffany into thinking she was still being controlled by Chucky. Of course, Tiffany didn't fall for it. She knew Chucky too well. While I thought Tiffany would be angry at Chucky for keeping Nica's existence a secret from her, turns out, Tiffany was okay with Nica coming back. Due to interacting with Chucky while he's in Nica's body, Tiffany had fallen for Nica. She wanted to find a way to keep Nica away from Chucky's control. My current theory is that Tiffany will try to transfer Chucky's soul out of Nica's body into a new Good Guy Doll which will allow Nica to continue living in her original human body. But let's see what happens because Chucky has been surprising me a lot with certain storytelling decisions.
"Cape Queer" has some truly memorable, effective moments, but racing to fit them into a single episode ends up lessening their potency. Bree's death seems primed to push Junior over the edge, and with Tiffany, Nica, Andy, and Kyle all closing in on Hackensack, every body counts in the coming fight. Jennifer Tilly's Tiffany is as delightfully deranged as ever, and seems to be setting up a little shop of horrors in Hackensack just as the world starts to come crashing down around the teens. Andy and Kyle had better fix that flat tire and get moving.
The burdens of established subplots are already overwhelming, with the inclusion of Tiffany Valentine (Jennifer Tilly) and Nica-Chucky (Fiona Dourif) — Nica's soul battles with Chucky (Brad Dourif) for bodily control — as Hackensack's newest couple. Jake Wheeler (Zackary Arthur), Devon Evans (Bjorgvin Arnarson) and Lexy Cross (Alyvia Alyn Lind) were once the main protagonists of Chucky, but now Tiff and Nica steamroll their hunt for a doll-version of Chucky that's befriended Lexy's sister Caroline (Carina Battrick).
The show's universe has built itself around Jake's bullying victimization, his sexuality liberation and Chucky's influence as a serial slasher mentor — but that all feels long gone. Flashbacks and legacy characters have since been shown more importance, as the newbie cast of Chucky is feeling less authentic and valued by the week.