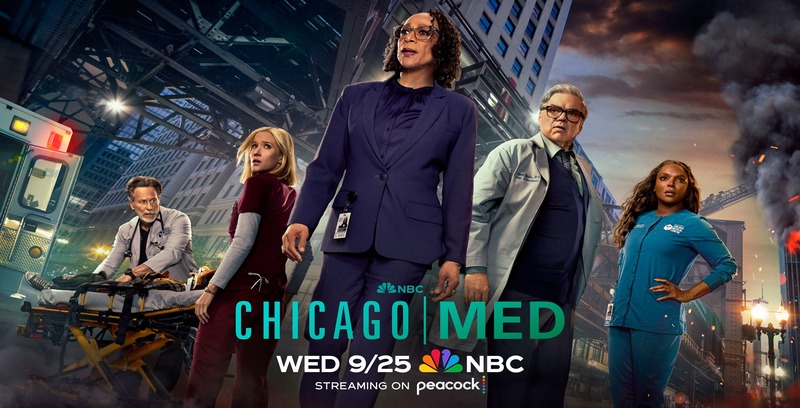 This week, we were able to more deeply explore family dynamics and relationships, as well as biases and the importance of acting in an impartial and fair way to all patients who are under medical care.

Dr. Hammer, Vanessa, Dr. Charles and Terry

We open on Stevie visiting Terry in her van where she lives, and Stevie discovers her mom has an infection in her arm and a fever, and she brings her mom to the ED by ambulance, much to her mother's objections and dismay.


In watching the turmoil in the relationship with mother and daughter, Vanessa also gains some insight and goes to talk to Maggie to thank her for looking out for her, after she had gotten angry for her trying to encourage her to get some rest and take care of herself.
Dr. Marcel, Dr. Archer, Dr. Blake and John Doe
An ambulance then arrives, and we meet John Doe, and unidentified man who was swimming and is in a coma and appears to have irreversible brain damage. Marcel is trying to save and identify him, and Dr. Blake arrives, and asks him about next of kin and organ donation, and Dr. Archer gets angry that she is hovering around their patient.
The way that Dr. Archer is practicing, he seems to be rapidly making enemies of everyone in the department (Dr. Charles, Dr. Scott, Dr. Marcel, Dr. Halstead…). He is definitely the character we all love to hate, and I believe this just shows the brilliance that Steven Weber brings to this character, since this is from what I understand, the complete opposite of what this actor is like in real life. I am curious to see how the dynamic and situation may change when Ethan returns, and what the rest of the season will reveal about Dr. Archer and his future at Gaffney ED.
Dr. Scott, Maggie and Shavonne.

When the old records indicate a lot of accidents, Maggie and Dr. Scott call DCFS, and Shavonne's mother tells Maggie she is scared to talk to DCFS as they realized why her husband recognized Dr. Scott, and he was drunk, it was the only time he was ever arrested, and he has been sober since and would never hurt his daughter. Maggie tells her that the case worker will give her a fair chance to explain, but then she appeals to Dr. Scott to see if there could be another explanation for the injuries. Thanks to Maggie being the voice of reason, Dr. Scott begins to investigate further and eventually he is able to identify signs of a possible rare disease, and now that they can test and treat her for it, the young girl will be able to live a better life.
Dr. Cooper, Dr. Halstead and Goodwin, Gordon and Eleanor.
Dr. Halstead and Goodwin are discussing Eleanor from last weeks episode, and Will is surprised that Cooper put the Vascom back in, because she is at high risk because of her clotting issues.
However, later on Goodwin pages Will to the ICU – Eleanor died, and Goodwin tells Will that if the death was related to inappropriate use of the Vascom, that Cooper essentially killed her.
As the season progresses, we are definitely seeing the changing dynamics of Gaffney Medical Centre ED and as we watch relationships grow and change, we will certainly have a lot to look forward to in the weeks and months to come.
What did you think of this episode of Chicago Med? Share your thoughts in the comments below.