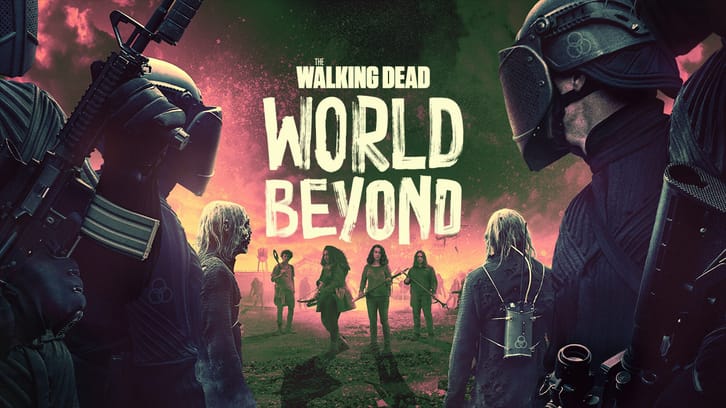 The Walking Dead: World Beyond returned with "Konsekans" written by Matthew Negrete and directed by Loren Yaconelli. If you were expecting answers or even a story that made more sense, you were likely as disappointed as I was. The title itself is actually Haitian Creole – why? The meaning is consequence or aftermath and that does make sense. Is the Haitian Creole some kind of hint that we are going for voodoo zombieism suddenly? Weigh in below – I'd love to hear other theories!
The episode begins with a flashback, showing Kublek (Julia Ormond) and Newton (Robert Palmer Watkins) watching as a horde – with a little help from the CRM – destroys Omaha. The Campus Colony was destroyed the same way. It seems using walkers as instruments of mass destruction is what all the cool kids are doing these days – you know, like the Whisperers… Later in yet more lies – I assume – Kublek makes out to Hope (Alexa Mansour) that these massive hordes are simply running amok all over the world.
In fact, the entire Hope storyline is a mess. Even Huck (Annet Mahendru) questions her mother about it. Huck is also not happy that her mother didn't tell her about Omaha and the Campus Colony. Why go to all the trouble of getting Hope away from the others – not to mention sending them cross country – and then let her go – and place her in even greater danger? It just makes no sense. Kublek apparently wants to get Hope to accept that they have to do the bad things so others can live safely. Also making no sense, is that she now also says that she'll give a home to Iris (Allyah Royale) and Felix (Nico Tortorella) too!
Meanwhile, Will (Jelani Alladin) takes care of Iris and Felix, taking them to the community that took him in. He ended up there after asking too many questions of the CRM and almost getting killed by Newton. He's been living with a community at an old artist's colony. I will say that this is one of the coolest sets that they've had on any of the shows! They are introduced to Indira (Anna Khaja) who is the leader of the Council. She welcomes them and says that they can stay with Will if they answer one question. I thought this was a fun shoutout to the three questions they used to use on
The Walking Dead
– even if this question is lame. She asks them "What do you live for?" Felix says Will and Iris, but Iris says Hope. Indira thinks she means the emotion, but we all know she means her sister.
Will tells them that the colony is given supplies by the CRM and otherwise left alone because they guard against the walkers and keep other people away from the facility – where Leo (Joe Holt) and the other scientists are apparently.
Iris continues trying to break the code. She and Felix discuss the fact that the CRM covering up what happened at the Campus Colony doesn't make any sense – but doesn't it?? The two decide that they can't play be the rules anymore and need to break them – which is apparently why Iris decides to go for a walk in the woods. She runs into Newton and kills him. Because, yeah. She could definitely take out an experienced soldier… and that should go down well with the CRM.
Meanwhile, Hope is finally taken to the facility but put in a holding area. Huck comes to her and tells her that the place is safe, and warns her not to stir things up. Hope tells her that there's no way she's working with her – she just needed a way out of the test. Hope is then taken to Leo.
I can't say that this season is off to a rocking great start. I'm mostly not impressed by the writing - most of the actors are doing the best they can with what they've been given. I hope this episode made more sense to you than it did to me. What exactly is the CRM trying to achieve? If they are really interested in finding a cure or re-establishing civilization, why kill off all the educated minds at Campus Colony? If they are aiming for world domination – shouldn't they still be worried about those giant hordes and be doing something about them? I don't even have any guesses at this point. Please weigh in below if you do!!